Copernicus
Vorschau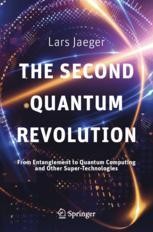 The Second Quantum Revolution
From Entanglement to Quantum Computing and Other Super-Technologies
Autoren: Jaeger, Lars
Vorschau
Provides an accessible and entertaining read about to the awe-inspiring developments and possibilities of the latest quantum technologies ("Quantum 2.0")
Written by an expert on quantum physics for non-experts
Introduces the inevitable philosophical and societal questions of quantum physics that physicists usually sweep under the carpet
Weitere Vorteile
Dieses Buch kaufen
eBook 26,74 €

Preis für Deutschland (Brutto)

ISBN 978-3-319-98824-5
Versehen mit digitalem Wasserzeichen, DRM-frei
Erhältliche Formate: PDF, EPUB
eBooks sind auf allen Endgeräten nutzbar
Sofortiger eBook Download nach Kauf

Softcover 35,30 €

Preis für Deutschland (Brutto)

ISBN 978-3-319-98823-8
Kostenfreier Versand für Individualkunden weltweit
Institutionelle Kunden wenden sich bitte an ihren Kundenbetreuer
Gewöhnlich versandfertig in 3-5 Werktagen, sofern auf Lager
This book tells the story of the second quantum revolution which will shape the 21st century as much as the first quantum revolution shaped the 20th century. It provides unique orientation in today's discussion and the latest progress on the interpretation of quantum physics and its further technological potential.

As you read this book the first prototypes of this revolution are being built in laboratories worldwide. Super-technologies such as nanotechnology, quantum computers, quantum information processing, and others will soon shape our daily lives, even if physicists themselves continue to disagree on how to interpret the central theory of modern physics. The book will thus also touch on the profound philosophical questions at the heart of quantum mechanics.

Dr. Lars Jaeger, 48, studied physics, mathematics, philosophy, and history and spent several years in theoretical physics research in the area of quantum field theory and chaos theory. He is author of numerous books on popular science, writes his own blogs, and appears frequently in the media on questions of science and technology. As an impetuous lateral thinker he founded two companies that use mathematical methods to model global capital markets.

Inhaltsverzeichnis (27 Kapitel)

Mighty Power: How a Theory of the Microcosm Changed Our World

Seiten 3-13

There's Plenty of Room at the Bottom: A New Generation of Quantum Technologies

Seiten 15-25

Technology on the Smallest Scales: The Possibilities of Nanotechnology

Seiten 27-38

Incredibly Fast: From the Digital to the Quantum Computer

Seiten 39-53

Contradictory Atoms: Philosophical Problems with the Smallest Building Blocks of Nature

Seiten 57-65
Dieses Buch kaufen
eBook 26,74 €

Preis für Deutschland (Brutto)

ISBN 978-3-319-98824-5
Versehen mit digitalem Wasserzeichen, DRM-frei
Erhältliche Formate: PDF, EPUB
eBooks sind auf allen Endgeräten nutzbar
Sofortiger eBook Download nach Kauf

Softcover 35,30 €

Preis für Deutschland (Brutto)

ISBN 978-3-319-98823-8
Kostenfreier Versand für Individualkunden weltweit
Institutionelle Kunden wenden sich bitte an ihren Kundenbetreuer
Gewöhnlich versandfertig in 3-5 Werktagen, sofern auf Lager
Services zu diesem Buch
Bibliografische Information
Buchtitel

The Second Quantum Revolution

Buchuntertitel

From Entanglement to Quantum Computing and Other Super-Technologies

Autoren

Copyright

2018

Verlag

Copernicus

Copyright Inhaber

Springer Nature Switzerland AG

eBook ISBN

978-3-319-98824-5

DOI

10.1007/978-3-319-98824-5

Softcover ISBN

978-3-319-98823-8

Auflage

1

Seitenzahl

XVIII, 339

Anzahl der Bilder

2 schwarz-weiß Abbildungen

Themen