FGF Studies in Small Business and Entrepreneurship
Vorschau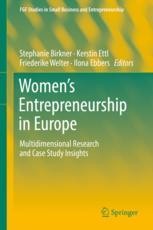 Women's Entrepreneurship in Europe
Multidimensional Research and Case Study Insights
Herausgeber: Birkner, S., Ettl, K., Welter, F., Ebbers, I. (Eds.)
Vorschau
Offers a multiperspective view by combining scientific results with case study insights
Provides entrepreneurship educators with strong material to integrate gendered aspects into their curricula
Focuses on Europe as a context with its own unique characteristics
Weitere Vorteile
Dieses Buch kaufen
eBook 85,59 €

Preis für Deutschland (Brutto)

ISBN 978-3-319-96373-0
Versehen mit digitalem Wasserzeichen, DRM-frei
Erhältliche Formate: EPUB, PDF
eBooks sind auf allen Endgeräten nutzbar
Sofortiger eBook Download nach Kauf

Hardcover 149,79 €

Preis für Deutschland (Brutto)

ISBN 978-3-319-96372-3
Kostenfreier Versand für Individualkunden weltweit
Institutionelle Kunden wenden sich bitte an ihren Kundenbetreuer
Gewöhnlich versandfertig in 3-5 Werktagen, sofern auf Lager

Softcover 106,99 €

Preis für Deutschland (Brutto)

ISBN 978-3-030-07182-0
Kostenfreier Versand für Individualkunden weltweit
Institutionelle Kunden wenden sich bitte an ihren Kundenbetreuer
Gewöhnlich versandfertig in 3-5 Werktagen, sofern auf Lager
This volume addresses the current challenges for and future prospects of women's entrepreneurship research, bringing together a wealth of diverse insights with implications for research, education and practice alike.

Presenting theoretical and empirical research papers and case studies, the book not only offers a topical reference guide for entrepreneurship researchers and educators, but also provides essential reading material for students interested in questions addressing diverse aspects of the challenges to and future academic and practical prospects of women's entrepreneurship.

Stephanie Birkner is a Junior Professor of Female Entrepreneurship based at the University of Oldenburg, Germany. She focuses on gender aspects in (educational) approaches to foster innovation and entrepreneurship.

Kerstin Ettl is a Juniorprofessor of Entrepreneurial Diversity & SME Management at the University of Siegen, Germany. Women's entrepreneurship, embedded in the broader context of entrepreneurial diversity is one of her core areas of expertise.

Friederike Welter holds the chair of SME Management & Entrepreneurship at the University of Siegen, Germany, and is the President of the Institut für Mittelstandsforschung in Bonn, Germany (IfM Bonn). She is committed to theoretically grounded and practice-oriented research and teaching in the area of SME development and entrepreneurship.

Ilona Ebbers is Head of the Department of Economics and its Didactics at the European University of Flensburg, Germany. Her research addresses perspectives of entrepreneurship education with a central focus on gender as a didactic category.
Inhaltsverzeichnis (10 Kapitel)

Women's Entrepreneurship in Europe: Research Facets and Educational Foci

Seiten 3-13

Female Migrant Entrepreneurship in Germany: Determinants and Recent Developments

Seiten 15-38

Business Transferability Chances: Does the Gender of the Owner-Manager Matter?

Seiten 39-64

Does Gender Make a Difference? Gender Differences in the Motivations and Strategies of Female and Male Academic Entrepreneurs

Seiten 65-82

Towards Emancipatory Aspects of Women's Entrepreneurship: An Alternative Model of Women's Entrepreneurial Self-Efficacy in Patriarchal Societies

Seiten 83-103
Dieses Buch kaufen
eBook 85,59 €

Preis für Deutschland (Brutto)

ISBN 978-3-319-96373-0
Versehen mit digitalem Wasserzeichen, DRM-frei
Erhältliche Formate: EPUB, PDF
eBooks sind auf allen Endgeräten nutzbar
Sofortiger eBook Download nach Kauf

Hardcover 149,79 €

Preis für Deutschland (Brutto)

ISBN 978-3-319-96372-3
Kostenfreier Versand für Individualkunden weltweit
Institutionelle Kunden wenden sich bitte an ihren Kundenbetreuer
Gewöhnlich versandfertig in 3-5 Werktagen, sofern auf Lager

Softcover 106,99 €

Preis für Deutschland (Brutto)

ISBN 978-3-030-07182-0
Kostenfreier Versand für Individualkunden weltweit
Institutionelle Kunden wenden sich bitte an ihren Kundenbetreuer
Gewöhnlich versandfertig in 3-5 Werktagen, sofern auf Lager
Services zu diesem Buch
Wir empfehlen
Bibliografische Information
Buchtitel

Women's Entrepreneurship in Europe

Buchuntertitel

Multidimensional Research and Case Study Insights

Herausgeber

Stephanie Birkner
Kerstin Ettl
Friederike Welter
Ilona Ebbers

Titel der Buchreihe

Copyright

2018

Verlag

Springer International Publishing

Copyright Inhaber

Springer International Publishing AG, part of Springer Nature

eBook ISBN

978-3-319-96373-0

DOI

10.1007/978-3-319-96373-0

Hardcover ISBN

978-3-319-96372-3

Softcover ISBN

978-3-030-07182-0

Buchreihen ISSN

2364-6918

Auflage

1

Seitenzahl

XI, 215

Anzahl der Bilder

22 schwarz-weiß Abbildungen

Themen