Archival Insights into the Evolution of Economics
Vorschau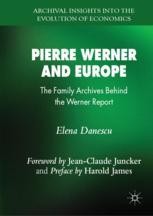 Pierre Werner and Europe
The Family Archives Behind the Werner Report
Autoren: Danescu, Elena
Vorschau
The first book on Pierre Werner's European vision and achievements, written by the world's leading research expert on Pierre Werner
Opens up family archives to the public for the first time and presents a wide range of original oral history sources
Delivers an exciting new approach that expands our understanding of the early ideas and efforts to construct Economic and Monetary Union
Weitere Vorteile
Dieses Buch kaufen
eBook 106,99 €

Preis für Deutschland (Brutto)

ISBN 978-3-319-96295-5
Versehen mit digitalem Wasserzeichen, DRM-frei
Erhältliche Formate: EPUB, PDF
eBooks sind auf allen Endgeräten nutzbar
Sofortiger eBook Download nach Kauf

Hardcover 139,09 €

Preis für Deutschland (Brutto)

ISBN 978-3-319-96294-8
Kostenfreier Versand für Individualkunden weltweit
Institutionelle Kunden wenden sich bitte an ihren Kundenbetreuer
Gewöhnlich versandfertig in 3-5 Werktagen, sofern auf Lager
This book- which features a foreword by Jean-Claude Juncker and Preface by Professor Harold James- examines the European vocation and achievements of Pierre Werner (1913–2002), former Prime Minister, Finance Minister and Foreign Minister of Luxembourg, unanimously recognized as one of the architects of Economic and Monetary Union. The author makes extensive use of Pierre Werner's previously unpublished archives belonging to the Werner family, opened for the first time for research purposes. The book analyses the Werner Report, negotiations within the Werner Committee, the emergence of the Committee's views on EMU, their political commitment to a European currency, the similarities and differences between their ideas, their personal networks, the influence of the states they represented, their theoretical and methodological input and their contribution to the political consensus.


Chapters shed new light on various aspects of the European integration process and also on the role of Luxembourg and its European policy. In addition, the author has carried out a series of original interviews with Luxembourg and European figures who share their memories and thoughts concerning Pierre Werner, his achievements and his views on the European integration process, and also other topics such as Economic and Monetary Union and Luxembourg's European policy.

This book will be of interest and value to researchers, EU policy makers and students in the fields of political economy, political science, economic history and history of economic thought.

Elena Danescu is an internationally renowned expert on the work and achievements of Pierre Werner. She is a Research Scientist at the Luxembourg Centre for Contemporary and Digital History. She holds a PhD in Political Economics from the National Institute of Economic Research (INCE). She is Fellow of Robert Schuman Institute of European Affairs and joined the University of Luxembourg in 2016 and has been involved in several international projects focusing on European integration history and the role of Luxembourg and its elites in the European integration process, in EMU and in EU governance.

Inhaltsverzeichnis (10 Kapitel)

Itinéraires luxembourgeois et européens

Seiten 19-32

The Werner Committee in Context: Monetary Unification and European Integration

Seiten 33-92

Formation of the Werner Committee and an Overview of Its Work (March–October 1970)

Seiten 93-160

The Werner Report

Seiten 161-202
Dieses Buch kaufen
eBook 106,99 €

Preis für Deutschland (Brutto)

ISBN 978-3-319-96295-5
Versehen mit digitalem Wasserzeichen, DRM-frei
Erhältliche Formate: EPUB, PDF
eBooks sind auf allen Endgeräten nutzbar
Sofortiger eBook Download nach Kauf

Hardcover 139,09 €

Preis für Deutschland (Brutto)

ISBN 978-3-319-96294-8
Kostenfreier Versand für Individualkunden weltweit
Institutionelle Kunden wenden sich bitte an ihren Kundenbetreuer
Gewöhnlich versandfertig in 3-5 Werktagen, sofern auf Lager
Services zu diesem Buch
Bibliografische Information
Buchtitel

Pierre Werner and Europe

Buchuntertitel

The Family Archives Behind the Werner Report

Autoren

Titel der Buchreihe

Copyright

2018

Verlag

Palgrave Macmillan

Copyright Inhaber

The Editor(s) (if applicable) and The Author(s)

eBook ISBN

978-3-319-96295-5

DOI

10.1007/978-3-319-96295-5

Hardcover ISBN

978-3-319-96294-8

Buchreihen ISSN

2662-6195

Auflage

1

Seitenzahl

XXXIV, 520

Anzahl der Bilder

34 schwarz-weiß Abbildungen, 8 Abbildungen in Farbe

Themen