Theory and Decision Library A:
Vorschau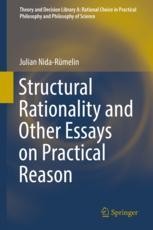 Structural Rationality and Other Essays on Practical Reason
Autoren: Nida-Rümelin, Julian
Vorschau
Presents a new perspective on the theory of rationality
Details a reason-based theory of rational choice
Offers criticism of standard models of action and rational choice
Weitere Vorteile
Dieses Buch kaufen
eBook 67,40 €

Preis für Deutschland (Brutto)

ISBN 978-3-319-95507-0
Versehen mit digitalem Wasserzeichen, DRM-frei
Erhältliche Formate: EPUB, PDF
eBooks sind auf allen Endgeräten nutzbar
Sofortiger eBook Download nach Kauf

Hardcover 85,59 €

Preis für Deutschland (Brutto)

ISBN 978-3-319-95506-3
Kostenfreier Versand für Individualkunden weltweit
Institutionelle Kunden wenden sich bitte an ihren Kundenbetreuer
Gewöhnlich versandfertig in 3-5 Werktagen, sofern auf Lager
In this book, the author shows that it is necessary to enrich the conceptual frame of the theory of rational choice beyond consequentialism. He argues that consequentialism as a general theory of rational action fails and that this does not force us into the dichotomy teleology vs deontology. The unity of practical reason can be saved without consequentialism. In the process, he presents insightful criticism of standard models of action and rational choice. This will help readers discover a new perspective on the theory of rationality.

The approach is radical: It transcends the reductive narrowness of instrumental rationality without denying its practical impact. Actions do exist that are outlined in accordance to utility maximizing or even self-interest maximizing. Yet, not all actions are to be understood in these terms. Actions oriented around social roles, for example, cannot count as irrational only because there is no known underlying maximizing heuristic.

The concept of bounded rationality tries to embed instrumental rationality into a form of life to highlight limits of our cognitive capabilities and selective perceptions. However, the agent is still left within the realm of cost-benefit-reasoning. The idea of social preferences or meta-preferences cannot encompass the plurality of human actions. According to the author they ignore the plurality of reasons that drive agency. Hence, they coerce agency in fitting into a theory that undermines humanity. His theory of structural rationality acknowledges lifeworld patterns of interaction and meaning.





Julian Nida-Rümelin is a professor of philosophy and political theory at the Ludwig-Maximlians-University in Munich, Germany. He studied philosophy, physics, mathematics, and political sciences. After his Ph.D in philosophy and his habilitation, he taught philosophy, ethics and political theory at different universities: state university of Minnesota (1991), University of Tübingen (1991-1993), University of Göttingen (1993-2003), Humboldt University Berlin (2001-) and University of Munich (2004-). Nida-Rümelin was elected president of the German Association for Analytical Philosophy (GAP) 1994-1997, and President of the German Society for Philosophy (2009-2011). He is a member of several academies, among others: the academy of sciences and humanities, Berlin and the European Academy of Sciences and Arts. For five years he left academia and changed to cultural politics, serving as a state minister for culture and media in the first national government led by Chancellor Gerhard Schröder (1998-2002).
Inhaltsverzeichnis (8 Kapitel)

Acting on Beliefs

Seiten 3-12

Structures of Agency

Seiten 13-20

Reasons for Action

Seiten 21-25

Communication

Seiten 33-40
Dieses Buch kaufen
eBook 67,40 €

Preis für Deutschland (Brutto)

ISBN 978-3-319-95507-0
Versehen mit digitalem Wasserzeichen, DRM-frei
Erhältliche Formate: EPUB, PDF
eBooks sind auf allen Endgeräten nutzbar
Sofortiger eBook Download nach Kauf

Hardcover 85,59 €

Preis für Deutschland (Brutto)

ISBN 978-3-319-95506-3
Kostenfreier Versand für Individualkunden weltweit
Institutionelle Kunden wenden sich bitte an ihren Kundenbetreuer
Gewöhnlich versandfertig in 3-5 Werktagen, sofern auf Lager
Services zu diesem Buch
Wir empfehlen
Bibliografische Information
Buchtitel

Structural Rationality and Other Essays on Practical Reason

Autoren

Titel der Buchreihe

Buchreihen Band

52

Copyright

2019

Verlag

Springer International Publishing

Copyright Inhaber

Springer Nature Switzerland AG

eBook ISBN

978-3-319-95507-0

DOI

10.1007/978-3-319-95507-0

Hardcover ISBN

978-3-319-95506-3

Buchreihen ISSN

0921-3384

Auflage

1

Seitenzahl

XI, 134

Anzahl der Bilder

15 schwarz-weiß Abbildungen

Themen