Advances in African Economic, Social and Political Development
Vorschau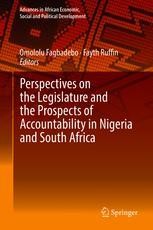 Perspectives on the Legislature and the Prospects of Accountability in Nigeria and South Africa
Herausgeber: Fagbadebo, Omololu, Ruffin, Fayth (Eds.)
Vorschau
Compares legislative oversight and accountability in South Africa and Nigeria
Discusses the role of institutions in accountability and good governance
Provides insights into remedies for accountability problems in the two countries
Weitere Vorteile
Dieses Buch kaufen
eBook 85,59 €

Preis für Deutschland (Brutto)

ISBN 978-3-319-93509-6
Versehen mit digitalem Wasserzeichen, DRM-frei
Erhältliche Formate: EPUB, PDF
eBooks sind auf allen Endgeräten nutzbar
Sofortiger eBook Download nach Kauf

Hardcover 106,99 €

Preis für Deutschland (Brutto)

ISBN 978-3-319-93508-9
Kostenfreier Versand für Individualkunden weltweit
Institutionelle Kunden wenden sich bitte an ihren Kundenbetreuer
Gewöhnlich versandfertig in 3-5 Werktagen, sofern auf Lager

Softcover 106,99 €

Preis für Deutschland (Brutto)

ISBN 978-3-030-06676-5
Kostenfreier Versand für Individualkunden weltweit
Institutionelle Kunden wenden sich bitte an ihren Kundenbetreuer
Gewöhnlich versandfertig in 3-5 Werktagen, sofern auf Lager
This book examines the problem of accountability in two African political systems, South Africa and Nigeria. Despite the principle of separation of powers and the doctrine of checks and balances among the institutions of governance, a burgeoning governance crisis stifles the potential of accountability and good governance. Legislative oversight in the two countries remains largely ineffective while citizens are left to face the consequences of the mismanagement of public resources by political elites. This book critically assesses how the legislative institutions in South Africa and Nigeria have been unable to harness the requisite constitutional powers to ensure accountability in government and explores the feasibility of their effectiveness. The book begins with a comparative analysis of the principles, tradition, and powers associated with legislative capability in South Africa and Nigeria. The chapters explore constitutional provisions and analyze the capacity of each legislature to function within its respective political environment. The book also examines the process and challenges associated with the various measures and mechanisms available for legislatures to ensure accountability in the two countries. Researchers, scholars and students of African politics will find this book useful in their understanding of the problems associated with the simmering governance crisis in South Africa and Nigeria.

Dr Omololu Fagbadebo


Fagbadebo holds a doctoral degree in Political Science from the University of KwaZulu-Natal, South Africa. He has taught Political Science at the Obafemi Awolowo University, Ile-Ife, Nigeria and University of KwaZulu-Natal, South Africa. He is a Post-Doctoral Fellow at the School of Management, IT and Governance of the University of KwaZulu-Natal. Prior to his foray into the academic, he was a journalist with practical experience in the political activities in Nigeria. He was a media correspondent at the Nigeria's National Constitutional Conference, Abuja, 1995-1995. He also served as the Press Secretary to the Speaker of the Osun State House of Assembly, Nigeria, 1999-2003. He was a recipient of the Study of the American Politics and Political Thought Fellowship at the University of Massachusetts, Amherst, in June/July, 2010. He has published academic papers in journals, books; and presented papers at conferences and workshops. His area of specialisation includes comparative politics, legislative studies, governance, development studies, and African politics.

Dr Fayth Ruffin

Ruffin holds a doctoral degree in Public Affairs, with specialisation in Public Governance, of the State University of New Jersey, United States of America. She is also a Juris Doctor of Antioch School of Law, Washington, DC. She has more than 38 years of teaching and research experience at different universities in the United States, including Urban Law Institutes and Antioch School of Law, both at Washington, DC. and Rutgers University-Newark, New Jersey. She was into private law practice in New Jersey between 1990 and 2007. She is a recipient of several awards, grants and honours in universities in the United States and South Africa. She joined the services of the University of KwaZulu-Natal in May 2011 where she is the Academic Leader of the Public Governance Discipline in the School of Management, Information Technology and Governance, since 2015. She has served in various management committees of the university where she is also a member of the Senate. She is widely published. She specializes in African Indigenous Knowledge Systems of Governance and Justice, South African Public Governance, Global/Local Disaster Risk Management and Risk Reduction, Local/Regional Economic Development, International Relations, Global Urban Management and Development, Global Rural Management and Development, Transnational Hybrid Governance, Global/Local Network Governance, Public Administration and Management (sub-national, national, international, regional and comparative), International and Comparative Law, Global Governance and Law, Socio-legal Studies, International Conflict Management and Dispute Resolution.
Inhaltsverzeichnis (13 Kapitel)

Introduction: Understanding the Legislature as an Instrument of Accountability

Seiten 1-15

An Overview of Legislative Oversight and Accountability Mechanisms in Nigeria and South Africa

Seiten 19-44

A Perspective on the Principle of 'Constitutionalism' in Relation to Executive and Legislative Accountability in South Africa

Seiten 45-61

A Comparative Analysis of the Roles of the Legislature in Nigeria and South Africa: The Central Legislature in focus

Seiten 63-83

Executive-Legislature Relationships and the Promotion of Accountability and Transparency in South Africa

Seiten 85-104
Dieses Buch kaufen
eBook 85,59 €

Preis für Deutschland (Brutto)

ISBN 978-3-319-93509-6
Versehen mit digitalem Wasserzeichen, DRM-frei
Erhältliche Formate: EPUB, PDF
eBooks sind auf allen Endgeräten nutzbar
Sofortiger eBook Download nach Kauf

Hardcover 106,99 €

Preis für Deutschland (Brutto)

ISBN 978-3-319-93508-9
Kostenfreier Versand für Individualkunden weltweit
Institutionelle Kunden wenden sich bitte an ihren Kundenbetreuer
Gewöhnlich versandfertig in 3-5 Werktagen, sofern auf Lager

Softcover 106,99 €

Preis für Deutschland (Brutto)

ISBN 978-3-030-06676-5
Kostenfreier Versand für Individualkunden weltweit
Institutionelle Kunden wenden sich bitte an ihren Kundenbetreuer
Gewöhnlich versandfertig in 3-5 Werktagen, sofern auf Lager
Services zu diesem Buch
Wir empfehlen
Bibliografische Information
Buchtitel

Perspectives on the Legislature and the Prospects of Accountability in Nigeria and South Africa

Herausgeber

Omololu Fagbadebo
Fayth Ruffin

Titel der Buchreihe

Copyright

2019

Verlag

Springer International Publishing

Copyright Inhaber

Springer International Publishing AG, part of Springer Nature

eBook ISBN

978-3-319-93509-6

DOI

10.1007/978-3-319-93509-6

Hardcover ISBN

978-3-319-93508-9

Softcover ISBN

978-3-030-06676-5

Buchreihen ISSN

2198-7262

Auflage

1

Seitenzahl

XII, 257

Anzahl der Bilder

2 Abbildungen in Farbe

Themen