Clinical Handbooks in Neuropsychology
Vorschau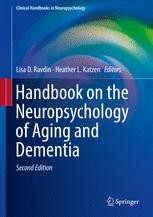 Handbook on the Neuropsychology of Aging and Dementia
Herausgeber: Ravdin, Lisa, Katzen, Heather (Eds.)
Vorschau
Features 14 all-new chapters of directly applicable clinical information
Offers experience-based medical wisdom from seasoned clinians
Highlights clinical pearls of practical value throughout
Weitere Vorteile
Dieses Buch kaufen
eBook 96,29 €

Preis für Deutschland (Brutto)

ISBN 978-3-319-93497-6
Versehen mit digitalem Wasserzeichen, DRM-frei
Erhältliche Formate: EPUB, PDF
eBooks sind auf allen Endgeräten nutzbar
Sofortiger eBook Download nach Kauf

Hardcover 128,39 €

Preis für Deutschland (Brutto)

ISBN 978-3-319-93496-9
Kostenfreier Versand für Individualkunden weltweit
Institutionelle Kunden wenden sich bitte an ihren Kundenbetreuer
Gewöhnlich versandfertig in 3-5 Werktagen, sofern auf Lager
This comprehensive update offers practical advice for professionals working in

neuropsychology with older adults. Focusing on fundamentals, common issues,

special considerations, and late-life cognitive disorders, respected names in this critical

specialty address a wide range of presenting problems and assessment, diagnostic,

and treatment concerns. Th roughout, coverage pays keen attention to detail, bringing

real-world nuance to large-scale concepts and breaking down complex processes into

digestible steps. And like its predecessor, the new Handbook features recommendations

for test batteries and ends each chapter by extracting its "clinical pearls."

A sampling of the topics covered:

• Assessment of depression and anxiety in older adults.

• The assessment of change: serial assessments in dementia evaluations.

• Elder abuse identifi cation in older adults.

• Clinical assessment of postoperative cognitive decline.

• Cognitive training and rehabilitation in aging and dementia.

• Diff erentiating mild cognitive impairment and cognitive changes of normal

aging.

• Evaluating cognition in patients with chronic obstructive pulmonary disease.




This Second Edition of the Handbook on the Neuropsychology of Aging and Dementia

offers a wealth of expert knowledge and hands-on guidance for neuropsychologists,

gerontologists, social workers, and other clinicians interested in aging. Th is can be a

valuable reference for those studying for board certifi cation in neuropsychology as well

as a resource for veteran practitioners brushing up on key concepts in neuropsychology

of age related disorders.

Lisa Ravdin Rosenberg, Ph.D., ABPP is a board-certified neuropsychologist and Director of the Weill Cornell Neuropsychology Service in the Department of Neurology New York Hospital Presbyterian Hospital-Weill Cornell Medicine. After graduating from the Chicago Medical School doctoral program with a specialization in Neuropsychology, she completed an internship at the West Haven VA medical Center and Yale Epilepsy Program where she received the Jacob Levin Intern Award for Outstanding Clinical Scholarship. Subsequently, she underwent advanced training in a neuropsychology post doctoral fellowship at New York University School of Medicine-Hospital for Joint Diseases, as well as a neuropsychology fellowship at the New York Hospital-Cornell Medical Center. Presently, her primary clinical and research activities focus on cognitive changes associated with neurologic disorders and, in particular, age-related diseases. In addition, she is a co-investigator on a number of research initiatives relating to cognitive decline associated with neurologic disease (Alzheimer's disease, Parkinson's disease, normal pressure hydrocephalus), chronic pain and depression.

Heather Katzen, Ph.D. is currently an adjunct assistant research professor in the Department of Neurology at the University of Miami Miller School of Medicine. She received her doctoral degree in clinical psychology/neuropsychology from the University of Miami, completed her internship in clinical neuropsychology at Long Island Jewish/Hillside Hospital and her post doctoral fellowship in neuropsychology at New York Hospital/Weill Cornell Medical College. Her research focuses on age-related cognitive changes associated with neurological disease and most recently in cognitive recovery following treatment in Normal Pressure Hydrocephalus.
Inhaltsverzeichnis (43 Kapitel)

Special Considerations for the Neuropsychological Interview with Older Adults

Seiten 3-9

Consideration of Cognitive Reserve

Seiten 11-23

Neuropsychological Evaluation of Culturally/Linguistically Diverse Older Adults

Seiten 25-48

Assessment of Depression and Anxiety in Older Adults

Seiten 49-59

The Assessment of Change: Serial Assessments in Dementia Evaluations

Seiten 61-76
Dieses Buch kaufen
eBook 96,29 €

Preis für Deutschland (Brutto)

ISBN 978-3-319-93497-6
Versehen mit digitalem Wasserzeichen, DRM-frei
Erhältliche Formate: EPUB, PDF
eBooks sind auf allen Endgeräten nutzbar
Sofortiger eBook Download nach Kauf

Hardcover 128,39 €

Preis für Deutschland (Brutto)

ISBN 978-3-319-93496-9
Kostenfreier Versand für Individualkunden weltweit
Institutionelle Kunden wenden sich bitte an ihren Kundenbetreuer
Gewöhnlich versandfertig in 3-5 Werktagen, sofern auf Lager
Services zu diesem Buch
Wir empfehlen
Bibliografische Information
Buchtitel

Handbook on the Neuropsychology of Aging and Dementia

Herausgeber

Lisa Ravdin
Heather Katzen

Titel der Buchreihe

Copyright

2019

Verlag

Springer International Publishing

Copyright Inhaber

Springer Nature Switzerland AG

eBook ISBN

978-3-319-93497-6

DOI

10.1007/978-3-319-93497-6

Hardcover ISBN

978-3-319-93496-9

Buchreihen ISSN

2625-266X

Auflage

2

Seitenzahl

XVI, 763

Anzahl der Bilder

30 schwarz-weiß Abbildungen, 9 Abbildungen in Farbe

Themen