The European Consortium for Mathematics in Industry
Vorschau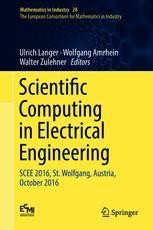 Scientific Computing in Electrical Engineering
SCEE 2016, St. Wolfgang, Austria, October 2016
Herausgeber: Langer, Ulrich, Amrhein, Wolfgang, Zulehner, Walter (Eds.)
Vorschau
Covers topics in SCEE from both academia and industry, as well as mathematics and electrical engineering perspective
Shows state of the art in SCEE
Includes advanced topics of MOR and UQ in methodology
Weitere Vorteile
Dieses Buch kaufen
eBook 117,69 €

Preis für Deutschland (Brutto)

ISBN 978-3-319-75538-0
Versehen mit digitalem Wasserzeichen, DRM-frei
Erhältliche Formate: PDF, EPUB
eBooks sind auf allen Endgeräten nutzbar
Sofortiger eBook Download nach Kauf

Hardcover 155,14 €

Preis für Deutschland (Brutto)

ISBN 978-3-319-75537-3
Kostenfreier Versand für Individualkunden weltweit
Institutionelle Kunden wenden sich bitte an ihren Kundenbetreuer
Gewöhnlich versandfertig in 3-5 Werktagen, sofern auf Lager

Softcover 155,14 €

Preis für Deutschland (Brutto)

ISBN 978-3-030-09259-7
Kostenfreier Versand für Individualkunden weltweit
Institutionelle Kunden wenden sich bitte an ihren Kundenbetreuer
Gewöhnlich versandfertig in 3-5 Werktagen, sofern auf Lager
This collection of selected papers presented at the 11th International Conference on Scientific Computing in Electrical Engineering (SCEE), held in St. Wolfgang, Austria, in 2016, showcases the state of the art in SCEE.

The aim of the SCEE 2016 conference was to bring together scientists from academia and industry, mathematicians, electrical engineers, computer scientists, and physicists, and to promote intensive discussions on industrially relevant mathematical problems, with an emphasis on the modeling and numerical simulation of electronic circuits and devices, electromagnetic fields, and coupled problems. The focus in methodology was on model order reduction and uncertainty quantification.

This extensive reference work is divided into six parts: Computational Electromagnetics, Circuit and Device Modeling and Simulation, Coupled Problems and Multi‐Scale Approaches in Space and Time, Mathematical and Computational Methods Including Uncertainty Quantification, Model Order Reduction, and Industrial Applications. Each part starts with a general introduction, followed by the respective contributions.

This book will appeal to mathematicians and electrical engineers. Further, it introduces algorithm and program developers to recent advances in the other fields, while industry experts will be introduced to new programming tools and mathematical methods.
Inhaltsverzeichnis (23 Kapitel)

Preliminary Numerical Study on Electrical Stimulation at Alloplastic Reconstruction Plates of the Mandible

Seiten 3-11

Evaluation of Capacitive EMG Sensor Geometries by Simulation and Measurement

Seiten 13-23

Stability Analysis of Electromagnetic Transient Simulations

Seiten 25-33

Sensitivity of Lumped Parameters to Geometry Changes in Finite Element Models

Seiten 35-42

Electro-Thermal Simulations with Skin-Layers and Contacts

Seiten 43-52
Dieses Buch kaufen
eBook 117,69 €

Preis für Deutschland (Brutto)

ISBN 978-3-319-75538-0
Versehen mit digitalem Wasserzeichen, DRM-frei
Erhältliche Formate: PDF, EPUB
eBooks sind auf allen Endgeräten nutzbar
Sofortiger eBook Download nach Kauf

Hardcover 155,14 €

Preis für Deutschland (Brutto)

ISBN 978-3-319-75537-3
Kostenfreier Versand für Individualkunden weltweit
Institutionelle Kunden wenden sich bitte an ihren Kundenbetreuer
Gewöhnlich versandfertig in 3-5 Werktagen, sofern auf Lager

Softcover 155,14 €

Preis für Deutschland (Brutto)

ISBN 978-3-030-09259-7
Kostenfreier Versand für Individualkunden weltweit
Institutionelle Kunden wenden sich bitte an ihren Kundenbetreuer
Gewöhnlich versandfertig in 3-5 Werktagen, sofern auf Lager
Services zu diesem Buch
Wir empfehlen
Bibliografische Information
Buchtitel

Scientific Computing in Electrical Engineering

Buchuntertitel

SCEE 2016, St. Wolfgang, Austria, October 2016

Herausgeber

Ulrich Langer
Wolfgang Amrhein
Walter Zulehner

Titel der Buchreihe

Buchreihen Band

28

Copyright

2018

Verlag

Springer International Publishing

Copyright Inhaber

Springer International Publishing AG, part of Springer Nature

eBook ISBN

978-3-319-75538-0

DOI

10.1007/978-3-319-75538-0

Hardcover ISBN

978-3-319-75537-3

Softcover ISBN

978-3-030-09259-7

Auflage

1

Seitenzahl

XXVIII, 266

Anzahl der Bilder

21 schwarz-weiß Abbildungen, 88 Abbildungen in Farbe

Themen