Springer Proceedings in Mathematics & Statistics
Vorschau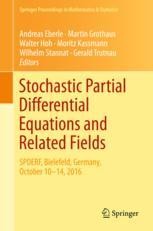 Stochastic Partial Differential Equations and Related Fields
In Honor of Michael Röckner SPDERF, Bielefeld, Germany, October 10 -14, 2016
Herausgeber: Eberle, A., Grothaus, M., Hoh, W., Kassmann, M., Stannat, W., Trutnau, G. (Eds.)
Vorschau
Introduces a well-described research field related to Stochastic Partial Differential Equations and Stochastic Analysis
Includes a large amount of research surveys
Presents the current state of the art and promising future developments
Weitere Vorteile
Dieses Buch kaufen
eBook 106,99 €

Preis für Deutschland (Brutto)

ISBN 978-3-319-74929-7
Versehen mit digitalem Wasserzeichen, DRM-frei
Erhältliche Formate: EPUB, PDF
eBooks sind auf allen Endgeräten nutzbar
Sofortiger eBook Download nach Kauf

Hardcover 160,49 €

Preis für Deutschland (Brutto)

ISBN 978-3-319-74928-0
Kostenfreier Versand für Individualkunden weltweit
Institutionelle Kunden wenden sich bitte an ihren Kundenbetreuer
Gewöhnlich versandfertig in 3-5 Werktagen, sofern auf Lager

Softcover 139,09 €

Preis für Deutschland (Brutto)

ISBN 978-3-030-09107-1
Kostenfreier Versand für Individualkunden weltweit
Institutionelle Kunden wenden sich bitte an ihren Kundenbetreuer
Gewöhnlich versandfertig in 3-5 Werktagen, sofern auf Lager
This Festschrift contains five research surveys and thirty-four shorter contributions by participants of the conference ''Stochastic Partial Differential Equations and Related Fields'' hosted by the Faculty of Mathematics at Bielefeld University, October 10–14, 2016. The conference, attended by more than 140 participants, including PostDocs and PhD students, was held both to honor Michael Röckner's contributions to the field on the occasion of his 60th birthday and to bring together leading scientists and young researchers to present the current state of the art and promising future developments.

Each article introduces a well-described field related to Stochastic Partial Differential Equations and Stochastic Analysis in general. In particular, the longer surveys focus on Dirichlet forms and Potential theory, the analysis of Kolmogorov operators, Fokker–Planck equations in Hilbert spaces, the theory of variational solutions to stochastic partial differential equations, singular stochastic partial differential equations and their applications in mathematical physics, as well as on the theory of regularity structures and paracontrolled distributions.

The numerous research surveys make the volume especially useful for graduate students and researchers who wish to start work in the above-mentioned areas, or who want to be informed about the current state of the art.



Inhaltsverzeichnis (39 Kapitel)

Stationary Fokker–Planck–Kolmogorov Equations

Seiten 3-24

Liouville Property of Harmonic Functions of Finite Energy for Dirichlet Forms

Seiten 25-42

Regularization and Well-Posedness by Noise for Ordinary and Partial Differential Equations

Seiten 43-67

An Introduction to Singular SPDEs

Seiten 69-99

Fokker–Planck Equations in Hilbert Spaces

Seiten 101-129
Dieses Buch kaufen
eBook 106,99 €

Preis für Deutschland (Brutto)

ISBN 978-3-319-74929-7
Versehen mit digitalem Wasserzeichen, DRM-frei
Erhältliche Formate: EPUB, PDF
eBooks sind auf allen Endgeräten nutzbar
Sofortiger eBook Download nach Kauf

Hardcover 160,49 €

Preis für Deutschland (Brutto)

ISBN 978-3-319-74928-0
Kostenfreier Versand für Individualkunden weltweit
Institutionelle Kunden wenden sich bitte an ihren Kundenbetreuer
Gewöhnlich versandfertig in 3-5 Werktagen, sofern auf Lager

Softcover 139,09 €

Preis für Deutschland (Brutto)

ISBN 978-3-030-09107-1
Kostenfreier Versand für Individualkunden weltweit
Institutionelle Kunden wenden sich bitte an ihren Kundenbetreuer
Gewöhnlich versandfertig in 3-5 Werktagen, sofern auf Lager
Services zu diesem Buch
Wir empfehlen
Bibliografische Information
Buchtitel

Stochastic Partial Differential Equations and Related Fields

Buchuntertitel

In Honor of Michael Röckner SPDERF, Bielefeld, Germany, October 10 -14, 2016

Herausgeber

Andreas Eberle
Martin Grothaus
Walter Hoh
Moritz Kassmann
Wilhelm Stannat
Gerald Trutnau

Titel der Buchreihe

Buchreihen Band

229

Copyright

2018

Verlag

Springer International Publishing

Copyright Inhaber

Springer International Publishing AG, part of Springer Nature

eBook ISBN

978-3-319-74929-7

DOI

10.1007/978-3-319-74929-7

Hardcover ISBN

978-3-319-74928-0

Softcover ISBN

978-3-030-09107-1

Buchreihen ISSN

2194-1009

Auflage

1

Seitenzahl

XX, 574

Anzahl der Bilder

5 schwarz-weiß Abbildungen

Themen