SpringerBriefs in Population Studies
Vorschau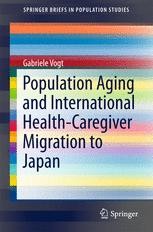 Population Aging and International Health-Caregiver Migration to Japan
Autoren: Vogt, Gabriele
Vorschau
Focuses on international labor migration in the context of health-caregiving to the elderly in contemporary Japan
Describes local level initiatives in eldercare and migrant integration
Helps to understand the politics behind Japan's migration policy
Weitere Vorteile
Dieses Buch kaufen
eBook 46,00 €

Preis für Deutschland (Brutto)

ISBN 978-3-319-68012-5
Versehen mit digitalem Wasserzeichen, DRM-frei
Erhältliche Formate: PDF, EPUB
eBooks sind auf allen Endgeräten nutzbar
Sofortiger eBook Download nach Kauf

Softcover 58,84 €

Preis für Deutschland (Brutto)

ISBN 978-3-319-68011-8
Kostenfreier Versand für Individualkunden weltweit
Institutionelle Kunden wenden sich bitte an ihren Kundenbetreuer
Gewöhnlich versandfertig in 3-5 Werktagen, sofern auf Lager
This book introduces Japan's current policy initiatives directed at eldercare and international labor migration, and, wherever appropriate,it adds a comparative perspective from Germany. The book shows how eldercare is currently being organized and discusses integration policies for foreigners. It studies the policy-making process behind the system, and contextualizes the migration avenue within the strong roots of Japan's eldercare in local communities and the non-preparedness of the nation to grant local citizenship to international newcomers. Through applying an approach of multi-level policy making, putting a strong focus on the local level and introducing new approaches, this book is of interest to policy makers and scholars in aging, migration, health care, and contemporary Japan.

Gabriele Vogt serves as Professor of Japanese Politics at the University of Hamburg, Germany. She specializes in comparative politics, multi-level politics, and social movement research. Her research topics include population aging in Japan and Germany, international labor migration in Asia and Europe, and Japan's foreign and security policy. Prior to joining the University of Hamburg in 2009, she worked at the German Institute for Japanese Studies (DIJ Tokyo) as a research fellow for contemporary Japanese politics for four years. Currently (2016/17), she is a Visiting Professor at Waseda University in Tokyo, and previously held visiting professorships at Kyūshū University (2016) in Fukuoka and Chūō University (2013) in Tokyo. As a postdoctoral research fellow, she was affiliated with the University of the Ryūkyūs (2004) in Okinawa, Japan and with Cornell University (2003/04) in Ithaca, NY, USA.

Gabriele has earned her PhD (2002) in Japanese Studies from the University of Ha

mburg with a study on Okinawa's political protest movement of the late 1990s and its impact on Japan–US relations, which was published in German language as "Die Renaissance der Friedensbewegung in Okinawa: Innen- und außenpolitische Dimensionen 1995–2000" (Iudicium, 2003). She has edited and co-edited numerous volumes, for example, "Destination Japan: Population Aging and International Labor Migration" (Contemporary Japan, 2014, special issue), "International Labor Migration to Japan: Current Models and Future Outlook" (ASIEN, The German Journal on Contemporary Asia, 2012, Special Issue), "Migration and Integration – Japan in Comparative Perspective" (with Glenda S. Roberts, 2011), and "The Demographic Challenge: A Handbook about Japan" (with Florian Coulmas, Harald Conrad and Annette Schad-Seifert, 2008). Recent publications of her own work include, for example, "Multiculturalism and trust in Japan: educational policies and schooling practices" (in: Japan Forum, 2017, 1, 77–99), and "Foreign Workers in Japan" (in: The SAGE Handbook of Modern Japanese Studies, ed. by James D. Babb, 2015, 567–582).
Inhaltsverzeichnis (5 Kapitel)

Introduction: Population Aging, Health-Caregiving to the Elderly, and International Labor Migration to Japan

Seiten 1-4

Health-Caregiving to the Elderly in Japan: Professionalized Labor, Community-Based Approaches, and International Migration

Seiten 5-36

International Health-Caregiver Migration to Japan and Germany: Policies Designed to Fail

Seiten 37-66

International Migration to Japan: Political and Societal Responses to the Challenge of Integration

Seiten 67-97

Outlook: International Health-Caregiver Migration to Japan

Seiten 99-103
Dieses Buch kaufen
eBook 46,00 €

Preis für Deutschland (Brutto)

ISBN 978-3-319-68012-5
Versehen mit digitalem Wasserzeichen, DRM-frei
Erhältliche Formate: PDF, EPUB
eBooks sind auf allen Endgeräten nutzbar
Sofortiger eBook Download nach Kauf

Softcover 58,84 €

Preis für Deutschland (Brutto)

ISBN 978-3-319-68011-8
Kostenfreier Versand für Individualkunden weltweit
Institutionelle Kunden wenden sich bitte an ihren Kundenbetreuer
Gewöhnlich versandfertig in 3-5 Werktagen, sofern auf Lager
Services zu diesem Buch
Bibliografische Information
Buchtitel

Population Aging and International Health-Caregiver Migration to Japan

Autoren

Titel der Buchreihe

Copyright

2018

Verlag

Springer International Publishing

Copyright Inhaber

The Author(s)

eBook ISBN

978-3-319-68012-5

DOI

10.1007/978-3-319-68012-5

Softcover ISBN

978-3-319-68011-8

Buchreihen ISSN

2211-3215

Auflage

1

Seitenzahl

VIII, 103

Anzahl der Bilder

14 Abbildungen in Farbe

Themen