The European Consortium for Mathematics in Industry
Vorschau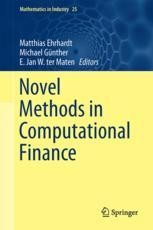 Novel Methods in Computational Finance
Herausgeber: Ehrhardt, Matthias, Günther, Michael, ter Maten, E. Jan W. (Eds.)
Vorschau
Offers new or improved methods for dealing with volatility of the financial marketIncludes concise discussion of modelling, analysis and numerical solution methods for nonlinear Black-Scholes equations
Several sections devoted to GPU programming techniques for solving financial problems
Special chapter on software includes the Computational Finance Toolbox that  provides insights to the detailed implementation of the proposed methods
Weitere Vorteile
Dieses Buch kaufen
eBook 93,08 €

Preis für Deutschland (Brutto)

ISBN 978-3-319-61282-9
Versehen mit digitalem Wasserzeichen, DRM-frei
Erhältliche Formate: PDF, EPUB
eBooks sind auf allen Endgeräten nutzbar
Sofortiger eBook Download nach Kauf

Hardcover 160,49 €

Preis für Deutschland (Brutto)

ISBN 978-3-319-61281-2
Kostenfreier Versand für Individualkunden weltweit
Institutionelle Kunden wenden sich bitte an ihren Kundenbetreuer
Gewöhnlich versandfertig in 3-5 Werktagen, sofern auf Lager

Softcover 117,69 €

Preis für Deutschland (Brutto)

ISBN 978-3-319-87040-3
Kostenfreier Versand für Individualkunden weltweit
Institutionelle Kunden wenden sich bitte an ihren Kundenbetreuer
Gewöhnlich versandfertig in 3-5 Werktagen, sofern auf Lager
This book discusses the state-of-the-art and open problems in computational finance. It presents a collection of research outcomes and reviews of the work from the STRIKE project, an FP7 Marie Curie Initial Training Network (ITN) project in which academic partners trained early-stage researchers in close cooperation with a broader range of associated partners, including from the private sector.

The aim of the project was to arrive at a deeper understanding of complex (mostly nonlinear) financial models and to develop effective and robust numerical schemes for solving linear and nonlinear problems arising from the mathematical theory of pricing financial derivatives and related financial products. This was accomplished by means of financial modelling, mathematical analysis and numerical simulations, optimal control techniques and validation of models.


In recent years the computational complexity of mathematical models employed in financial mathematics has witnessed tremendous growth. Advanced numerical techniques are now essential to the majority of present-day applications in the financial industry.


Special attention is devoted to a uniform methodology for both testing the latest achievements and simultaneously educating young PhD students. Most of the mathematical codes are linked into a novel computational finance toolbox, which is provided in MATLAB and PYTHON with an open access license. The book offers a valuable guide for researchers in computational finance and related areas, e.g. energy markets, with an interest in industrial mathematics.


Matthias Ehrhardt is coordinator of ITN STRIKE.and professor of mathematics at University of Wuppertal, Germany.
Inhaltsverzeichnis (30 Kapitel)

Nonlinear Parabolic Equations Arising in Mathematical Finance

Seiten 3-15

Modeling of Herding and Wealth Distribution in Large Markets

Seiten 17-29

Indifference Pricing in a Market with Transaction Costs and Jumps

Seiten 31-46

Negative Rates: New Market Practice

Seiten 47-63

Accurate Vega Calculation for Bermudan Swaptions

Seiten 65-82
Dieses Buch kaufen
eBook 93,08 €

Preis für Deutschland (Brutto)

ISBN 978-3-319-61282-9
Versehen mit digitalem Wasserzeichen, DRM-frei
Erhältliche Formate: PDF, EPUB
eBooks sind auf allen Endgeräten nutzbar
Sofortiger eBook Download nach Kauf

Hardcover 160,49 €

Preis für Deutschland (Brutto)

ISBN 978-3-319-61281-2
Kostenfreier Versand für Individualkunden weltweit
Institutionelle Kunden wenden sich bitte an ihren Kundenbetreuer
Gewöhnlich versandfertig in 3-5 Werktagen, sofern auf Lager

Softcover 117,69 €

Preis für Deutschland (Brutto)

ISBN 978-3-319-87040-3
Kostenfreier Versand für Individualkunden weltweit
Institutionelle Kunden wenden sich bitte an ihren Kundenbetreuer
Gewöhnlich versandfertig in 3-5 Werktagen, sofern auf Lager
Services zu diesem Buch
Wir empfehlen
Bibliografische Information
Buchtitel

Novel Methods in Computational Finance

Herausgeber

Matthias Ehrhardt
Michael Günther
E. Jan W. ter Maten

Titel der Buchreihe

Buchreihen Band

25

Copyright

2017

Verlag

Springer International Publishing

Copyright Inhaber

Springer International Publishing AG

eBook ISBN

978-3-319-61282-9

DOI

10.1007/978-3-319-61282-9

Hardcover ISBN

978-3-319-61281-2

Softcover ISBN

978-3-319-87040-3

Auflage

1

Seitenzahl

XVIII, 606

Anzahl der Bilder

101 schwarz-weiß Abbildungen, 93 Abbildungen in Farbe

Themen