Economic Complexity and Evolution
Vorschau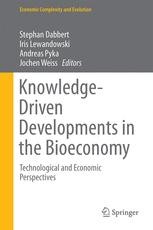 Knowledge-Driven Developments in the Bioeconomy
Technological and Economic Perspectives
Herausgeber: Dabbert, S., Lewandowski, I., Weiss, J., Pyka, A. (Eds.)
Vorschau
Tackles bioeconomy in an interdisciplinary and international way
Shows how to turn bioeconomy into economic growth
Gives a future perspective for sustainable growth and global distribution of welfare
Weitere Vorteile
Dieses Buch kaufen
eBook 96,29 €

Preis für Deutschland (Brutto)

ISBN 978-3-319-58374-7
Versehen mit digitalem Wasserzeichen, DRM-frei
Erhältliche Formate: EPUB, PDF
eBooks sind auf allen Endgeräten nutzbar
Sofortiger eBook Download nach Kauf

Hardcover 123,04 €

Preis für Deutschland (Brutto)

ISBN 978-3-319-58373-0
Kostenfreier Versand für Individualkunden weltweit
Institutionelle Kunden wenden sich bitte an ihren Kundenbetreuer
Gewöhnlich versandfertig in 3-5 Werktagen, sofern auf Lager

Softcover 123,04 €

Preis für Deutschland (Brutto)

ISBN 978-3-319-86391-7
Kostenfreier Versand für Individualkunden weltweit
Institutionelle Kunden wenden sich bitte an ihren Kundenbetreuer
Gewöhnlich versandfertig in 3-5 Werktagen, sofern auf Lager
This book is at the cutting edge of the ongoing research in bioeconomy and encompasses both technological and economic strategies to master the transformation towards a knowledge- and bio-based production system. The volume combines different international perspectives with approaches of the various fields of research. Bioeconomy is one of the future concepts of an economy which, while based on renewable biological resources, also predicts economic growth. Starting from a growth-economic as well as knowledge- and innovation-economic perspective the contributions give an overview of different existing patterns and cases and describe the basic prerequisites for the bioeconomy transformation. Therewith, the volume is a resource for experts and newcomers in the field of bioeconomy giving insight into the life cycle of bio-based products, detailing the latest advancements and how to turn them into economic growth. 

The agricultural economist Prof. Dr. Stephan Dabbert studied agriculture an Chistian-Albrecht University in Kiel, followed by a Master of Science degree in agricultural economics at Pennsylvania State University. He obtained his doctorate from the University of Hohenheim (Germany) in 1990, as well as his professorship in the area of agricultural business management. He led the Institute for Social Economy from 1992 until 1994 at the Centre for Agrarian Landscape and Land Use Research in Muencheberg. He has held the chair and leadership of the Department of Production Theory and Resource Economics in Hohenheim since 1994. From 2002 to 2006 he was Dean of the amalgamated Faculty of Agricultural Science in Hohenheim. He was elected President in 2012.

Prof. Dr. Iris Lewandowski has held the chair and professorship in "Biobased Products and Energy Crops" at the Institute of Crop Science of the University of Hohenheim since 2010. She graduated in Agricultural Science with specialization in Crop Science from the University of Hohenheim. Professor Lewandowski also holds a doctoral and postdoctoral degree in Crop Science. To date, her dedication to sustainable agricultural biomass production has brought her to the universities of Hohenheim and Utrecht (Netherlands). From 2006-2010 she led a research teach at Shell Global Solutions, exploring the practical contribution of research to sustainable bioenergy production. In addition, since 2015 professor Lewandowski has been Vice President for Academic Affairs at the University of Hohenheim.

Prof. Dr. Andreas Pyka has been professor of Innovation Economics at the Economics Institute of the University of Hohenheim in Stuttgart, Germany since 2009. He has an academic background in economics and business administration at the University of Augsburg, Germany, where he completed his PhD on informal networks, absorptive capacities and collective innovation in 1999. His Post Doc period Andreas Pyka spent as a researcher at the INRA Institute in Grenoble, France. After his return to Augsburg, where he was habilitated in 2004 he was doing research and teaching at the Austrian Institute of Technology, Vienna and the Technical University Delft, the Netherlands. His first tenured professorship for economic theory he got in 2006 at the University of Bremen, Germany. Professor Pyka has also been the Vice President for International Affairs of the University of Hohenheim since 2011.

Prof. Dr. Jochen Weiss has been Department head of the Food Physics and Meat Sciences Department at the University of Hohenheim since 2008. After graduating in chemical engineering from the University of Karlsruhe (today known as Karlsruhe Institute of Technology, KIT), he focused on food science during his PhD studies in Massachusetts where he also received his first position as a professor for "food biophysics and nanotechnology". He was granted with the Journal of Food Science Highest Cited Paper Award. Prof. Weiss has also been the Vice President for Research at the University of Hohenheim since 2011. 
Inhaltsverzeichnis (17 Kapitel)

Transformation of Economic Systems: The Bio-Economy Case

Seiten 3-16

Structural Change, Knowledge and the Bioeconomy

Seiten 17-32

Some Thoughts About the Bio-economy as Intelligently Navigated Complex Adaptive Systems

Seiten 33-53

Varieties of Knowledge-Based Bioeconomies

Seiten 57-82

International Bioeconomy Innovations in Central America

Seiten 83-96
Dieses Buch kaufen
eBook 96,29 €

Preis für Deutschland (Brutto)

ISBN 978-3-319-58374-7
Versehen mit digitalem Wasserzeichen, DRM-frei
Erhältliche Formate: EPUB, PDF
eBooks sind auf allen Endgeräten nutzbar
Sofortiger eBook Download nach Kauf

Hardcover 123,04 €

Preis für Deutschland (Brutto)

ISBN 978-3-319-58373-0
Kostenfreier Versand für Individualkunden weltweit
Institutionelle Kunden wenden sich bitte an ihren Kundenbetreuer
Gewöhnlich versandfertig in 3-5 Werktagen, sofern auf Lager

Softcover 123,04 €

Preis für Deutschland (Brutto)

ISBN 978-3-319-86391-7
Kostenfreier Versand für Individualkunden weltweit
Institutionelle Kunden wenden sich bitte an ihren Kundenbetreuer
Gewöhnlich versandfertig in 3-5 Werktagen, sofern auf Lager
Services zu diesem Buch
Bibliografische Information
Buchtitel

Knowledge-Driven Developments in the Bioeconomy

Buchuntertitel

Technological and Economic Perspectives

Herausgeber

Stephan Dabbert
Iris Lewandowski
Jochen Weiss
Andreas Pyka

Titel der Buchreihe

Copyright

2017

Verlag

Springer International Publishing

Copyright Inhaber

Springer International Publishing AG

eBook ISBN

978-3-319-58374-7

DOI

10.1007/978-3-319-58374-7

Hardcover ISBN

978-3-319-58373-0

Softcover ISBN

978-3-319-86391-7

Buchreihen ISSN

2199-3173

Auflage

1

Seitenzahl

XII, 341

Anzahl der Bilder

25 schwarz-weiß Abbildungen, 44 Abbildungen in Farbe

Themen