Operations Research Proceedings
Vorschau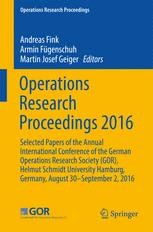 Operations Research Proceedings 2016
Selected Papers of the Annual International Conference of the German Operations Research Society (GOR), Helmut Schmidt University Hamburg, Germany, August 30 - September 2, 2016
Herausgeber: Fink, Andreas, Fügenschuh, Armin, Geiger, Martin Josef (Eds.)
Vorschau
Presents latest findings from research in OR
Introduces selected papers from a leading OR conference
Provides a special focus on "Analytical Decision Making"
Weitere Vorteile
Dieses Buch kaufen
eBook 139,09 €

Preis für Deutschland (Brutto)

ISBN 978-3-319-55702-1
Versehen mit digitalem Wasserzeichen, DRM-frei
Erhältliche Formate: PDF, EPUB
eBooks sind auf allen Endgeräten nutzbar
Sofortiger eBook Download nach Kauf

Softcover 181,89 €

Preis für Deutschland (Brutto)

ISBN 978-3-319-55701-4
Kostenfreier Versand für Individualkunden weltweit
Institutionelle Kunden wenden sich bitte an ihren Kundenbetreuer
Gewöhnlich versandfertig in 3-5 Werktagen, sofern auf Lager
This book includes a selection of refereed papers presented at the "Annual International Conference of the German Operations Research Society (OR2016)," which took place at the Helmut-Schmidt-Universität / Universität der Bundeswehr Hamburg, Germany, Aug. 30 - Sept. 2, 2016. Over 700 practitioners and academics from mathematics, computer science, business/economics, and related fields attended the conference. The scientific program included around 475 presentations on the theme Analytical Decision Making, focusing on the process of researching complex decision problems and devising effective solution methods towards better decisions. The book presents papers discussing classical mathematical optimization, statistics and simulation techniques. Such approaches are complemented by computer science methods and tools for the processing of data and the design and implementation of information systems. The book also examines recent advances in information technology, which allow big data volumes to be treated and enable real-time predictive and prescriptive business analytics to drive decisions and actions. Further, it includes problems modeled and treated under consideration of uncertainty, risk management, behavioral issues, and strategic decision situations.

Andreas Fink is professor and holds the Chair of Business Administration, in particular Information Systems Research, at the Helmut Schmidt University Hamburg, Germany. He holds diploma degrees in Business Administration and Computer Science from the University of Technology Darmstadt, a doctorate in Economics from the Braunschweig University of Technology and a habilitation degree from the University of Hamburg. His research is mainly concerned with the use of information technology to support decision-making.

Armin Fügenschuh is professor for Applied Mathematics at Helmut Schmidt University Hamburg, Germany, since 2013. He graduated with a diploma in Mathematics in Oldenburg in 2000 and received a doctoral degree (Dr. rer. nat.) at the Technische Universität Darmstadt in 2005. Between 2005 and 2013 he worked on postdoc positions at the Technische Universität Darmstadt, the Zuse Institute Berlin, the Georgia Institute of Technology, and the Friedrich-Alexander-Universität Erlangen-Nuremberg. In 2011 he finished his habilitation and received a venia legendi from the Technische Universität Berlin. His area of research is mixed-integer linear and nonlinear optimization and its application to real-world and engineering problems.

Martin Josef Geiger is professor and holds the chair of Business Administration/Logistics Management at Helmut Schmidt University Hamburg, Germany. His formal qualifications comprise a Doctoral degree (Dr. oec.) and a Habilitation, both from the University of Hohenheim, Stuttgart. Prof. Geiger is an active researcher in the area of multi criteria decision making and multi objective optimization, and has contributed to various recent optimization problems in scheduling, vehicle routing, and timetabling.
Inhaltsverzeichnis (86 Kapitel)

An Optimal Expansion Strategy for the German Railway Network Until 2030

Seiten 3-8

On- and Offline Scheduling of Bidirectional Traffic

Seiten 9-15

Integrated Segmentation of Supply and Demand with Service Differentiation

Seiten 17-22

Improved Compact Models for the Resource-Constrained Project Scheduling Problem

Seiten 25-30

A Precious Mess: On the Scattered Storage Assignment Problem

Seiten 31-36
Dieses Buch kaufen
eBook 139,09 €

Preis für Deutschland (Brutto)

ISBN 978-3-319-55702-1
Versehen mit digitalem Wasserzeichen, DRM-frei
Erhältliche Formate: PDF, EPUB
eBooks sind auf allen Endgeräten nutzbar
Sofortiger eBook Download nach Kauf

Softcover 181,89 €

Preis für Deutschland (Brutto)

ISBN 978-3-319-55701-4
Kostenfreier Versand für Individualkunden weltweit
Institutionelle Kunden wenden sich bitte an ihren Kundenbetreuer
Gewöhnlich versandfertig in 3-5 Werktagen, sofern auf Lager
Services zu diesem Buch
Bibliografische Information
Buchtitel

Operations Research Proceedings 2016

Buchuntertitel

Selected Papers of the Annual International Conference of the German Operations Research Society (GOR), Helmut Schmidt University Hamburg, Germany, August 30 - September 2, 2016

Herausgeber

Andreas Fink
Armin Fügenschuh
Martin Josef Geiger

Titel der Buchreihe

Copyright

2018

Verlag

Springer International Publishing

Copyright Inhaber

Springer International Publishing AG

eBook ISBN

978-3-319-55702-1

DOI

10.1007/978-3-319-55702-1

Softcover ISBN

978-3-319-55701-4

Buchreihen ISSN

0721-5924

Auflage

1

Seitenzahl

XIV, 658

Anzahl der Bilder

96 schwarz-weiß Abbildungen, 9 Abbildungen in Farbe

Themen