Economic Analysis of Law in European Legal Scholarship
Vorschau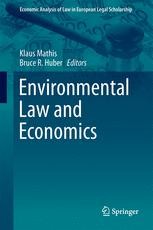 Environmental Law and Economics
Herausgeber: Mathis, Klaus, Huber, Bruce R. (Eds.)
Vorschau
Provides an economic analysis of recent developments in environmental law and policy in Europe and the America
Applies insights from neoclassical and behavioral economics to the study of energy law and policy
Features theoretical insights as well as empirical findings
Weitere Vorteile
Dieses Buch kaufen
eBook 106,99 €

Preis für Deutschland (Brutto)

ISBN 978-3-319-50932-7
Versehen mit digitalem Wasserzeichen, DRM-frei
Erhältliche Formate: PDF, EPUB
eBooks sind auf allen Endgeräten nutzbar
Sofortiger eBook Download nach Kauf

Hardcover 192,59 €

Preis für Deutschland (Brutto)

ISBN 978-3-319-50931-0
Kostenfreier Versand für Individualkunden weltweit
Institutionelle Kunden wenden sich bitte an ihren Kundenbetreuer
Gewöhnlich versandfertig in 3-5 Werktagen, sofern auf Lager

Softcover 139,09 €

Preis für Deutschland (Brutto)

ISBN 978-3-319-84526-5
Kostenfreier Versand für Individualkunden weltweit
Institutionelle Kunden wenden sich bitte an ihren Kundenbetreuer
Gewöhnlich versandfertig in 3-5 Werktagen, sofern auf Lager
This anthology discusses important issues surrounding environmental law and economics and provides an in-depth analysis of its use in legislation, regulation and legal adjudication from a neoclassical and behavioural law and economics perspective.

Environmental issues raise a vast range of legal questions: to what extent is it justifiable to rely on markets and continued technological innovation, especially as it relates to present exploitation of scarce resources? Or is it necessary for the state to intervene? Regulatory instruments are available to create and maintain a more sustainable society: command and control regulations, restraints, Pigovian taxes, emission certificates, nudging policies, etc. If regulation in a certain legal field is necessary, which policies and methods will most effectively spur sustainable consumption and production in order to protect the environment while mitigating any potential negative impact on economic development? Since the related problems are often caused by scarcity of resources, economic analysis of law can offer remarkable insights for their resolution.

Part I underlines the foundations of environmental law and economics. Part II analyses the effectiveness of economic instruments and regulations in environmental law. Part III is dedicated to the problems of climate change. Finally, Part IV focuses on tort and criminal law. The twenty-one chapters in this volume deliver insights into the multifaceted debate surrounding the use of economic instruments in environmental regulation in Europe.

Klaus Mathis is full professor for Public Law, Law of the Sustainable Economy and Philosophy of Law at the University of Lucerne. He is the co-founder of the Center for Law and Sustainability (CLS) and vice-president of the research commission of the University of Lucerne. Furthermore he is member of the evaluation commission "Ambizione" of the Swiss National Science Foundation (SNSF).

Bruce Huber teaches and conducts research in the areas of environmental law, natural resources law, property, and energy law. His particular areas of expertise include energy regulation, public land and resource management, and the interaction between law and politics. His scholarship in these fields has been published in such journals as the California Law Review, the Harvard Environmental Law Review, and The Georgetown Law Journal.
Inhaltsverzeichnis (21 Kapitel)

Sustainable Development, Economic Growth and Environmental Regulation

Seiten 3-42

Temporal Spillovers

Seiten 43-57

Environmental Law and Economics in Europe

Seiten 59-81

Defending Environmental Economic Instruments Against the Economists and Their Opponents

Seiten 83-106

Escaping the Epistemic Trap

Seiten 107-121
Dieses Buch kaufen
eBook 106,99 €

Preis für Deutschland (Brutto)

ISBN 978-3-319-50932-7
Versehen mit digitalem Wasserzeichen, DRM-frei
Erhältliche Formate: PDF, EPUB
eBooks sind auf allen Endgeräten nutzbar
Sofortiger eBook Download nach Kauf

Hardcover 192,59 €

Preis für Deutschland (Brutto)

ISBN 978-3-319-50931-0
Kostenfreier Versand für Individualkunden weltweit
Institutionelle Kunden wenden sich bitte an ihren Kundenbetreuer
Gewöhnlich versandfertig in 3-5 Werktagen, sofern auf Lager

Softcover 139,09 €

Preis für Deutschland (Brutto)

ISBN 978-3-319-84526-5
Kostenfreier Versand für Individualkunden weltweit
Institutionelle Kunden wenden sich bitte an ihren Kundenbetreuer
Gewöhnlich versandfertig in 3-5 Werktagen, sofern auf Lager
Services zu diesem Buch
Wir empfehlen
Bibliografische Information
Buchtitel

Environmental Law and Economics

Herausgeber

Klaus Mathis
Bruce R. Huber

Titel der Buchreihe

Buchreihen Band

4

Copyright

2017

Verlag

Springer International Publishing

Copyright Inhaber

Springer International Publishing AG

eBook ISBN

978-3-319-50932-7

DOI

10.1007/978-3-319-50932-7

Hardcover ISBN

978-3-319-50931-0

Softcover ISBN

978-3-319-84526-5

Auflage

1

Seitenzahl

XXI, 534

Anzahl der Bilder

5 schwarz-weiß Abbildungen, 10 Abbildungen in Farbe

Themen