World Sustainability Series
Vorschau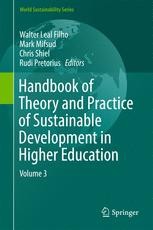 Handbook of Theory and Practice of Sustainable Development in Higher Education
Volume 3
Herausgeber: Leal Filho, W., Mifsud, M., Shiel, C., Pretorius, R. (Eds.)
Vorschau
Pursues a highly international approach, covering over 40 countries
Describes research, curriculum innovations, and campus greening in a comprehensive way
Provides universities with a sound basis for promoting sustainability efforts
Fills an important market niche, offering the most comprehensive publication on the topic
Weitere Vorteile
Dieses Buch kaufen
eBook 128,39 €

Preis für Deutschland (Brutto)

ISBN 978-3-319-47895-1
Versehen mit digitalem Wasserzeichen, DRM-frei
Erhältliche Formate: EPUB, PDF
eBooks sind auf allen Endgeräten nutzbar
Sofortiger eBook Download nach Kauf

Hardcover 235,39 €

Preis für Deutschland (Brutto)

ISBN 978-3-319-47894-4
Kostenfreier Versand für Individualkunden weltweit
Institutionelle Kunden wenden sich bitte an ihren Kundenbetreuer
Gewöhnlich versandfertig in 3-5 Werktagen, sofern auf Lager

Softcover 165,84 €

Preis für Deutschland (Brutto)

ISBN 978-3-319-83852-6
Kostenfreier Versand für Individualkunden weltweit
Institutionelle Kunden wenden sich bitte an ihren Kundenbetreuer
Gewöhnlich versandfertig in 3-5 Werktagen, sofern auf Lager
This Handbook approaches sustainable development in higher education from an integrated perspective, addressing the dearth of publications on the subject. It offers a unique overview of what universities around the world are doing to implement sustainable development (i.e. via curriculum innovation, research, activities, or practical projects) and how their efforts relate to education for sustainable development at the university level.

The Handbook gathers a wealth of information, ideas, best practices and lessons learned in the context of executing concrete projects, and assesses methodological approaches to integrating the topic of sustainable development in university curricula. Lastly, it documents and disseminates the veritable treasure trove of practical experience currently available on sustainability in higher education.

Walter Leal Filho (BSc, PhD, DSc, DPhil, DEd, DL, DLitt) is a Senior Professor and Head of the Research and Transfer Centre "Applications of Life Sciences" at Hamburg University of Applied Sciences in Germany, and Chair of Environment and Technology at Manchester Metropolitan University, UK. He is the initiator of the Word Sustainable Development Symposia (WSSD-U) series, and chairs the Inter-University Sustainable Development Research Programme. Professor Leal Filho has written, co-written, edited or co-edited more than 300 publications, including books, book chapters and papers in refereed journals.

Mark Christopher Mifsud (MSc, PhD, CBiol, CEnv, CSci) is a Senior Lecturer and Coordinator of the Master Degree Program in Education for Sustainable Development at the University of Malta's Centre for Environmental Education and Research. Mark is currently a government appointed member on the National Strategy of Education for Sustainable Development board. His research interests are mainly in the areas of Environmental Education, Sustainability Modeling, Environmental Issues and Education for Sustainable Development. He is a reviewer for a number of international journals including Environmental Education Research and the Journal of Environmental and Science Education. He has written more than 40 publications, including books, book chapters, scientific reports and papers in refereed journals.

Chris Shiel is a Professor of Sustainability and Globalisation at the Department of Life and Environmental Science, Faculty of Science and Technology at Bournemouth University. She is the former Director of the Centre for Global Perspectives, a Leadership Foundation Fellow and a Principle Fellow of the Higher Education Academy. She has contributed to developments in internationalization and sustainability through research and community engagement and was one of the first UK-based contributors to the concepts of ESD and global citizenship. <Rudi Pretorius is attached to the Department of Geography at the University of South Africa (Unisa), where he has been giving a variety of sustainability related courses over the past several years. In addition, he is the academic coordinator of the undergraduate program in environmental management at Unisa. He holds a Master's of Science in Geography and a Master's in Business Leadership. He is chair of the Division of Mathematical and Physical Sciences of the South African Academy for Science and Arts and is currently completing a PhD in Geography with a focus on the potential and role of Geography in sustainability education in the South African context.
Inhaltsverzeichnis (24 Kapitel)

Designing Sustainable Consumption and Production Systems in Higher Education Institutions: The Case of Solid Waste Management

Seiten 3-25

Sustainable Campus Management at Freie Universität Berlin—Governance and Participation Matter

Seiten 27-45

Education for Sustainability: A Wisdom Model

Seiten 47-58

ecoGIS—A Solution for Interactive Facility Management to Support the European Eco-Management and Audit Scheme (EMAS)

Seiten 59-72

A Real-World Lab Approach to the Carbon Neutral Campus Transition: A Case Study

Seiten 73-88
Dieses Buch kaufen
eBook 128,39 €

Preis für Deutschland (Brutto)

ISBN 978-3-319-47895-1
Versehen mit digitalem Wasserzeichen, DRM-frei
Erhältliche Formate: EPUB, PDF
eBooks sind auf allen Endgeräten nutzbar
Sofortiger eBook Download nach Kauf

Hardcover 235,39 €

Preis für Deutschland (Brutto)

ISBN 978-3-319-47894-4
Kostenfreier Versand für Individualkunden weltweit
Institutionelle Kunden wenden sich bitte an ihren Kundenbetreuer
Gewöhnlich versandfertig in 3-5 Werktagen, sofern auf Lager

Softcover 165,84 €

Preis für Deutschland (Brutto)

ISBN 978-3-319-83852-6
Kostenfreier Versand für Individualkunden weltweit
Institutionelle Kunden wenden sich bitte an ihren Kundenbetreuer
Gewöhnlich versandfertig in 3-5 Werktagen, sofern auf Lager
Services zu diesem Buch
Wir empfehlen
Bibliografische Information
Buchtitel

Handbook of Theory and Practice of Sustainable Development in Higher Education

Buchuntertitel

Volume 3

Herausgeber

Walter Leal Filho
Mark Mifsud
Chris Shiel
Rudi Pretorius

Titel der Buchreihe

Copyright

2017

Verlag

Springer International Publishing

Copyright Inhaber

Springer International Publishing AG

eBook ISBN

978-3-319-47895-1

DOI

10.1007/978-3-319-47895-1

Hardcover ISBN

978-3-319-47894-4

Softcover ISBN

978-3-319-83852-6

Buchreihen ISSN

2199-7373

Auflage

1

Seitenzahl

IX, 408

Anzahl der Bilder

14 schwarz-weiß Abbildungen, 74 Abbildungen in Farbe

Themen