International Studies in Entrepreneurship
Vorschau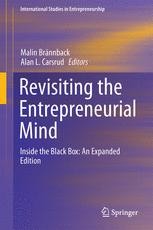 Revisiting the Entrepreneurial Mind
Inside the Black Box: An Expanded Edition
Herausgeber: Brännback, Malin, Carsrud, Alan L. (Eds.)
Vorschau
Builds on Understanding the Entrepreneurial Mind (Springer, 2009) to show progression in the field over the last decade
Brings together leading authorities on entrepreneurial cognition research worldwide (Europe, Australia and the US)
Draws from related fields of cognitive and social psychology, organizational behavior, consumer research, and career development to paint a multi-layered picture of the entrepreneur Sets the agenda for future research in the field
Weitere Vorteile
Dieses Buch kaufen
eBook 117,69 €

Preis für Deutschland (Brutto)

ISBN 978-3-319-45544-0
Versehen mit digitalem Wasserzeichen, DRM-frei
Erhältliche Formate: EPUB, PDF
eBooks sind auf allen Endgeräten nutzbar
Sofortiger eBook Download nach Kauf

Hardcover 160,49 €

Preis für Deutschland (Brutto)

ISBN 978-3-319-45543-3
Kostenfreier Versand für Individualkunden weltweit
Institutionelle Kunden wenden sich bitte an ihren Kundenbetreuer
Gewöhnlich versandfertig in 3-5 Werktagen, sofern auf Lager

Softcover 160,49 €

Preis für Deutschland (Brutto)

ISBN 978-3-319-83317-0
Kostenfreier Versand für Individualkunden weltweit
Institutionelle Kunden wenden sich bitte an ihren Kundenbetreuer
Gewöhnlich versandfertig in 3-5 Werktagen, sofern auf Lager
The book explores various aspects of cognitive and motivational psychology as they impact entrepreneurial behavior. Building upon the 2009 volume, Understanding the Entrepreneurial Mind, the editors and contributors explore the cognitions, motivations, passions, intentions, perceptions, and emotions associated with entrepreneurial behaviors, in each case preserving their original chapters and enhancing them with thoughtful and targeted updates, reflecting on the most recent developments in theory and practice, telling the story of what has transpired in the last decade in the field of entrepreneurial psychology.

The volume addresses such questions as: Why do some people start business and others do not? Is entrepreneurship a natural quality or can it be taught? Do entrepreneurs think differently from others? While there is a great deal of literature exploring the dynamics of new firm creation, policies to promote innovation and technology transfer, and the psychology of creativity; research on entrepreneurial mindset or cognition is relatively new, and draws largely from such related fields as organizational behavior, cognitive and social psychology, career development, and consumer research. In this book, editors Brännback and Carsrud have reassembled the contributors to Understanding the Entrepreneurial Mind to discuss new research paradigms given their vantage point years after the original volume was published.

Featuring the most current literature references, Revisiting the Entrepreneurial Mind continues to challenge conventional approaches to entrepreneurship and articulate an agenda for future research.




Malin Brännback, D.Sc., is Professor of International Business and Dean at Åbo Akademi University, where she received her doctoral degree in management cience in 1996. She also received a B.Sc. in pharmacy from Åbo Akademi University in 1986. In 2003 she was appointed Chaired Professor in International Business at Åbo Akademi University. She is Docent at the Turku School of Economics, where she taught prior to returning to Åbo, and she is Docent at the Swedish School of Economics and Business Administration in Helsinki (Hanken). She was visiting Professor in Entrepreneurship at Stockholm Business School (Stockholm University) 2012-2014. She has held a variety of teaching and research positions in such fields as Information Systems, International Marketing, Strategic Management and Pharmacy. She has 200 publications in areas such as entrepreneurship, biotechnology business, and knowledge management. She has co-authored eight books with Alan Carsrud, including Entrepreneurship (Greenleaf Publishing, 2005), Understanding the Entrepreneurial Mind (Springer, 2009), Understanding Family Businesses (Springer, 2012), and Handbook of Research Methods and Applications in Entrepreneurship and Small Businesses (Edward Elgar, 2014). She is on the review board of Journal of Small Business Management. Her current research interests are in entrepreneurial intentionality, entrepreneurial cognition and entrepreneurial growth and performance in technology entrepreneurship, as well as social media use.

Alan L. Carsrud, Ph.D. Ec.D. (hc) is Visiting Research Professor and Docent at Åbo Akademi University in Turku (Åbo), Finland. His prior academic positions include the Loretta Rogers Chair in Entrepreneurship at the Ted Rogers School of Management at Ryerson University in Toronto, Canada; Clinical Professor of Entrepreneurship, Professor of Industrial & Systems Engineering, Professor of Hospitality Management and Executive Director of the Eugenio Pino & Family Global Entrepreneurship Center at Florida International University; Senior Lecturer and Academic Coordinator of the Price Center at the Anderson School at UCLA and Senior Lecturer in Electrical Engineering at UCLA. He has also been on the graduate faculties of the Australian Graduate School of Management, Bond University (Australia), Anahuac University (Mexico), Nanyang Technological University (Singapore), University of Southern California, Pepperdine University, and The University of Texas at Austin. He is a Fellow of the Family Firm Institute. He is Associate Editor of the Journal of Small Business Management, and co-founded Entrepreneurship and Regional Development. He founded the UCLA Venture Development and Global Access Programs, which help create new, technology-based ventures in Australia, Chile, Finland, France, Italy, Mexico and the United States. In addition, he created the Family and Closely-Held Business Program at UCLA. He has published over 220 articles and chapters on entrepreneurship, family business, and psychology, and has co-authored with Dr. Malin Brännback eight books on entrepreneurship and family business.



Inhaltsverzeichnis (25 Kapitel)

Revisiting the Entrepreneurial Mind: Inside the Black Box

Seiten 1-9

Entrepreneurial Intentions Are Dead: Long Live Entrepreneurial Intentions

Seiten 13-34

Is Research on Entrepreneurial Intentions Growing? Or…Just Getting Bigger?

Seiten 35-40

Perceptions: Looking at the World Through Entrepreneurial Lenses

Seiten 41-59

Perceptions Revisited: Continuing to Look at the World Through Entrepreneurial Lenses

Seiten 61-67
Dieses Buch kaufen
eBook 117,69 €

Preis für Deutschland (Brutto)

ISBN 978-3-319-45544-0
Versehen mit digitalem Wasserzeichen, DRM-frei
Erhältliche Formate: EPUB, PDF
eBooks sind auf allen Endgeräten nutzbar
Sofortiger eBook Download nach Kauf

Hardcover 160,49 €

Preis für Deutschland (Brutto)

ISBN 978-3-319-45543-3
Kostenfreier Versand für Individualkunden weltweit
Institutionelle Kunden wenden sich bitte an ihren Kundenbetreuer
Gewöhnlich versandfertig in 3-5 Werktagen, sofern auf Lager

Softcover 160,49 €

Preis für Deutschland (Brutto)

ISBN 978-3-319-83317-0
Kostenfreier Versand für Individualkunden weltweit
Institutionelle Kunden wenden sich bitte an ihren Kundenbetreuer
Gewöhnlich versandfertig in 3-5 Werktagen, sofern auf Lager
Services zu diesem Buch
Wir empfehlen
Bibliografische Information
Buchtitel

Revisiting the Entrepreneurial Mind

Buchuntertitel

Inside the Black Box: An Expanded Edition

Herausgeber

Malin Brännback
Alan L. Carsrud

Titel der Buchreihe

Buchreihen Band

35

Copyright

2017

Verlag

Springer International Publishing

Copyright Inhaber

Springer International Publishing Switzerland

eBook ISBN

978-3-319-45544-0

DOI

10.1007/978-3-319-45544-0

Hardcover ISBN

978-3-319-45543-3

Softcover ISBN

978-3-319-83317-0

Buchreihen ISSN

1572-1922

Auflage

1

Seitenzahl

XI, 423

Anzahl der Bilder

17 schwarz-weiß Abbildungen, 6 Abbildungen in Farbe

Themen