Methodology of Educational Measurement and Assessment
Vorschau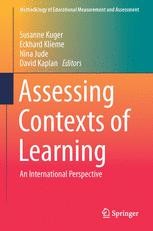 Assessing Contexts of Learning
An International Perspective
Herausgeber: Kuger, S., Klieme, E., Jude, N., Kaplan, D. (Eds.)
Vorschau
Provides a comprehensive collection of thematic reviews across a wide range of education effectiveness research topics
Relates theoretical considerations in educational effectiveness research to international large-scale assessments
Connects educational effectiveness research and international large-scale assessment to education policy and practice issues
Offers guidance on questionnaire development in educational effectiveness research for national and international studies
Weitere Vorteile
Dieses Buch kaufen
eBook 117,69 €

Preis für Deutschland (Brutto)

ISBN 978-3-319-45357-6
Versehen mit digitalem Wasserzeichen, DRM-frei
Erhältliche Formate: EPUB, PDF
eBooks sind auf allen Endgeräten nutzbar
Sofortiger eBook Download nach Kauf

Hardcover 149,79 €

Preis für Deutschland (Brutto)

ISBN 978-3-319-45356-9
Kostenfreier Versand für Individualkunden weltweit
Institutionelle Kunden wenden sich bitte an ihren Kundenbetreuer
Gewöhnlich versandfertig in 3-5 Werktagen, sofern auf Lager

Softcover 149,79 €

Preis für Deutschland (Brutto)

ISBN 978-3-319-83274-6
Kostenfreier Versand für Individualkunden weltweit
Institutionelle Kunden wenden sich bitte an ihren Kundenbetreuer
Gewöhnlich versandfertig in 3-5 Werktagen, sofern auf Lager
This volume brings together educational effectiveness research and international large-scale assessments, demonstrating how the two fields can be applied to inspire and improve each other, and providing readers direct links to instruments that cover a broad range of topics and have been shown to work in more than 70 countries. The book's initial chapters introduce and summarize recent discussions and developments in the conceptualization, implementation, and evaluation of international large-scale context assessments and provide an outlook on possible future developments. Subsequently, three thematic sections – "Student Background", "Outcomes of Education Beyond Achievement", and "Learning in Schools" – each present a series of chapters that provide the conceptual background for a wide range of important topics in education research, policy, and practice. Each chapter defines a conceptual framework that relates recent findings in the educational effectiveness research literature to current issues in education policy and practice.

These frameworks were used to develop interesting and relevant indicators that may be used for meaningful reporting from international assessments, other cross-cultural research, or national studies. Using the example of one particular survey (the Programme for International Student Assessment (PISA 2015)), this volume links all theoretical considerations to fully developed questionnaire material that was field trailed and evaluated in questionnaires for students and their parents as well as teachers and principals in their schools.

The primary purposes of this book are to inform readers about how education effectiveness research and international large-scale assessments are already interacting to inform research and policymaking; to identify areas where a closer collaboration of both fields or input from other areas could further improve this work; to provide sound theoretical frameworks for future work in both fields; and finally to relate these theoretical debates to currently available and evaluated material for future context assessments. 
Inhaltsverzeichnis (19 Kapitel)

Dimensions of Context Assessment

Seiten 3-37

The Assessment of Learning Contexts in PISA

Seiten 39-51

The Methodology of PISA: Past, Present, and Future

Seiten 53-73

An Introduction to the PISA 2015 Questionnaire Field Trial: Study Design and Analysis Procedures

Seiten 75-113

Social Background

Seiten 117-145
Dieses Buch kaufen
eBook 117,69 €

Preis für Deutschland (Brutto)

ISBN 978-3-319-45357-6
Versehen mit digitalem Wasserzeichen, DRM-frei
Erhältliche Formate: EPUB, PDF
eBooks sind auf allen Endgeräten nutzbar
Sofortiger eBook Download nach Kauf

Hardcover 149,79 €

Preis für Deutschland (Brutto)

ISBN 978-3-319-45356-9
Kostenfreier Versand für Individualkunden weltweit
Institutionelle Kunden wenden sich bitte an ihren Kundenbetreuer
Gewöhnlich versandfertig in 3-5 Werktagen, sofern auf Lager

Softcover 149,79 €

Preis für Deutschland (Brutto)

ISBN 978-3-319-83274-6
Kostenfreier Versand für Individualkunden weltweit
Institutionelle Kunden wenden sich bitte an ihren Kundenbetreuer
Gewöhnlich versandfertig in 3-5 Werktagen, sofern auf Lager
Services zu diesem Buch
Bibliografische Information
Buchtitel

Assessing Contexts of Learning

Buchuntertitel

An International Perspective

Herausgeber

Susanne Kuger
Eckhard Klieme
Nina Jude
David Kaplan

Titel der Buchreihe

Copyright

2016

Verlag

Springer International Publishing

Copyright Inhaber

Springer International Publishing Switzerland

eBook ISBN

978-3-319-45357-6

DOI

10.1007/978-3-319-45357-6

Hardcover ISBN

978-3-319-45356-9

Softcover ISBN

978-3-319-83274-6

Buchreihen ISSN

2367-170X

Auflage

1

Seitenzahl

XII, 490

Anzahl der Bilder

16 schwarz-weiß Abbildungen

Themen