Natural History Collections
Vorschau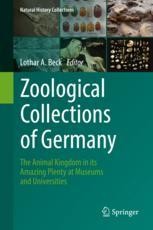 Zoological Collections of Germany
The Animal Kingdom in its Amazing Plenty at Museums and Universities
Herausgeber: Beck, Lothar A. (Ed.)
Vorschau
Provides a timely compilation of German zoological collections
Casts new light on endangered zoological collections and explores modern exhibition concepts
Maximizes readers insight into the zoological collection network
Weitere Vorteile
Dieses Buch kaufen
eBook 96,29 €

Preis für Deutschland (Brutto)

ISBN 978-3-319-44321-8
Versehen mit digitalem Wasserzeichen, DRM-frei
Erhältliche Formate: EPUB, PDF
eBooks sind auf allen Endgeräten nutzbar
Sofortiger eBook Download nach Kauf

Hardcover 171,19 €

Preis für Deutschland (Brutto)

ISBN 978-3-319-44319-5
Kostenfreier Versand für Individualkunden weltweit
Institutionelle Kunden wenden sich bitte an ihren Kundenbetreuer
Gewöhnlich versandfertig in 3-5 Werktagen, sofern auf Lager

Softcover 123,04 €

Preis für Deutschland (Brutto)

ISBN 978-3-319-83038-4
Kostenfreier Versand für Individualkunden weltweit
Institutionelle Kunden wenden sich bitte an ihren Kundenbetreuer
Gewöhnlich versandfertig in 3-5 Werktagen, sofern auf Lager
This book is devoted to the knowledge of up to 250 years of collecting, organizing and preserving animals by generations of scientists. Zoological Collections are a huge resource for modern animal research and should be available for national and international scientists and institutions, as well as prospective public and private customers. Moreover, these collections are an important part of the scientific enterprise, supporting scientific research, human health, public education, and the conservation of biodiversity. Much of what we are beginning to understand about our world, we owe to the collection, preservation, and ongoing study of natural specimens. Properly preserved collections of marine or terrestrial animals are libraries of Earth's history and vital to our ability to learn about our place in its future.

The approach employed by the editor involves not only an introduction to the topic, but also an external view on German collections including an assessment of their value in the international and national context, and information on the international and national collection networks. Particular attention is given to new approaches of sorting, preserving and researching in Zoological Collections as well as their neglect and/or threat. In addition, the book provides information on all big Public Research Museums, on important Collections in regional Country and local District Museums, and also on University collections.

This is a highly informative and carefully presented book, providing scientific insight for readers with an interest in biodiversity, taxonomy, or evolution, as well as natural history collections at large.
Inhaltsverzeichnis (58 Kapitel)

In Past and Recent Times: On the Significance of Zoological Collections in Germany—An Introduction

Seiten 3-6

Germany's Zoological Collections: An International and Personal View on an Important Historical and Contemporary Scientific Resource

Seiten 7-15

Research Collections in Germany: Modern Trends in Methods of Sorting, Preserving, and Research

Seiten 17-28

National and International Collection Networks

Seiten 29-36

Legal and Ethical Challenges: From Collection Management to Access and Benefit-Sharing

Seiten 37-47
Dieses Buch kaufen
eBook 96,29 €

Preis für Deutschland (Brutto)

ISBN 978-3-319-44321-8
Versehen mit digitalem Wasserzeichen, DRM-frei
Erhältliche Formate: EPUB, PDF
eBooks sind auf allen Endgeräten nutzbar
Sofortiger eBook Download nach Kauf

Hardcover 171,19 €

Preis für Deutschland (Brutto)

ISBN 978-3-319-44319-5
Kostenfreier Versand für Individualkunden weltweit
Institutionelle Kunden wenden sich bitte an ihren Kundenbetreuer
Gewöhnlich versandfertig in 3-5 Werktagen, sofern auf Lager

Softcover 123,04 €

Preis für Deutschland (Brutto)

ISBN 978-3-319-83038-4
Kostenfreier Versand für Individualkunden weltweit
Institutionelle Kunden wenden sich bitte an ihren Kundenbetreuer
Gewöhnlich versandfertig in 3-5 Werktagen, sofern auf Lager
Services zu diesem Buch
Wir empfehlen
Bibliografische Information
Buchtitel

Zoological Collections of Germany

Buchuntertitel

The Animal Kingdom in its Amazing Plenty at Museums and Universities

Herausgeber

Titel der Buchreihe

Copyright

2018

Verlag

Springer International Publishing

Copyright Inhaber

Springer International Publishing AG

eBook ISBN

978-3-319-44321-8

DOI

10.1007/978-3-319-44321-8

Hardcover ISBN

978-3-319-44319-5

Softcover ISBN

978-3-319-83038-4

Buchreihen ISSN

2510-1862

Auflage

1

Seitenzahl

XXXII, 729

Anzahl der Bilder

30 schwarz-weiß Abbildungen, 347 Abbildungen in Farbe

Themen