Smart Innovation, Systems and Technologies
Vorschau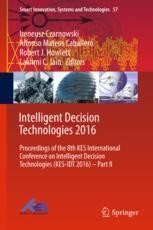 Intelligent Decision Technologies 2016
Proceedings of the 8th KES International Conference on Intelligent Decision Technologies (KES-IDT 2016) – Part II
Herausgeber: Czarnowski, I., Caballero, A.M., Howlett, R.J., Jain, L.C. (Eds.)
Vorschau
Recent research on Intelligent Decision Technologies
Presents the interdisciplinarity of Intelligent Decision Technologies, bridging computer science with its development of artificial intelligence, information systems with its development of decision support systems, and engineering with its development of systems
Proceedings of the 8th International KES Conference on INTELLIGENT DECISION TECHNOLOGIES KES-IDT-16, held at Puerto de la Cruz, Tenerife, Spain, 15-17 June 2016
Weitere Vorteile
Dieses Buch kaufen
eBook 181,89 €

Preis für Deutschland (Brutto)

ISBN 978-3-319-39627-9
Versehen mit digitalem Wasserzeichen, DRM-frei
Erhältliche Formate: EPUB, PDF
eBooks sind auf allen Endgeräten nutzbar
Sofortiger eBook Download nach Kauf

Hardcover 235,39 €

Preis für Deutschland (Brutto)

ISBN 978-3-319-39626-2
Kostenfreier Versand für Individualkunden weltweit
Institutionelle Kunden wenden sich bitte an ihren Kundenbetreuer
Gewöhnlich versandfertig in 3-5 Werktagen, sofern auf Lager

Softcover 235,39 €

Preis für Deutschland (Brutto)

ISBN 978-3-319-81926-6
Kostenfreier Versand für Individualkunden weltweit
Institutionelle Kunden wenden sich bitte an ihren Kundenbetreuer
Gewöhnlich versandfertig in 3-5 Werktagen, sofern auf Lager
The KES-IDT-2016 proceedings give an excellent insight into recent research, both theoretical and applied, in the field of intelligent decision making. The range of topics explored is wide, and covers methods of grouping, classification, prediction, decision support, modelling and many more in such areas as finance, linguistics, medicine, management and transportation.

This proceedings contain several sections devoted to specific topics, such as:

· Specialized Decision Techniques for Data Mining, Transportation and Project Management

· Pattern Recognition for Decision Making Systems

· New Advances of Soft Computing in Industrial and Management Engineering

· Recent Advances in Fuzzy Systems

· Intelligent Data Analysis and Applications

· Reasoning-based Intelligent Systems

· Intelligent Methods for Eye Movement Data Processing and Analysis

· Intelligent Decision Technologies for Water Resources Management

· Intelligent Decision Making for Uncertain Unstructured Big Data

· Decision Making Theory for Economics

· Interdisciplinary Approaches in Business Intelligence Research and Practice

· Pattern Recognition in Audio and Speech Processing

The KES-IDT conference is a well-established international annual conference, interdisciplinary in nature. These two volumes of proceedings form an excellent account of the latest results and outcomes of recent research in this leading-edge area.
Inhaltsverzeichnis (41 Kapitel)

Comparison of Four Methods of Combining Classifiers on the Basis of Dispersed Medical Data

Seiten 3-13

Estimation of Coefficient of Static Friction of Surface by Analyzing Photo Images

Seiten 15-26

Decision Case Management for Digital Enterprise Architectures with the Internet of Things

Seiten 27-37

Exploiting Emoticons to Generate Emotional Dictionaries from Facebook Pages

Seiten 39-49

Multiple Ontology-Based Indexing of Multimedia Documents on the World Wide Web

Seiten 51-62
Dieses Buch kaufen
eBook 181,89 €

Preis für Deutschland (Brutto)

ISBN 978-3-319-39627-9
Versehen mit digitalem Wasserzeichen, DRM-frei
Erhältliche Formate: EPUB, PDF
eBooks sind auf allen Endgeräten nutzbar
Sofortiger eBook Download nach Kauf

Hardcover 235,39 €

Preis für Deutschland (Brutto)

ISBN 978-3-319-39626-2
Kostenfreier Versand für Individualkunden weltweit
Institutionelle Kunden wenden sich bitte an ihren Kundenbetreuer
Gewöhnlich versandfertig in 3-5 Werktagen, sofern auf Lager

Softcover 235,39 €

Preis für Deutschland (Brutto)

ISBN 978-3-319-81926-6
Kostenfreier Versand für Individualkunden weltweit
Institutionelle Kunden wenden sich bitte an ihren Kundenbetreuer
Gewöhnlich versandfertig in 3-5 Werktagen, sofern auf Lager
Services zu diesem Buch
Wir empfehlen
Bibliografische Information
Buchtitel

Intelligent Decision Technologies 2016

Buchuntertitel

Proceedings of the 8th KES International Conference on Intelligent Decision Technologies (KES-IDT 2016) – Part II

Herausgeber

Ireneusz Czarnowski
Alfonso Mateos Caballero
Robert J. Howlett
Lakhmi C. Jain

Titel der Buchreihe

Buchreihen Band

57

Copyright

2016

Verlag

Springer International Publishing

Copyright Inhaber

Springer International Publishing Switzerland

eBook ISBN

978-3-319-39627-9

DOI

10.1007/978-3-319-39627-9

Hardcover ISBN

978-3-319-39626-2

Softcover ISBN

978-3-319-81926-6

Buchreihen ISSN

2190-3018

Auflage

1

Seitenzahl

XVI, 480

Anzahl der Bilder

135 schwarz-weiß Abbildungen

Themen