Studies in the Philosophy of Sociality
Vorschau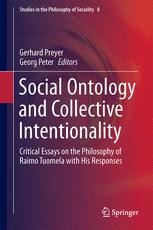 Social Ontology and Collective Intentionality
Critical Essays on the Philosophy of Raimo Tuomela with His Responses
Herausgeber: Preyer, Gerhard, Peter, Georg (Eds.)
Vorschau
Features a critical evaluation of the recent work of philosopher, Prof. Raimo Tuomela on social institutions and group agents
Offers new approaches to the collectivism-versus-individualism debate
Includes eight essays as well as a response to each by Tuomela himself
Weitere Vorteile
Dieses Buch kaufen
eBook 85,59 €

Preis für Deutschland (Brutto)

ISBN 978-3-319-33236-9
Versehen mit digitalem Wasserzeichen, DRM-frei
Erhältliche Formate: PDF, EPUB
eBooks sind auf allen Endgeräten nutzbar
Sofortiger eBook Download nach Kauf

Hardcover 106,99 €

Preis für Deutschland (Brutto)

ISBN 978-3-319-33235-2
Kostenfreier Versand für Individualkunden weltweit
Institutionelle Kunden wenden sich bitte an ihren Kundenbetreuer
Gewöhnlich versandfertig in 3-5 Werktagen, sofern auf Lager

Softcover 106,99 €

Preis für Deutschland (Brutto)

ISBN 978-3-319-81462-9
Kostenfreier Versand für Individualkunden weltweit
Institutionelle Kunden wenden sich bitte an ihren Kundenbetreuer
Gewöhnlich versandfertig in 3-5 Werktagen, sofern auf Lager
This volume features a critical evaluation of the recent work of the philosopher, Prof. Raimo Tuomela and it also offers it offers new approaches to the collectivism-versus-individualism debate. It specifically looks at Tuomela's book Social Ontology and its accounts of collective intentionality and related topics.

The book contains eight essays written by expert contributors that present different perspectives on Tuomela's investigation into the philosophy of sociality, social ontology, theory of action, and (philosophical) decision and game theory. In addition, Tuomela himself gives a comprehensive response to each essay and defends his theory in terms of the new arguments presented here.

Overall, readers will gain a deeper insight into group reasoning and the "we-mode" approach, which is used to account for collective intention and action, cooperation, group attitudes, social practices, and institutions as well as group solidarity.

This book will be of interest to a wide range of readers and graduate students and researchers interested in contemporary philosophy of sociality, sociological theory, social ontology as well as the philosophy of mind, decision and game theory, and cognitive science.






Tuomela's book stands as a model of excellence in social ontology, an
especially intractable field of philosophical inquiry that benefits conspicuously from
the devotion of Tuomela's keen philosophical mind. His book is must reading in
social ontology. J. Angelo Corlett, Julia Lyons Strobel




Gerhard Preyer: Professor of Sociology, Research fields: sociological theory and comparative sociology, philosophy of language and mind. Editor-In-Chief of ProtoSociology: A Journal of Interdisciplinary Research. He is author and editor of, among other works, Intention of Practical Thoughts (2011), Donald Davidson's Philosophy. From Radical Interpretation to Radical Contextualism (2nd edition, 2011), and Donald Davidson on Truth, Meaning, and the Mental (Oxford, 2012).

Georg Peter: Dr. Phil Georg Peter's research concerns philosophy of language, aesthetics, social ontology, and hermeneutics. He is author and editor of, among other works, together with R. Tuomela, G. Preyer, Understanding the Social II: Philosophy of Sociality (ProtoSociology 18/19), with G. Preyer: Context-Sensitivity and Semantic Minimalism (OUP 2007), Contextualism in Philosophy (OUP 2005), Logical Form and Language (OUP 2002). He is co-editor of Selbstbeobachtung der modernen Gesellschaft (Springer 2012).
Inhaltsverzeichnis (16 Kapitel)

Methodological Individualism, The We-mode, and Team Reasoning

Seiten 3-18

Raimo Tuomela: Response to Kirk Ludwig

Seiten 19-35

What is a Mode Account of Collective Intentionality?

Seiten 37-70

Raimo Tuomela: Response to Michael Schmitz

Seiten 71-78

What Kind of Mode is the We-Mode?

Seiten 79-93
Dieses Buch kaufen
eBook 85,59 €

Preis für Deutschland (Brutto)

ISBN 978-3-319-33236-9
Versehen mit digitalem Wasserzeichen, DRM-frei
Erhältliche Formate: PDF, EPUB
eBooks sind auf allen Endgeräten nutzbar
Sofortiger eBook Download nach Kauf

Hardcover 106,99 €

Preis für Deutschland (Brutto)

ISBN 978-3-319-33235-2
Kostenfreier Versand für Individualkunden weltweit
Institutionelle Kunden wenden sich bitte an ihren Kundenbetreuer
Gewöhnlich versandfertig in 3-5 Werktagen, sofern auf Lager

Softcover 106,99 €

Preis für Deutschland (Brutto)

ISBN 978-3-319-81462-9
Kostenfreier Versand für Individualkunden weltweit
Institutionelle Kunden wenden sich bitte an ihren Kundenbetreuer
Gewöhnlich versandfertig in 3-5 Werktagen, sofern auf Lager
Services zu diesem Buch
Wir empfehlen
Bibliografische Information
Buchtitel

Social Ontology and Collective Intentionality

Buchuntertitel

Critical Essays on the Philosophy of Raimo Tuomela with His Responses

Herausgeber

Gerhard Preyer
Georg Peter

Titel der Buchreihe

Buchreihen Band

8

Copyright

2017

Verlag

Springer International Publishing

Copyright Inhaber

Springer International Publishing Switzerland

eBook ISBN

978-3-319-33236-9

DOI

10.1007/978-3-319-33236-9

Hardcover ISBN

978-3-319-33235-2

Softcover ISBN

978-3-319-81462-9

Buchreihen ISSN

2542-9094

Auflage

1

Seitenzahl

XIV, 220

Themen