Progress in IS
Vorschau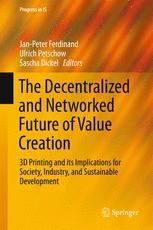 The Decentralized and Networked Future of Value Creation
3D Printing and its Implications for Society, Industry, and Sustainable Development
Herausgeber: Ferdinand, Jan-Peter, Petschow, Ulrich, Dickel, Sascha (Eds.)
Vorschau
Describes fundamental shifts in techno-economic paradigms, with a focus on manufacturing
Outlines the potentials of digitalization and decentralized technologies for new business models
Develops a framework for new modes and sites of participative value creation like open innovation, FabLabs, hackerspaces, open source hardware etc.
Pursues an interdisciplinary approach that yields multifaceted findings with relevance for researchers and practitioners alike
Highlights emergent sustainability issues concerning new decentralized technologies and outlines governance options
Weitere Vorteile
Dieses Buch kaufen
eBook 117,69 €

Preis für Deutschland (Brutto)

ISBN 978-3-319-31686-4
Versehen mit digitalem Wasserzeichen, DRM-frei
Erhältliche Formate: PDF, EPUB
eBooks sind auf allen Endgeräten nutzbar
Sofortiger eBook Download nach Kauf

Hardcover 149,79 €

Preis für Deutschland (Brutto)

ISBN 978-3-319-31684-0
Kostenfreier Versand für Individualkunden weltweit
Institutionelle Kunden wenden sich bitte an ihren Kundenbetreuer
Gewöhnlich versandfertig in 3-5 Werktagen, sofern auf Lager

Softcover 149,79 €

Preis für Deutschland (Brutto)

ISBN 978-3-319-81095-9
Kostenfreier Versand für Individualkunden weltweit
Institutionelle Kunden wenden sich bitte an ihren Kundenbetreuer
Gewöhnlich versandfertig in 3-5 Werktagen, sofern auf Lager
This book identifies, analyzes and discusses the current trends of digitalized, decentralized, and networked physical value creation by focusing on the particular example of 3D printing. In addition to evaluating 3D printing's disruptive potentials against a broader economic background, it also addresses the technology's potential impacts on sustainability and emerging modes of bottom-up and community-based innovation. Emphasizing these topics from economic, technical, social and environmental perspectives, the book offers a multifaceted overview that scrutinizes the scenario of a fundamental transition: from a centralized to a far more decentralized system of value creation.

Jan-Peter Ferdinand is a sociologist who currently works at the Institute for Ecological Economy Research and Technische Universität Berlin. His research addresses the nexus of emerging technologies and novel modes of distributed innovation, like e.g. the idiosyncrasies of community-based innovation or entrepreneurial dynamics in open source contexts.

Ulrich Petschow is an economist and is head of the environmental economics and policy unit at the Institute of Ecological and Economic Research in Berlin. His research topics include the governance of new technologies, environmental policy and paths towards sustainable development, with a special focus on new collaborative models of consumption and production. He has participated in the publication of numerous books both as author and editor.

Sascha Dickel is a sociologist and political scientist. As a senior researcher at the Munich Center for Technology in Society (TU Munich, Germany) he investigates techno-social transformations of communication, production, and culture. His current research areas are posthumanism, citizen science, making and engineering. For his PhD thesis on technological utopianism Sascha Dickel received the Philosophical Book Award 2014. Since 2015 he is a member of the working group on additive manufacturing and 3D printing of the German National Academy of Sciences Leopoldina.
Inhaltsverzeichnis (12 Kapitel)

Introduction to the Edited Volume

Seiten 1-6

The Multiple Applications of 3D Printing: Between Maker Movements and the Future of Manufacturing

Seiten 9-26

Bottom-up Economics. Foundations of a Theory of Distributed and Open Value Creation

Seiten 27-57

Can Open Source Hardware Disrupt Manufacturing Industries? The Role of Platforms and Trust in the Rise of 3D Printing

Seiten 59-73

A Critical View of 3D Printing Regarding Industrial Mass Customization Versus Individual Desktop Fabrication

Seiten 75-105
Dieses Buch kaufen
eBook 117,69 €

Preis für Deutschland (Brutto)

ISBN 978-3-319-31686-4
Versehen mit digitalem Wasserzeichen, DRM-frei
Erhältliche Formate: PDF, EPUB
eBooks sind auf allen Endgeräten nutzbar
Sofortiger eBook Download nach Kauf

Hardcover 149,79 €

Preis für Deutschland (Brutto)

ISBN 978-3-319-31684-0
Kostenfreier Versand für Individualkunden weltweit
Institutionelle Kunden wenden sich bitte an ihren Kundenbetreuer
Gewöhnlich versandfertig in 3-5 Werktagen, sofern auf Lager

Softcover 149,79 €

Preis für Deutschland (Brutto)

ISBN 978-3-319-81095-9
Kostenfreier Versand für Individualkunden weltweit
Institutionelle Kunden wenden sich bitte an ihren Kundenbetreuer
Gewöhnlich versandfertig in 3-5 Werktagen, sofern auf Lager
Services zu diesem Buch
Wir empfehlen
Bibliografische Information
Buchtitel

The Decentralized and Networked Future of Value Creation

Buchuntertitel

3D Printing and its Implications for Society, Industry, and Sustainable Development

Herausgeber

Jan-Peter Ferdinand
Ulrich Petschow
Sascha Dickel

Titel der Buchreihe

Copyright

2016

Verlag

Springer International Publishing

Copyright Inhaber

Springer International Publishing Switzerland

eBook ISBN

978-3-319-31686-4

DOI

10.1007/978-3-319-31686-4

Hardcover ISBN

978-3-319-31684-0

Softcover ISBN

978-3-319-81095-9

Buchreihen ISSN

2196-8705

Auflage

1

Seitenzahl

VIII, 255

Anzahl der Bilder

47 schwarz-weiß Abbildungen

Themen