Children's Well-Being: Indicators and Research
Vorschau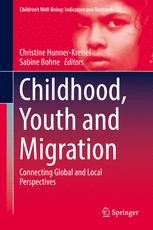 Childhood, Youth and Migration
Connecting Global and Local Perspectives
Herausgeber: Hunner-Kreisel, Christine, Bohne, Sabine (Eds.)
Vorschau
Contributes to the development of the fields of childhood, youth and migration research
Is the first to pay systematic attention to the intersection of global and local issues
Illuminates societal challenges and the impact of processes on notions of childhood and youth
Weitere Vorteile
Dieses Buch kaufen
eBook 85,59 €

Preis für Deutschland (Brutto)

ISBN 978-3-319-31111-1
Versehen mit digitalem Wasserzeichen, DRM-frei
Erhältliche Formate: EPUB, PDF
eBooks sind auf allen Endgeräten nutzbar
Sofortiger eBook Download nach Kauf

Hardcover 106,99 €

Preis für Deutschland (Brutto)

ISBN 978-3-319-31109-8
Kostenfreier Versand für Individualkunden weltweit
Institutionelle Kunden wenden sich bitte an ihren Kundenbetreuer
Gewöhnlich versandfertig in 3-5 Werktagen, sofern auf Lager

Softcover 106,99 €

Preis für Deutschland (Brutto)

ISBN 978-3-319-80965-6
Kostenfreier Versand für Individualkunden weltweit
Institutionelle Kunden wenden sich bitte an ihren Kundenbetreuer
Gewöhnlich versandfertig in 3-5 Werktagen, sofern auf Lager
This book shows the different ways in which migration matters in the context of global and local childhood and youth. Furthermore, it highlights that childhood, youth and migration as well as local and global perspectives need to be thought and analyzed together, to address the significant dimensions of social inequality in the context of growing up.

Migration as a phenomenon is most often motivated by the search for a better life. Very often children and young people, migrating alone or together with their families, migrate to ameliorate their own or others' living conditions and seize opportunities for realizing a good life. Today as well as in the past this search for a better life is very often triggered by socio-economic reasons, war or terrorism.

Against the backdrop of the topic raised above the book deals with children and young people's own perspective in countries of migration. It promotes the idea of connecting global and local issues of childhood and youth with a special focus on questions of education. It studies questions of global and local living and highlights living circumstances shaped by patterns of migration and mobility.

Christine Hunner-Kreisel is Juniorprofessor ("Transculturality and Gender") at the University of Vechta. Her area of expertise is research on childhood and youth. Her research topics are growing up in migrant societies, as well as migration and mobility processes in Germany and Azerbaijan. She researches on the subject of well-being of children and youth with reference to questions of gender, religion and educational processes. She has expertise in qualitative research methods.

Dr. Sabine Bohne is currently coordinator of the EU-Project "Gender Equality in Research and the Academia" (EGERA) at University of Vechta. Her main research topics are gender, gender based violence, equal opportunities and human rights (violations). In November 2015 she will also starts the coordination of "Refugees @ UOS" at University of Osnabrück, Germany.

Inhaltsverzeichnis (17 Kapitel)

Childhood, Youth and Migration: Connecting Global and Local Perspectives – Introduction

Seiten 1-11

Can we Compare Children's Well-being Across Countries? Lessons from the Children's Worlds Study

Seiten 15-29

Do Muslim Girls Really Need Saving? Boundary-Making and Gender in Swiss Schools

Seiten 31-47

Children's Conceptions of Otherness: Constructions of the 'Moral Self' and Implications for Experiences of Migration

Seiten 49-62

Acquiring Agency: Children's Perspective Within the Context of Migration in Germany

Seiten 63-80
Dieses Buch kaufen
eBook 85,59 €

Preis für Deutschland (Brutto)

ISBN 978-3-319-31111-1
Versehen mit digitalem Wasserzeichen, DRM-frei
Erhältliche Formate: EPUB, PDF
eBooks sind auf allen Endgeräten nutzbar
Sofortiger eBook Download nach Kauf

Hardcover 106,99 €

Preis für Deutschland (Brutto)

ISBN 978-3-319-31109-8
Kostenfreier Versand für Individualkunden weltweit
Institutionelle Kunden wenden sich bitte an ihren Kundenbetreuer
Gewöhnlich versandfertig in 3-5 Werktagen, sofern auf Lager

Softcover 106,99 €

Preis für Deutschland (Brutto)

ISBN 978-3-319-80965-6
Kostenfreier Versand für Individualkunden weltweit
Institutionelle Kunden wenden sich bitte an ihren Kundenbetreuer
Gewöhnlich versandfertig in 3-5 Werktagen, sofern auf Lager
Services zu diesem Buch
Wir empfehlen
Bibliografische Information
Buchtitel

Childhood, Youth and Migration

Buchuntertitel

Connecting Global and Local Perspectives

Herausgeber

Christine Hunner-Kreisel
Sabine Bohne

Titel der Buchreihe

Buchreihen Band

12

Copyright

2016

Verlag

Springer International Publishing

Copyright Inhaber

Springer International Publishing Switzerland

eBook ISBN

978-3-319-31111-1

DOI

10.1007/978-3-319-31111-1

Hardcover ISBN

978-3-319-31109-8

Softcover ISBN

978-3-319-80965-6

Buchreihen ISSN

1879-5196

Auflage

1

Seitenzahl

XI, 295

Anzahl der Bilder

10 schwarz-weiß Abbildungen

Themen