CSR, Sustainability, Ethics & Governance
Vorschau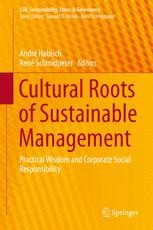 Cultural Roots of Sustainable Management
Practical Wisdom and Corporate Social Responsibility
Herausgeber: Habisch, Andre, Schmidpeter, René (Eds.)
Vorschau
Provides a multidisciplinary approach to Corporate Social Responsibility

Bridges newest CSR thinking with cultural and spiritual traditions

Presents a broad overview of different cultural contexts of Corporate Social Responsibility ​
Dieses Buch kaufen
eBook 106,99 €

Preis für Deutschland (Brutto)

ISBN 978-3-319-28287-9
Versehen mit digitalem Wasserzeichen, DRM-frei
Erhältliche Formate: PDF, EPUB
eBooks sind auf allen Endgeräten nutzbar
Sofortiger eBook Download nach Kauf

Hardcover 139,09 €

Preis für Deutschland (Brutto)

ISBN 978-3-319-28285-5
Kostenfreier Versand für Individualkunden weltweit
Institutionelle Kunden wenden sich bitte an ihren Kundenbetreuer
Gewöhnlich versandfertig in 3-5 Werktagen, sofern auf Lager

Softcover 139,09 €

Preis für Deutschland (Brutto)

ISBN 978-3-319-80315-9
Kostenfreier Versand für Individualkunden weltweit
Institutionelle Kunden wenden sich bitte an ihren Kundenbetreuer
Gewöhnlich versandfertig in 3-5 Werktagen, sofern auf Lager
This book provides a multidisciplinary approach to Corporate Social Responsibility. While for decades a purely mathematical-technical orientation dominated the business curriculum, this book presents CSR and sustainability as a business concept embedded in its cultural and spiritual context. It initially approaches practical wisdom from different cultural and religious traditions as a source of spiritual capital for sustainable business practices. Subsequently, it links current CSR concepts and the latest thinking in CSR with long-standing cultural and spiritual knowledge, promoting a more comprehensive view on sustainability management and its implementation at business enterprises. The book collects and unites viewpoints from various cultural and religious contexts, offering a comprehensive guide for international and globally active companies.

André Habisch is a trained economist and Catholic theologian. He is professor at the Faculty of Business and Economics of Catholic University Eichstätt-Ingolstadt, Germany. As Associate Research Director of ABIS - The Academy of Business in Society, he is responsible for the international and interreligious project "Practical Wisdom for Management from the Religious and Spiritual Traditions"

René Schmidpeter holds the "Dr. Juergen Meyer Endowed Chair for International Business Ethics and Corporate Social Responsibility" at Cologne Business School (CBS), and is academic head of the "Centre for Humane Market Economy" in Salzburg, Austria.
Inhaltsverzeichnis (16 Kapitel)

Introduction to Practical Wisdom and Sustainability

Seiten 1-5

Empowering Practical Wisdom: Spiritual Traditions and Their Role in the Global Business World of the Twenty-First Century

Seiten 9-20

Practical Wisdom Through Sustainability: A Meta-approach

Seiten 23-37

Practical Indigenous Wisdom: A Track in the Conference "Sustainability Rhetoric: Facts and Fictions"

Seiten 39-51

Leadership in the Chinese Philosophical Tradition: A Critical Perspective

Seiten 53-63
Dieses Buch kaufen
eBook 106,99 €

Preis für Deutschland (Brutto)

ISBN 978-3-319-28287-9
Versehen mit digitalem Wasserzeichen, DRM-frei
Erhältliche Formate: PDF, EPUB
eBooks sind auf allen Endgeräten nutzbar
Sofortiger eBook Download nach Kauf

Hardcover 139,09 €

Preis für Deutschland (Brutto)

ISBN 978-3-319-28285-5
Kostenfreier Versand für Individualkunden weltweit
Institutionelle Kunden wenden sich bitte an ihren Kundenbetreuer
Gewöhnlich versandfertig in 3-5 Werktagen, sofern auf Lager

Softcover 139,09 €

Preis für Deutschland (Brutto)

ISBN 978-3-319-80315-9
Kostenfreier Versand für Individualkunden weltweit
Institutionelle Kunden wenden sich bitte an ihren Kundenbetreuer
Gewöhnlich versandfertig in 3-5 Werktagen, sofern auf Lager
Services zu diesem Buch
Wir empfehlen
Bibliografische Information
Buchtitel

Cultural Roots of Sustainable Management

Buchuntertitel

Practical Wisdom and Corporate Social Responsibility

Herausgeber

Andre Habisch
René Schmidpeter

Titel der Buchreihe

Copyright

2016

Verlag

Springer International Publishing

Copyright Inhaber

Springer International Publishing Switzerland

eBook ISBN

978-3-319-28287-9

DOI

10.1007/978-3-319-28287-9

Hardcover ISBN

978-3-319-28285-5

Softcover ISBN

978-3-319-80315-9

Buchreihen ISSN

2196-7075

Auflage

1

Seitenzahl

XXI, 198

Anzahl der Bilder

11 schwarz-weiß Abbildungen

Themen