Financial and Monetary Policy Studies
Vorschau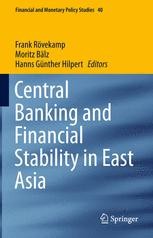 Central Banking and Financial Stability in East Asia
Herausgeber: Rövekamp, Frank, Bälz, Moritz, Hilpert, Hanns Günther (Eds.)
Vorschau
Presents an up-to-date treatment of East Asian central banking and financial stability issues
Offers case studies from China and Japan and compares them with the experiences from Europe
Targets a wide audience of academics and policy makers from various disciplines
Weitere Vorteile
Dieses Buch kaufen
eBook 71,68 €

Preis für Deutschland (Brutto)

ISBN 978-3-319-17380-1
Versehen mit digitalem Wasserzeichen, DRM-frei
Erhältliche Formate: PDF, EPUB
eBooks sind auf allen Endgeräten nutzbar
Sofortiger eBook Download nach Kauf

Hardcover 128,39 €

Preis für Deutschland (Brutto)

ISBN 978-3-319-17379-5
Kostenfreier Versand für Individualkunden weltweit
Institutionelle Kunden wenden sich bitte an ihren Kundenbetreuer
Gewöhnlich versandfertig in 3-5 Werktagen, sofern auf Lager

Softcover 90,94 €

Preis für Deutschland (Brutto)

ISBN 978-3-319-38542-6
Kostenfreier Versand für Individualkunden weltweit
Institutionelle Kunden wenden sich bitte an ihren Kundenbetreuer
Gewöhnlich versandfertig in 3-5 Werktagen, sofern auf Lager
This book explores financial stability issues in the context of East Asia. In the East Asian region financial stability has been a major concern ever since the Asian crisis of 1997/98, which still looms large in the collective memory of the affected countries. The global crisis, which had its starting point in 2007, only served to exacerbate this concern. Safeguarding financial stability is therefore a major goal of any country in the region. Diverging cultural, political and economic backgrounds may however pose different stability challenges and necessary cooperation may be complicated by this diversity. Against this backdrop the contributions of this book by leading academics from the fields of economics and law as well as by practitioners from central banks shed light on various financial stability issues. The volume explores the legal environment of central banks as lenders of last resort and analyzes challenges to financial stability such as shadow banking and the choice of exchange rate regimes. Case studies from China, Japan and Indonesia are contrasted with experiences from Europe.  

Prof. Dr. Frank Rövekamp is professor for Asian Studies with a focus on Japan and director of the East Asia Institute of the Ludwigshafen University of Applied Sciences. Formerly he worked for over 15 years in industry and held senior management positions in Germany, Japan and Hong Kong. He obtained his PhD in Business Studies from the University of Cologne. His current research interests include international monetary, currency and trade policy.

Prof. Dr. Moritz Bälz, LL.M. (Harvard) is professor of Japanese Law and its Cultural Foundations at the Faculty of Law of Goethe University Frankfurt, where he currently also serves as deputy director of the Interdisciplinary Centre for East Asian Studies (IZO). Prior to assuming his current position in 2008, he for several years worked as an attorney with international law firm Freshfields Bruckhaus Deringer in New York and Frankfurt. His research focuses on Japanese business law from a comparative perspective and dispute resolution in Japan.

Dr. Hanns Günther Hilpert is Senior Associate in the Research Unit Asia at the German Institute for International and Security Affairs ("Stiftung Wissenschaft und Politik", SWP), Berlin. Formerly he worked for the German Institute for Japanese Studies (DIJ), Tokyo and the Ifo Institute for Economic Research, Munich. He has written and published many books and articles on the Japanese economy and on Asian trade and economic integration. His current research focuses at various policy oriented economic issues of East Asia.
Inhaltsverzeichnis (10 Kapitel)

Introduction: Financial Stability in East Asia—A Tentative Assessment

Seiten 1-9

History and Legal Framework of the People's Bank of China

Seiten 11-24

The Independence of the Bank of Japan in the Light of Statutory Rules and Central Bank Independence Indices

Seiten 25-41

The Legal Framework for the European System of Central Banks

Seiten 43-86

Central Bank Independence in Times of High Fiscal Risk: The Case of Japan

Seiten 87-100
Dieses Buch kaufen
eBook 71,68 €

Preis für Deutschland (Brutto)

ISBN 978-3-319-17380-1
Versehen mit digitalem Wasserzeichen, DRM-frei
Erhältliche Formate: PDF, EPUB
eBooks sind auf allen Endgeräten nutzbar
Sofortiger eBook Download nach Kauf

Hardcover 128,39 €

Preis für Deutschland (Brutto)

ISBN 978-3-319-17379-5
Kostenfreier Versand für Individualkunden weltweit
Institutionelle Kunden wenden sich bitte an ihren Kundenbetreuer
Gewöhnlich versandfertig in 3-5 Werktagen, sofern auf Lager

Softcover 90,94 €

Preis für Deutschland (Brutto)

ISBN 978-3-319-38542-6
Kostenfreier Versand für Individualkunden weltweit
Institutionelle Kunden wenden sich bitte an ihren Kundenbetreuer
Gewöhnlich versandfertig in 3-5 Werktagen, sofern auf Lager
Services zu diesem Buch
Wir empfehlen
Bibliografische Information
Buchtitel

Central Banking and Financial Stability in East Asia

Herausgeber

Frank Rövekamp
Moritz Bälz
Hanns Günther Hilpert

Titel der Buchreihe

Buchreihen Band

40

Copyright

2015

Verlag

Springer International Publishing

Copyright Inhaber

Springer International Publishing Switzerland

eBook ISBN

978-3-319-17380-1

DOI

10.1007/978-3-319-17380-1

Hardcover ISBN

978-3-319-17379-5

Softcover ISBN

978-3-319-38542-6

Buchreihen ISSN

0921-8580

Auflage

1

Seitenzahl

XVI, 187

Anzahl der Bilder

14 schwarz-weiß Abbildungen, 6 Abbildungen in Farbe

Themen