Springer Proceedings in Energy
Vorschau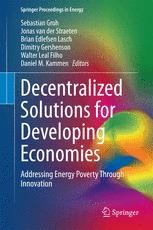 Decentralized Solutions for Developing Economies
Addressing Energy Poverty Through Innovation
Herausgeber: Groh, S., van der Straeten, J., Edlefsen Lasch, B., Gershenson, D., Leal Filho, W., Kammen, D. (Eds.)
Vorschau
Introduces a series of innovative concepts in the fields of DC microgrid development, energy and ICT, microfinancing and value chain analysis
Presents real-world case studies illustrating best practices in energy access programs from around the globe
Provides useful policy recommendations to assist policymakers in drawing up plans for better energy supply services
Pursues a multidisciplinary approach including contributions from engineering, economics and the social sciences
Weitere Vorteile
Dieses Buch kaufen
eBook 117,69 €

Preis für Deutschland (Brutto)

ISBN 978-3-319-15964-5
Versehen mit digitalem Wasserzeichen, DRM-frei
Erhältliche Formate: EPUB, PDF
eBooks sind auf allen Endgeräten nutzbar
Sofortiger eBook Download nach Kauf

Hardcover 171,19 €

Preis für Deutschland (Brutto)

ISBN 978-3-319-15963-8
Kostenfreier Versand für Individualkunden weltweit
Institutionelle Kunden wenden sich bitte an ihren Kundenbetreuer
Gewöhnlich versandfertig in 3-5 Werktagen, sofern auf Lager

Softcover 149,98 €

Preis für Deutschland (Brutto)

ISBN 978-3-319-38652-2
Kostenfreier Versand für Individualkunden weltweit
Institutionelle Kunden wenden sich bitte an ihren Kundenbetreuer
Gewöhnlich versandfertig in 3-5 Werktagen, sofern auf Lager
The volume presents innovative approaches to improving energy access in underprivileged communities. A core theme is the use of previously underutilized or unrecognized resources that can be found through synergies in supply and value innovation, novel financing methods, and the use of leapfrog technologies. The contributors illustrate how decentralized approaches and small-scale localized solutions can promote climate change mitigation and adaptation and increase the resiliency of vulnerable communities. This book gathers selected articles from the 2014 Micro energy Systems Conference at UC Berkeley that focus on technical, financial, human, institutional, and natural resource capital. The contributions reflect the latest concepts, theories, methods and techniques, offering a valuable resource for researchers, practitioners and governmental institutions engaged in the field of energy access for developing countries.

Sebastian Groh lives and works in Bangladesh as the director of the companies ME SOLshare Ltd. and ME Fosera Ltd. aiming at energy poverty through latest innovation in rural electrification. Sebastian is further pursuing his PhD on the role of energy in development processes. Having turned his back on the trading floor, he has been working for the past five year as a consultant to MicroEnergy International across the world at the intersection of energy service provision and microfinance.

Jonas van der Straeten is a PhD student in the Research Group Microenergy Systems at the Technische Universität Berlin, which looks into access to modern energy in the global South from a multidisciplinary and user-focused perspective. His current research focuses on the history of the power sector in East Africa. In parallel Jonas works for MicroEnergy International. He has project experience in South East Asia, Central Asia and East Africa.

Brian Edlefsen Lasch is a practicing Solar Engineer based in Berlin, Germany. With the EPC company ib vogt GmbH, he designs and builds photovoltaic farms worldwide. As a Consultant with MicroEnergy International, he advised and implemented rural energy initiatives, including microfinance enabled projects in Mexico, Peru, Bangladesh, Pakistan and the Philippines. He holds degrees in Solar Technology from Technische Universität Berlin and Electrical Engineering from Santa Clara University in California.

Dimitry Gershenson is a PhD student in the Energy and Resources group at UC Berkeley. His research focuses on energy access finance, investment in emerging markets and business model innovation for decentralized power in East Africa. Dimitry also works as a Renewable Energy and International Development Specialist for Ecoshift Consulting and supports the efforts of the Berkeley Rural Energy Group as an Advisor.

Walter Leal Filho is senior professor at Hamburg University of Applied Sciences (Germany) and holds the Chair of Environment and Technology at Manchester Metropolitan University, UK. Prof. Leal Filho has wide international experience on energy efficiency and renewable energy, having undertaken a set of projects in Latin America, Africa, Caribbean and South Pacific. He holds a number of doctorates for his work on environment and sustainability issues and has in excess of 300 publications to his credit.

Dr. Daniel Kammen is the Class of 1935 Distinguished Professor of Energy at the University of California, Berkeley, with parallel appointments in the Energy and Resources Group, the Goldman School of Public Policy and the department of Nuclear Engineering. He was appointed the first Environment and Climate Partnership for the Americas (ECPA) Fellow by Secretary of State Hilary R. Clinton in April 2010. Kammen is the founding director of the Renewable and Appropriate Energy Laboratory (RAEL).
Inhaltsverzeichnis (25 Kapitel)

Swarm Electrification: Investigating a Paradigm Shift Through the Building of Microgrids Bottom-up

Seiten 3-22

Identifying Hidden Resources in Solar Home Systems as the Basis for Bottom-Up Grids

Seiten 23-32

A Concept of DC Nano-Grid for Low Cost Energy Access in Rural Bangladesh

Seiten 33-42

Experience from First Solar Mini Grid Service in Bangladesh

Seiten 43-52

Prospects for Electricity Access in Rural India Using Solar Photovoltaic Based Mini-Grid Systems

Seiten 53-64
Dieses Buch kaufen
eBook 117,69 €

Preis für Deutschland (Brutto)

ISBN 978-3-319-15964-5
Versehen mit digitalem Wasserzeichen, DRM-frei
Erhältliche Formate: EPUB, PDF
eBooks sind auf allen Endgeräten nutzbar
Sofortiger eBook Download nach Kauf

Hardcover 171,19 €

Preis für Deutschland (Brutto)

ISBN 978-3-319-15963-8
Kostenfreier Versand für Individualkunden weltweit
Institutionelle Kunden wenden sich bitte an ihren Kundenbetreuer
Gewöhnlich versandfertig in 3-5 Werktagen, sofern auf Lager

Softcover 149,98 €

Preis für Deutschland (Brutto)

ISBN 978-3-319-38652-2
Kostenfreier Versand für Individualkunden weltweit
Institutionelle Kunden wenden sich bitte an ihren Kundenbetreuer
Gewöhnlich versandfertig in 3-5 Werktagen, sofern auf Lager
Services zu diesem Buch
Wir empfehlen
Bibliografische Information
Buchtitel

Decentralized Solutions for Developing Economies

Buchuntertitel

Addressing Energy Poverty Through Innovation

Herausgeber

Sebastian Groh
Jonas van der Straeten
Brian Edlefsen Lasch
Dimitry Gershenson
Walter Leal Filho
Daniel Kammen

Titel der Buchreihe

Copyright

2015

Verlag

Springer International Publishing

Copyright Inhaber

Springer International Publishing Switzerland

eBook ISBN

978-3-319-15964-5

DOI

10.1007/978-3-319-15964-5

Hardcover ISBN

978-3-319-15963-8

Softcover ISBN

978-3-319-38652-2

Buchreihen ISSN

2352-2534

Auflage

1

Seitenzahl

XXIV, 294

Anzahl der Bilder

59 schwarz-weiß Abbildungen, 25 Abbildungen in Farbe

Themen