Mathematics and Visualization
Vorschau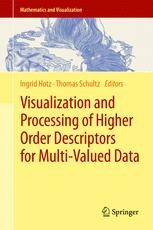 Visualization and Processing of Higher Order Descriptors for Multi-Valued Data
Herausgeber: Hotz, Ingrid, Schultz, Thomas (Eds.)
Vorschau
Transfer result from one application to another between which there is otherwise not much exchange
Bringing together ideas from applications and theory: Applications can stimulate new basic research, as basic results can be of great use in the applications
Summarizing the state of the art and major open questions in the field
Presenting new and innovative work with the capabilities of advancing the field
Weitere Vorteile
Dieses Buch kaufen
eBook 96,29 €

Preis für Deutschland (Brutto)

ISBN 978-3-319-15090-1
Versehen mit digitalem Wasserzeichen, DRM-frei
Erhältliche Formate: EPUB, PDF
eBooks sind auf allen Endgeräten nutzbar
Sofortiger eBook Download nach Kauf

Hardcover 149,79 €

Preis für Deutschland (Brutto)

ISBN 978-3-319-15089-5
Kostenfreier Versand für Individualkunden weltweit
Institutionelle Kunden wenden sich bitte an ihren Kundenbetreuer
Gewöhnlich versandfertig in 3-5 Werktagen, sofern auf Lager

Softcover 128,39 €

Preis für Deutschland (Brutto)

ISBN 978-3-319-36454-4
Kostenfreier Versand für Individualkunden weltweit
Institutionelle Kunden wenden sich bitte an ihren Kundenbetreuer
Gewöhnlich versandfertig in 3-5 Werktagen, sofern auf Lager
Modern imaging techniques and computational simulations yield complex multi-valued data that require higher-order mathematical descriptors. This book addresses topics of importance when dealing with such data, including frameworks for image processing, visualization and statistical analysis of higher-order descriptors. It also provides examples of the successful use of higher-order descriptors in specific applications and a glimpse of the next generation of diffusion MRI. To do so, it combines contributions on new developments, current challenges in this area and state-of-the-art surveys.

Compared to the increasing importance of higher-order descriptors in a range of applications, tools for analysis and processing are still relatively hard to come by. Even though application areas such as medical imaging, fluid dynamics and structural mechanics are very different in nature they face many shared challenges. This book provides an interdisciplinary perspective on this topic with contributions from key researchers in disciplines ranging from visualization and image processing to applications. It is based on the 5th Dagstuhl seminar on Visualization and Processing of Higher Order Descriptors for Multi-Valued Data.

This book will appeal to scientists who are working to develop new analysis methods in the areas of image processing and visualization, as well as those who work with applications that generate higher-order data or could benefit from higher-order models and are searching for novel analytical tools.
Inhaltsverzeichnis (18 Kapitel)

Diffusion-Weighted Magnetic Resonance Signal for General Gradient Waveforms: Multiple Correlation Function Framework, Path Integrals, and Parallels Between Them

Seiten 3-19

Finslerian Diffusion and the Bloch–Torrey Equation

Seiten 21-35

Fiber Orientation Distribution Functions and Orientation Tensors for Different Material Symmetries

Seiten 37-71

Topology of 3D Linear Symmetric Tensor Fields

Seiten 73-91

Random Projections for Low Multilinear Rank Tensors

Seiten 93-106
Dieses Buch kaufen
eBook 96,29 €

Preis für Deutschland (Brutto)

ISBN 978-3-319-15090-1
Versehen mit digitalem Wasserzeichen, DRM-frei
Erhältliche Formate: EPUB, PDF
eBooks sind auf allen Endgeräten nutzbar
Sofortiger eBook Download nach Kauf

Hardcover 149,79 €

Preis für Deutschland (Brutto)

ISBN 978-3-319-15089-5
Kostenfreier Versand für Individualkunden weltweit
Institutionelle Kunden wenden sich bitte an ihren Kundenbetreuer
Gewöhnlich versandfertig in 3-5 Werktagen, sofern auf Lager

Softcover 128,39 €

Preis für Deutschland (Brutto)

ISBN 978-3-319-36454-4
Kostenfreier Versand für Individualkunden weltweit
Institutionelle Kunden wenden sich bitte an ihren Kundenbetreuer
Gewöhnlich versandfertig in 3-5 Werktagen, sofern auf Lager
Services zu diesem Buch
Bibliografische Information
Buchtitel

Visualization and Processing of Higher Order Descriptors for Multi-Valued Data

Herausgeber

Ingrid Hotz
Thomas Schultz

Titel der Buchreihe

Copyright

2015

Verlag

Springer International Publishing

Copyright Inhaber

Springer International Publishing Switzerland

eBook ISBN

978-3-319-15090-1

DOI

10.1007/978-3-319-15090-1

Hardcover ISBN

978-3-319-15089-5

Softcover ISBN

978-3-319-36454-4

Buchreihen ISSN

1612-3786

Auflage

1

Seitenzahl

X, 383

Anzahl der Bilder

24 schwarz-weiß Abbildungen, 149 Abbildungen in Farbe

Themen