Peace Psychology Book Series
Vorschau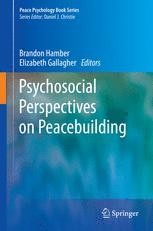 Psychosocial Perspectives on Peacebuilding
Herausgeber: Hamber, Brandon, Gallagher, Elizabeth (Eds.)
Vorschau
Examines post-conflict societies and its citizens from a psychosocial perspective
Integrates practical experience about post-war society and post-traumatic stress disorder
Appendix details the methodology used in the research that forms the basis of this title
Weitere Vorteile
Dieses Buch kaufen
eBook 85,59 €

Preis für Deutschland (Brutto)

ISBN 978-3-319-09937-8
Versehen mit digitalem Wasserzeichen, DRM-frei
Erhältliche Formate: EPUB, PDF
eBooks sind auf allen Endgeräten nutzbar
Sofortiger eBook Download nach Kauf

Hardcover 149,79 €

Preis für Deutschland (Brutto)

ISBN 978-3-319-09936-1
Kostenfreier Versand für Individualkunden weltweit
Institutionelle Kunden wenden sich bitte an ihren Kundenbetreuer
Gewöhnlich versandfertig in 3-5 Werktagen, sofern auf Lager

Softcover 106,99 €

Preis für Deutschland (Brutto)

ISBN 978-3-319-34887-2
Kostenfreier Versand für Individualkunden weltweit
Institutionelle Kunden wenden sich bitte an ihren Kundenbetreuer
Gewöhnlich versandfertig in 3-5 Werktagen, sofern auf Lager
The book Psychosocial Perspectives on Peacebuilding offers a template for those dealing with the aftermath of armed conflict to look at peacebuilding through a psychosocial lens. This Volume, and the case studies that are in it, starts from the premise that armed conflict and the political violence that flows from it, are deeply contextual and that in dealing with the impact of armed conflict, context matters. The book argues for a conceptual shift, in which psychosocial practices are not merely about treating individuals and groups with context and culturally sensitive methods and approaches: the contributors argue that such interventions and practices should in themselves shape social change. This is of critical importance because the psychosocial method continually highlights how the social context is one of the primary causes of individual psychological distress. The chapters in this book describe experiences within very different contexts, including Guatemala, Jerusalem, Indian Kashmir, Mozambique, Northern Ireland, South Africa and Sri Lanka. The common thread between the case studies is that they each show how psychosocial interventions and practices can influence the peacebuilding environment and foster wider social change. Psychosocial Perspectives on Peacebuilding is essential reading for social and peace psychologists, as well as for students and researchers in the field of conflict and peace studies, and for psychosocial practitioners and those working in post-conflict areas for NGO's.

Brandon Hamber, PhD is Director of the International Conflict Research Institute (INCORE), an associate site of the United Nations University based at the University of Ulster and Professor of Peace and Conflict Studies. He is also an Associate of the Transitional Justice Institute at the university. He was a Mellon Distinguished Visiting Scholar in the School of Human and Community Development and the African Centre for Migration and Society at the University of the Witwatersrand in Johannesburg (2010-2013). He trained as a Clinical Psychologist in South Africa and holds a PhD from the University of Ulster. Prior to moving to Northern Ireland, he co-ordinated the Transition and Reconciliation Unit at the Centre for the Study of Violence and Reconciliation in Johannesburg.  He has published some 40 book chapters and scientific journal articles, including Transforming Societies after Political Violence: Truth, Reconciliation, and Mental Health was published by Springer in 2009, and published in 2011 in Spanish by Ediciones Bellaterra and entitled Transformar las sociedades después de la violencia política. Verdad, reconciliación y salud mental.

Elizabeth Gallagher, Ph.D. previously worked as a Research Associate at INCORE, an associate site of the United Nations University based at the University of Ulster. She worked on the IDRC Trauma, Development and Peacebuilding Project. She graduated with a BSc (Hons) in Psychology and Organisational Science from the University of Ulster and obtained an MSc in Health Promotion from the same Institution. She has recently obtained a PhD from the School of Psychology also at the University of Ulster. She has previously worked on a cross-national study involving senior academics from Universities in The Netherlands, England, Cyprus, Israel, The Basque Country and Northern Ireland. This study assessed national identity, intergroup attitudes, and the development of enemy images with young children in both non-divided and divided societies. Dr Gallagher is currently based at the Institute of Nursing and Health Research at the University of Ulster where she is working on a large scale project examining the differences in how residential facilities support people with intellectual disabilities with challenging behaviour and/or mental health problems.
Inhaltsverzeichnis (9 Kapitel)

Exploring how Context Matters in Addressing the Impact of Armed Conflict

Seiten 1-31

Transforming Conflict, Changing Society: Psychosocial Programming in Indian Jammu and Kashmir

Seiten 33-69

Addressing the Psychosocial Needs of Young Men: The Case of Northern Ireland

Seiten 71-116

Rethinking Psychosocial Programming in Post-war Sri Lanka

Seiten 117-145

Creative Methodologies as a Resource for Mayan Women's Protagonism

Seiten 147-186
Dieses Buch kaufen
eBook 85,59 €

Preis für Deutschland (Brutto)

ISBN 978-3-319-09937-8
Versehen mit digitalem Wasserzeichen, DRM-frei
Erhältliche Formate: EPUB, PDF
eBooks sind auf allen Endgeräten nutzbar
Sofortiger eBook Download nach Kauf

Hardcover 149,79 €

Preis für Deutschland (Brutto)

ISBN 978-3-319-09936-1
Kostenfreier Versand für Individualkunden weltweit
Institutionelle Kunden wenden sich bitte an ihren Kundenbetreuer
Gewöhnlich versandfertig in 3-5 Werktagen, sofern auf Lager

Softcover 106,99 €

Preis für Deutschland (Brutto)

ISBN 978-3-319-34887-2
Kostenfreier Versand für Individualkunden weltweit
Institutionelle Kunden wenden sich bitte an ihren Kundenbetreuer
Gewöhnlich versandfertig in 3-5 Werktagen, sofern auf Lager
Services zu diesem Buch
Wir empfehlen
Bibliografische Information
Buchtitel

Psychosocial Perspectives on Peacebuilding

Herausgeber

Brandon Hamber
Elizabeth Gallagher

Titel der Buchreihe

Copyright

2015

Verlag

Springer International Publishing

Copyright Inhaber

Springer International Publishing Switzerland

eBook ISBN

978-3-319-09937-8

DOI

10.1007/978-3-319-09937-8

Hardcover ISBN

978-3-319-09936-1

Softcover ISBN

978-3-319-34887-2

Buchreihen ISSN

2197-5779

Auflage

1

Seitenzahl

XXI, 331

Anzahl der Bilder

11 Abbildungen in Farbe

Themen