Intelligent Systems, Control and Automation: Science and Engineering
Vorschau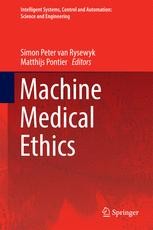 Machine Medical Ethics
Herausgeber: van Rysewyk, Simon Peter, Pontier, Matthijs (Eds.)
Vorschau
First research book exclusively dedicated to machine medical ethics
Interdisciplinary and cutting-edge focus
High societal relevance
Subject is increasingly receiving media attention
Weitere Vorteile
Dieses Buch kaufen
eBook 106,99 €

Preis für Deutschland (Brutto)

ISBN 978-3-319-08108-3
Versehen mit digitalem Wasserzeichen, DRM-frei
Erhältliche Formate: PDF, EPUB
eBooks sind auf allen Endgeräten nutzbar
Sofortiger eBook Download nach Kauf

Hardcover 160,49 €

Preis für Deutschland (Brutto)

ISBN 978-3-319-08107-6
Kostenfreier Versand für Individualkunden weltweit
Institutionelle Kunden wenden sich bitte an ihren Kundenbetreuer
Gewöhnlich versandfertig in 3-5 Werktagen, sofern auf Lager

Softcover 139,99 €

Preis für Deutschland (Brutto)

ISBN 978-3-319-34997-8
Kostenfreier Versand für Individualkunden weltweit
Institutionelle Kunden wenden sich bitte an ihren Kundenbetreuer
Gewöhnlich versandfertig in 3-5 Werktagen, sofern auf Lager
The essays in this book, written by researchers from both humanities and science, describe various theoretical and experimental approaches to adding medical ethics to a machine, what design features are necessary in order to achieve this, philosophical and practical questions concerning justice, rights, decision-making and responsibility in medical contexts, and accurately modeling essential physician-machine-patient relationships.

In medical settings, machines are in close proximity with human beings: with patients who are in vulnerable states of health, who have disabilities of various kinds, with the very young or very old and with medical professionals. Machines in these contexts are undertaking important medical tasks that require emotional sensitivity, knowledge of medical codes, human dignity and privacy.

As machine technology advances, ethical concerns become more urgent: should medical machines be programmed to follow a code of medical ethics? What theory or theories should constrain medical machine conduct? What design features are required? Should machines share responsibility with humans for the ethical consequences of medical actions? How ought clinical relationships involving machines to be modeled? Is a capacity for empathy and emotion detection necessary? What about consciousness?

This collection is the first book that addresses these 21st-century concerns.

Simon van Rysewyk is a University Associate in the Department of Philosophy, School of Humanities, University of Tasmania. He received his PhD in Philosophy from the University of Tasmania in 2013, and from 2013 to 2014 he was a Taiwan National Science Council Post-Doctoral Fellow in the Brain and Consciousness Research Center and Graduate Institute of Medical Humanities, Taipei Medical University, Taiwan. His interests are pain, phenomenology, experiential research methods, and medical ethics. His homepage is here, and he can be contacted at simon.vanrysewyk@utas.edu.au.
Inhaltsverzeichnis (20 Kapitel)

An Overview of Machine Medical Ethics

Seiten 3-15

Surgical, Therapeutic, Nursing and Sex Robots in Machine and Information Ethics

Seiten 17-32

Good Healthcare Is in the "How": The Quality of Care, the Role of Machines, and the Need for New Skills

Seiten 33-47

Implementation Fundamentals for Ethical Medical Agents

Seiten 49-65

Towards a Principle-Based Healthcare Agent

Seiten 67-77
Dieses Buch kaufen
eBook 106,99 €

Preis für Deutschland (Brutto)

ISBN 978-3-319-08108-3
Versehen mit digitalem Wasserzeichen, DRM-frei
Erhältliche Formate: PDF, EPUB
eBooks sind auf allen Endgeräten nutzbar
Sofortiger eBook Download nach Kauf

Hardcover 160,49 €

Preis für Deutschland (Brutto)

ISBN 978-3-319-08107-6
Kostenfreier Versand für Individualkunden weltweit
Institutionelle Kunden wenden sich bitte an ihren Kundenbetreuer
Gewöhnlich versandfertig in 3-5 Werktagen, sofern auf Lager

Softcover 139,99 €

Preis für Deutschland (Brutto)

ISBN 978-3-319-34997-8
Kostenfreier Versand für Individualkunden weltweit
Institutionelle Kunden wenden sich bitte an ihren Kundenbetreuer
Gewöhnlich versandfertig in 3-5 Werktagen, sofern auf Lager
Services zu diesem Buch
Wir empfehlen
Bibliografische Information
Buchtitel

Machine Medical Ethics

Herausgeber

Simon Peter van Rysewyk
Matthijs Pontier

Titel der Buchreihe

Buchreihen Band

74

Copyright

2015

Verlag

Springer International Publishing

Copyright Inhaber

Springer International Publishing Switzerland

eBook ISBN

978-3-319-08108-3

DOI

10.1007/978-3-319-08108-3

Hardcover ISBN

978-3-319-08107-6

Softcover ISBN

978-3-319-34997-8

Buchreihen ISSN

2213-8986

Auflage

1

Seitenzahl

XIII, 369

Anzahl der Bilder

8 schwarz-weiß Abbildungen, 11 Abbildungen in Farbe

Themen