Lecture Notes in Geoinformation and Cartography
Vorschau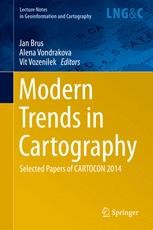 Modern Trends in Cartography
Selected Papers of CARTOCON 2014
Herausgeber: Brus, Jan, Vondrakova, Alena, Vozenilek, Vit (Eds.)
Vorschau
Overview of current trends in cartography - suitable for students and professionals as well
Contributions from significant world personalities in the field of cartography
Contribution for possible cooperation between institutions and departments
Weitere Vorteile
Dieses Buch kaufen
eBook 128,39 €

Preis für Deutschland (Brutto)

ISBN 978-3-319-07926-4
Versehen mit digitalem Wasserzeichen, DRM-frei
Erhältliche Formate: EPUB, PDF
eBooks sind auf allen Endgeräten nutzbar
Sofortiger eBook Download nach Kauf

Hardcover 192,59 €

Preis für Deutschland (Brutto)

ISBN 978-3-319-07925-7
Kostenfreier Versand für Individualkunden weltweit
Institutionelle Kunden wenden sich bitte an ihren Kundenbetreuer
Gewöhnlich versandfertig in 3-5 Werktagen, sofern auf Lager

Softcover 169,98 €

Preis für Deutschland (Brutto)

ISBN 978-3-319-38440-5
Kostenfreier Versand für Individualkunden weltweit
Institutionelle Kunden wenden sich bitte an ihren Kundenbetreuer
Gewöhnlich versandfertig in 3-5 Werktagen, sofern auf Lager
The fast exchange of information and knowledge are the essential conditions for successful and effective research and practical applications in cartography. For successful research development, it is necessary to follow trends not only in this domain, but also try to adapt new trends and technologies from other areas. Trends in cartography are also quite often topics of many conferences which have the main aim to link research, education and application experts in cartography and GIS&T into one large platform. Such the right place for exchange and sharing of knowledge and skills was also the CARTOCON2014 conference, which took place in Olomouc, Czech Republic, in February 2014 and this book is a compilation of the best and most interesting contributions.

The book content consists of four parts. The first part

New approaches in map and atlas making

collects studies about innovative ways in map production and atlases compilation. Following part of the book

Progress in web cartography

brings examples and tools for web map presentation. The third part

Advanced methods in map use

includes achievement of eye-tracking research and users' issues. The final part

Cartography in practice and research

is a clear evidence that cartography and maps played the significant role in many geosciences and in many branches of the society. Each individual paper is original and has its place in cartography.
Inhaltsverzeichnis (39 Kapitel)

Aspects of the Thematic Atlas Compilation

Seiten 3-12

Mapping Disorder: An Exploratory Study

Seiten 13-22

The Next Generation of Atlas User Interfaces: A User Study with "Digital Natives"

Seiten 23-36

The State of Official Statistical Mapping in Switzerland (and Other European Countries)

Seiten 37-55

Online Cartographic Atlas Products: Learning from the Past

Seiten 57-66
Dieses Buch kaufen
eBook 128,39 €

Preis für Deutschland (Brutto)

ISBN 978-3-319-07926-4
Versehen mit digitalem Wasserzeichen, DRM-frei
Erhältliche Formate: EPUB, PDF
eBooks sind auf allen Endgeräten nutzbar
Sofortiger eBook Download nach Kauf

Hardcover 192,59 €

Preis für Deutschland (Brutto)

ISBN 978-3-319-07925-7
Kostenfreier Versand für Individualkunden weltweit
Institutionelle Kunden wenden sich bitte an ihren Kundenbetreuer
Gewöhnlich versandfertig in 3-5 Werktagen, sofern auf Lager

Softcover 169,98 €

Preis für Deutschland (Brutto)

ISBN 978-3-319-38440-5
Kostenfreier Versand für Individualkunden weltweit
Institutionelle Kunden wenden sich bitte an ihren Kundenbetreuer
Gewöhnlich versandfertig in 3-5 Werktagen, sofern auf Lager
Services zu diesem Buch
Wir empfehlen
Bibliografische Information
Buchtitel

Modern Trends in Cartography

Buchuntertitel

Selected Papers of CARTOCON 2014

Herausgeber

Jan Brus
Alena Vondrakova
Vit Vozenilek

Titel der Buchreihe

Copyright

2015

Verlag

Springer International Publishing

Copyright Inhaber

Springer International Publishing Switzerland

eBook ISBN

978-3-319-07926-4

DOI

10.1007/978-3-319-07926-4

Hardcover ISBN

978-3-319-07925-7

Softcover ISBN

978-3-319-38440-5

Buchreihen ISSN

1863-2246

Auflage

1

Seitenzahl

XXIII, 534

Anzahl der Bilder

37 schwarz-weiß Abbildungen, 79 Abbildungen in Farbe

Themen