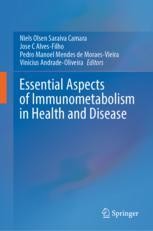 Essential Aspects of Immunometabolism in Health and Disease
Herausgeber: Camara, N.O.S., Alves-Filho, J.C., Moraes-Vieira, P.M., Andrade-Oliveira, V. (Eds.)
Discusses the integration of two historically distinct disciplines: Metabolism and Immunology
Considers immunometabolism as a new frontier to be explored in immunology
Describes the relationship between immune and metabolic responses
Weitere Vorteile
Dieses Buch kaufen
eBook 106,99 €

Preis für Deutschland (Brutto)

Erscheinungstermin: 12. Dezember 2021
ISBN 978-3-030-86684-6
Versehen mit digitalem Wasserzeichen, DRM-frei
Erhältliche Formate:
eBooks sind auf allen Endgeräten nutzbar

Hardcover 139,09 €

Preis für Deutschland (Brutto)

Erscheinungstermin: 12. Dezember 2021
ISBN 978-3-030-86683-9
Kostenfreier Versand für Individualkunden weltweit
Institutionelle Kunden wenden sich bitte an ihren Kundenbetreuer
Immunometabolism has emerged as an intersectional crossroad between metabolism and immune response. Over the past decade, it has become clear that most - if not all - immune cell functions are not separated from cellular metabolism. Although seminal works have addressed the metabolic fate of immune cells during differentiation and function, the physiological status of a given tissue is also dependent on the cell metabolism. The dialogue between immune cells and their microenvironment can also modulate cellular metabolism, which can trigger the onset and progression of a multitude of inflammation-mediated diseases. Thus, uncovering the specific characteristics of the metabolism in different immune cells types and in different conditions, can shed light into the molecular mechanisms of disease and help develop new drugs and therapeutic strategies to treat immune diseases.

The edited volume

Essentials aspects of Immunometabolism

will give the readers a broad view on how metabolic pathways can influence many types of immune cells during activation, differentiation and function, in health and disease. Of note, the structure of the book was created thinking not only on the experienced immunologist but also on undergraduate and graduate students, physicians, and all members of the scientific community interested in this exciting field of research.

Prof. Dr. Niels Olsen Saraiva Câmara is a Physician specialized in the study of inflammatory diseases, mainly renal diseases, autoimmune diseases and cancer. He graduated in Medicine by the Federal University of Ceara (1991) and made a specialization in Nephrology at the Federal University of Sao Paulo (1992-1995). He received his PhD in Medicine from the Federal University of São Paulo in 2000 working to understand the role of endothelium in activation of T cells. After that, he spent three years (2000/2003) as a Research Fellow at the Imperial College London, London, UK. During this time, he worked regulatory T cells and several projects on immune regulation. Afterwards, he became Professor in the Department of Immunology at the University of São Paulo. He is currently Full Professor of Immunology at the Institute of Biomedical Sciences at the University of São Paulo, where he is the Head of the Laboratory of Transplantation Immunobiology. His current research focus on the role of new factors that contribute to the pathogenesis of inflammatory diseases, such as microbiota, cell metabolism and immune cell plasticity.

Prof. Andrade-Oliveira is a biologist interested in studying the immunometabolism at the host-microorganisms interaction. He completed his PhD in immunology at University of Sao Paulo with a trainee period at Johns Hopkins University where he experienced the study of the metabolism of T cells. He is an ex-PEW Latin American Fellow at NIAID/NIH where he studied the role of host metabolism after acute gastrointestinal infections. Currently, he is head of the Immunometabolism at host-microorganism interactions at the UFABC where his mainly interests are immunometabolism of immune cells, microbiota, infections and host physiology.

Pedro M M Moraes Vieira is a doctor of veterinary medicine by the University of Brasilia and a PhD in immunology by the University of Sao Paulo. Currently he is Associated Professor of Immunology at the University of Campinas and a researcher in the field of immunometabolism. He spent five years (2011 / 2016) as a Research Fellow at the Division of Metabolism, Endocrinology and Diabetes of the Beth Israel Deaconess Medical Center in Harvard Medical School. During this time, he worked on understanding the link between systemic physiology and macrophage immunometabolic regulation. Prof. Moraes-Vieira is the head of the Laboratory of Immunometabolism. His areas of interest are immunometabolic regulation of tissue resident macrophages in healthy and disease, such as obesity and auto-immune and inflammatory diseases

Jose C. Alves-Filho is a Pharm D. with BS degree in Biochemistry. He received his PhD in Pharmacology from the University of São Paulo. Afterwards, he spent three years as a Postdoctoral Fellow in the Institute of Infection, Immunity & Inflammation at the University of Glasgow. Currently, he is an Assistant Professor of Immunopharmacology in the Ribeirão Preto Medical School at University of São Paulo and head of the Laboratory of Immunoregulation. His research interest is focused in understanding how cellular metabolism affects the plasticity and function of immune cells, mainly T lymphocytes, and its impact on the outcome of chronic inflammatory diseases. He has more than 120 publications in peer-reviewed journals and several PhD students and Postdoctoral Fellows conducting projects under his supervision.

Dieses Buch kaufen
eBook 106,99 €

Preis für Deutschland (Brutto)

Erscheinungstermin: 12. Dezember 2021
ISBN 978-3-030-86684-6
Versehen mit digitalem Wasserzeichen, DRM-frei
Erhältliche Formate:
eBooks sind auf allen Endgeräten nutzbar

Hardcover 139,09 €

Preis für Deutschland (Brutto)

Erscheinungstermin: 12. Dezember 2021
ISBN 978-3-030-86683-9
Kostenfreier Versand für Individualkunden weltweit
Institutionelle Kunden wenden sich bitte an ihren Kundenbetreuer
Services zu diesem Buch
Bibliografische Information
Buchtitel

Essential Aspects of Immunometabolism in Health and Disease

Herausgeber

Niels Olsen Saraiva Camara
Jose C Alves-Filho
Pedro M. Moraes-Vieira
Vinicius Andrade-Oliveira

Copyright

2022

Verlag

Springer International Publishing

Copyright Inhaber

Springer Nature Switzerland AG

eBook ISBN

978-3-030-86684-6

DOI

10.1007/978-3-030-86684-6

Hardcover ISBN

978-3-030-86683-9

Auflage

1

Seitenzahl

XII, 278

Anzahl der Bilder

1 schwarz-weiß Abbildungen, 37 Abbildungen in Farbe

Themen