Annals of Theoretical Psychology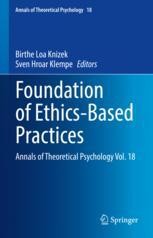 Foundation of Ethics-Based Practices
Annals of Theoretical Psychology Vol. 18
Herausgeber: Knizek, Birthe Loa, Klempe, Sven Hroar (Eds.)
focuses on "ethics-based practices" in psychology
links meaning-making in health care to actual practices
challenges the generally accepted conception and concepts of health work
Weitere Vorteile
Dieses Buch kaufen
eBook 74,89 €

Preis für Deutschland (Brutto)

Die eBook-Version des Titels ist in Kürze verfügbar
Erscheinungstermin: 20. November 2021
ISBN 978-3-030-83666-5
Versehen mit digitalem Wasserzeichen, DRM-frei
Erhältliche Formate:
eBooks sind auf allen Endgeräten nutzbar

Hardcover 96,29 €

Preis für Deutschland (Brutto)

Erscheinungstermin: 20. November 2021
ISBN 978-3-030-83665-8
Kostenfreier Versand für Individualkunden weltweit
Institutionelle Kunden wenden sich bitte an ihren Kundenbetreuer
This book contrasts earlier textbooks on "evidence-based practices." Whereas the latter is a slogan that call for scientific evidence to be used in standardized treatment manuals, ethics-based practices call for individualized treatment that makes the situation meaningful for the patient. The main argument for changing the treatment design from being evidence-based to one based on ethics, is the hypothesis that good health care is based on treatment which makes the situation positive and meaningful for the patient. The awareness for this is primarily provided by ethical considerations.

Birthe Loa Knizek was raised bilingual in the Danish minority in Germany, where she developed a life-long interest in and awareness of cultural and linguistic differences and what they mean to people. She was awarded the titles mag.art. psych. and PhD from the Psychology Department, Center for Qualitative Methods, Aarhus University, Denmark. Her background includes assoc.prof., CEKVINA (Center for Womens' Studies in Aarhus), Aarhus University, Denmark; assoc.prof., leader of the long distance education in psychology, Ålborg Universitetscenter, Denmark; assoc. prof. in Theory of Science Problems in Psychology and Qualitative Methods, Dept. of psychology, The Norwegian University of Science and Technology (NTNU), Trondheim; full professor in Community Psychology, Norwegian University of Science and Technology; full professor in Mental Health, Sør-Trøndelag University College, Norway; full professor, Mental Health, Norwegian University of Science and Technology, NTNU. Her research ranges from German psychosomatics, which emphasized the influence of personal experiences for the formation and health of the body, based on Uexküll's theories, over suicidal behaviour and suicide prevention in Norway, Ghana and Uganda focusing on cultural complexity and the decisive importance of individuals' context, to mental health among children and adolescents living with HIV/AIDS in Uganda. Alongside she has an interest in morality and ethics guiding (global) mental health efforts. From 2016 to 2020 she was leading the multinational researcher network "Health in Context" with the focus on meaning-making and health. In addition, she is a specialist in Clinical Psychology (Children and Adolescents) with numerous years of clinical practice. For more information on publications: https://innsida.ntnu.no/my-profile

Sven Hroar Klempe (born 1955, Mag.art., Dr.art.) is full Professor in Psychology at the Department of Psychology, Norwegian University of Science and Technology (NTNU), Trondheim, Norway. His background includes full Professor in Musicology, Assoc. Prof. in Media Studies, teacher and journalist in addition to Head of Department of Psychology for seven years. He has been visited Professor at University of Oslo; Clark University, Worcester MA, USA; TC Columbia University, NY, USA; Universidade São Paulo (USP), Brasil; and Honorary Adjunct Professor at the Department of Organization and Leadership at Teachers College, Columbia University, New York. His research is cross-disciplinary with an emphasis on the history of psychology, culture and psychology, theory of science, communication and music psychology. E-mail address: hroar.klempe@ntnu.no

Recent publications: S.H. Klempe (2021). Sound and Reason, Palgrave; S. H. Klempe (2020). Tracing the Emergence of Psychology 1520-1750: A Sophisticated Intruder to Philosophy, Springer; S. H. Klempe (2017). Kierkegaard and the Rise of Modern Psychology, Routledge; S.H. Klempe & R. Smith (Eds.) (2016). Centrality of History for Theory Construction in Psychology, Annals of Theoretical Psychology Vol. 14, Springer; S. H. Klempe (Ed.) (2016). Cultural Psychology of Musical Experiences, Information Age Publishing


Daniele Bruzzone

, PhD. Professor of Education at the Università Cattolica del Sacro Cuore, Milano (Italy). President of ALÆF - Italian Association of Logotherapy and Existential Analysis. Editor-in-chief of "Encyclopaideia. Journal if Phenomenology and Education".

Main topics: philosophy of education, emotional competence and meaning making processes in health care and social work.

After a teaching and research career spanning 34 years at University of Delhi (Lady Irwin College),

Nandita Chaudhary

sought premature retirement to pursue her own academic interests in the year 2017. She now runs a blog and takes on freelance work in publishing, research and lectures in the field of Cultural Psychology, Child Development and Family Studies both in India and abroad, while continuing to guide doctoral dissertations at University of Delhi. She has been a Fulbright scholar at Clark University, USA, (1993 – 94), and a Senior Fellow of the ICSSR (2012 – 2014). She is the author of 'Listening to Culture' (2004, Sage), co-edited five volumes, authored several chapters in books and journals and serves as associate and guest editor for several leading journals.

Tor Johan Ekeland is Professor in social psychology at the Faculty of Social Science and History at Volda University College, and Professor II at Molde University College. He has previously held positions at Nordic University of Public Health, Gothenburg; and University of Bergen. Recently his research has addressed the interplay between epistemology, neoliberal governing and practice in the mental health field, and he has published both empirical and theoretical studies on these themes. Ekeland has also clinical experience.

Maria Francesca Freda, Ph.D, is Full Professor of Clinical Psychology at the Department of Humanities, University Federico II of Naples, Italy. She teaches Methodology of clinical intervention and is head of the Narrative lab at the master's degree in Clinical Psychology. She is head of the services for the undergraduates' psychological support of the University Center for the active and participated undergraduates' inclusion (SInAPSI). Her main research interests relate to the role of narratives in the elaboration of critical events from a semiotic and constructivist perspective, to the sensemaking process of chronic diseases' experience, and to University engagement. She is author of several national and international books and articles on such themes.

Chalotte Glintborg, Ph.D. in psychology, is an Associate Professor in the Department of Communication & Psychology, Aalborg University, Denmark. Her research has centred on exploring first person perspectives on the emotional consequences of living with illness/disabilities, e.g. identity problems, distress, shame and depression, etc

Cathrine Grimsgaard is Associate Professor of Child protection at Inland Norway University of Applied Sciences, Lillehammer. Her research has specifically focused on children with mentally ill and addicted parents, professional ethics, children's participation with newer phenomenology and hermeneutics as theoretical approaches.

Severus Hama-Owamparo is a psychologist, and human rights defender. His work focuses on addressing mental health challenges and human rights violations faced by gender and sexual diverse individuals in Africa. Currently, he is a director at the Taala Foundation; An entity working to support the wellbeing of young people on the margins, through mental health promotion, illness prevention, law and education in Uganda.

Heidi Hjelmeland is professor at Department of Mental Health, Norwegian University of Science and Technology, Trondheim, Norway.

Polycarp Ikuenobe is a Professor in the Department of Philosophy at Kent State University, Kent, Ohio, USA. He specializes/has interests in Ethics and Moral Philosophy, African Philosophy, Social and Political Philosophy, and Philosophy of Law.Eugene Kinyanda MBChB, M.Med (Psy), PhD

Mogens Jensen, Ph.D. in psychology, is an Associate Professor in the Department of Communication & Psychology, Aalborg University, Denmark. His research has centred on efforts for youth in social and personal problems and on the professional work of social pedagogues.

Elizabeth Kibuka-Musoke has 20 years´ working experience as a clinical psychologist in Norway and Uganda, mostly in private practice.

Consultant to StrongMinds and Akina Mama wa Africa, both NGOs with a strong presence in psychosocial health and justice for disenfranchised and minority groups in the Ugandan context.

Passionate about the development of mental health systems to reach larger groups of invisible people in need of help. Passionate about early prevention of mental health, and its integration into general health care practice and policy.

Eugene Kinyanda is a Programme Track-Leader and Head of the Mental Health Section of the MRC/UVRI & LSHTM Uganda Research Unit. He is a Senior Welcome Trust Fellow (2017-2021) and has previously held a Senior EDCTP Fellowship (2011-2013) and an MRC/DFID African Leadership Award (2014-2016). Over the last 12 years at the MRC/UVRI & LSHTM, Eugene has undertaken research into the psychiatric complications of HIV/AIDS among adults, children and adolescents and older persons. He has also undertaken studies into various aspects of suicidal behaviour and into the psychological problems of war affected populations in Africa. He has authored over 80 peer reviewed publications.

James Mugisha is a Senior Lecturer at Kyambogo University, Kampala, Uganda

He is interested in culture and mental health. He has done enormous work on culture and mental health of indigenous communities in Uganda

Birgit Nordtug is Associate Professor of Psychology at Inland Norway University of Applied Sciences, Lillehammer. Her research has specifically focused on subjectivity, body and language with French psychoanalysis and semiotics as theoretical approaches.

Raffaele De Luca Picione, Ph.D., is Associate Professor of Dynamic Psychology at the Giustino Fortunato University (Benevento, Italy), and psychotherapist with psychoanalytic training. His researches focus on subjectivity, affectivity, modeling of the mind and semiotic borders, temporality and processes of sensemaking, health and illness narration, starting from a psychoanalysis, cultural psychology and semiotic perspective. He is the author of volumes "The mind as Form. The mind as text" (Mimesis, 2015), "Lacan's topological adventure" (Mimesis, 2020/in press) and several international and national works between articles / essays / chapters.

Livia Savarese, Ph.D, is psychotherapist and Scholar in Clinical Psychology at the Department of Humanities, University Federico II of Naples, Italy. Her main research area relates with the process of sensemaking of the experience of living with a chronic disease from a semiotic narrative perspective, and on the relation between narrative processes and somatic experience. She is author of several international articles and chapters in these fields.

John-Arne Skolbekken is a Professor at the Department of Public Health and Nursing, the Norwegian University of Science and Technology (NTNU) in Trondheim, Norway. His research work covers the medical risk discourse, medical screening and the empirical ethics of biobank research.

Vilde Kristiane Wist Stordahl is a postgraduate student in psychology at the Norwegian University of Science and Technology. She is interested in clinical psychology, as well as community psychology and cultural psychology.
Dieses Buch kaufen
eBook 74,89 €

Preis für Deutschland (Brutto)

Die eBook-Version des Titels ist in Kürze verfügbar
Erscheinungstermin: 20. November 2021
ISBN 978-3-030-83666-5
Versehen mit digitalem Wasserzeichen, DRM-frei
Erhältliche Formate:
eBooks sind auf allen Endgeräten nutzbar

Hardcover 96,29 €

Preis für Deutschland (Brutto)

Erscheinungstermin: 20. November 2021
ISBN 978-3-030-83665-8
Kostenfreier Versand für Individualkunden weltweit
Institutionelle Kunden wenden sich bitte an ihren Kundenbetreuer
Services zu diesem Buch
Bibliografische Information
Buchtitel

Foundation of Ethics-Based Practices

Buchuntertitel

Annals of Theoretical Psychology Vol. 18

Herausgeber

Birthe Loa Knizek
Sven Hroar Klempe

Titel der Buchreihe

Buchreihen Band

18

Copyright

2021

Verlag

Springer International Publishing

Copyright Inhaber

The Editor(s) (if applicable) and The Author(s), under exclusive license to Springer Nature Switzerland AG

eBook ISBN

978-3-030-83666-5

DOI

10.1007/978-3-030-83666-5

Hardcover ISBN

978-3-030-83665-8

Auflage

1

Seitenzahl

VIII, 228

Anzahl der Bilder

4 schwarz-weiß Abbildungen

Themen