Classroom Companion: Economics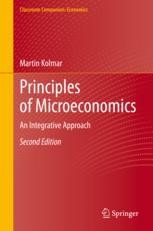 Principles of Microeconomics
An Integrative Approach
Autoren: Kolmar, Martin
Presents a modern micro- and institution-oriented approach to teaching economics
Numerous examples and case studies help readers apply the theories discussed to real-world problems
Pursues an integrative approach that links economics with management, law and philosophy
A companion workbook featuring a variety of exercises and case studies is also available
Weitere Vorteile
Dieses Buch kaufen
eBook 67,40 €

Preis für Deutschland (Brutto)

Erscheinungstermin: 29. November 2021
ISBN 978-3-030-78167-5
Versehen mit digitalem Wasserzeichen, DRM-frei
Erhältliche Formate:
eBooks sind auf allen Endgeräten nutzbar

Hardcover 85,59 €

Preis für Deutschland (Brutto)

Erscheinungstermin: 29. November 2021
ISBN 978-3-030-78166-8
Kostenfreier Versand für Individualkunden weltweit
Institutionelle Kunden wenden sich bitte an ihren Kundenbetreuer
This textbook provides a comprehensive and unique introduction to modern microeconomics. It adopts an integrative approach, positioning the main findings of economics in a broader context. It critically reflects on theories from a philosophical standpoint and compares them to approaches found in the social sciences, while at the same time highlighting the implications for the design of legal systems and business practices.

Intended for undergraduate students, the book presents brief examples and comprehensive case studies to help them grasp the real-world implications of the theories. As such, it is suitable for an applied, yet technically precise approach to teaching microeconomics, as well as for a critical review of the economic mainstream. Starting from the question as to why and how societies organize economic activity, it analyzes the potential and limitations of various types of market with regard to alleviating scarcity and achieving distributive objectives, from an institutional perspective.

This second edition systematically expands on decision theory by including chapters on traditional decision theory under risk and uncertainty, and on behavioral economics, as well as a chapter presenting findings from the neurosciences, evolutionary psychology, and narrative psychology. Furthermore, there are theoretical additions, along with updated case studies and examples – from trade wars to pandemics and the climate crisis.

A new edition of the companion workbook features a wealth of exercises, ranging from basic multiple-choice questions to challenging mathematical problems and case studies, is also available.




Martin Kolmar is Professor of Economics and Director of the Institute for Business Ethics at the University of St. Gallen. He studied Economics in Bonn and Berkeley and holds a PhD in Economics from the University of Konstanz. His research interests range from Institutional and Behavioral to Normative Economics and Philosophy. He is especially interested in the evolutionary, psychological and neuroscientific foundations of behaviour and well-being.
Dieses Buch kaufen
eBook 67,40 €

Preis für Deutschland (Brutto)

Erscheinungstermin: 29. November 2021
ISBN 978-3-030-78167-5
Versehen mit digitalem Wasserzeichen, DRM-frei
Erhältliche Formate:
eBooks sind auf allen Endgeräten nutzbar

Hardcover 85,59 €

Preis für Deutschland (Brutto)

Erscheinungstermin: 29. November 2021
ISBN 978-3-030-78166-8
Kostenfreier Versand für Individualkunden weltweit
Institutionelle Kunden wenden sich bitte an ihren Kundenbetreuer
Services zu diesem Buch
Bibliografische Information
Buchtitel

Principles of Microeconomics

Buchuntertitel

An Integrative Approach

Autoren

Titel der Buchreihe

Copyright

2021

Verlag

Springer International Publishing

Copyright Inhaber

The Editor(s) (if applicable) and The Author(s), under exclusive license to Springer Nature Switzerland AG

eBook ISBN

978-3-030-78167-5

DOI

10.1007/978-3-030-78167-5

Hardcover ISBN

978-3-030-78166-8

Buchreihen ISSN

2662-2882

Auflage

2

Seitenzahl

X, 390

Anzahl der Bilder

100 schwarz-weiß Abbildungen, 4 Abbildungen in Farbe

Themen