Management for Professionals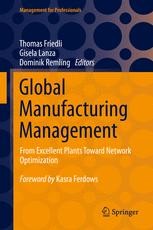 Global Manufacturing Management
From Excellent Plants Toward Network Optimization
Herausgeber: Friedli, Thomas, Lanza, Gisela, Remling, Dominik (Eds.)
Features the St. Gallen Network Management approach, enhancing it with key practice-relevant facets
Highlights the scarcely investigated performance perspective in the field of international manufacturing networks
Combines outstanding world-class research with real-world evidence, including case studies
Weitere Vorteile
Dieses Buch kaufen
eBook 71,68 €

Preis für Deutschland (Brutto)

Die eBook-Version des Titels ist in Kürze verfügbar
Erscheinungstermin: 30. August 2021
ISBN 978-3-030-72740-6
Versehen mit digitalem Wasserzeichen, DRM-frei
Erhältliche Formate:
eBooks sind auf allen Endgeräten nutzbar

Hardcover 90,94 €

Preis für Deutschland (Brutto)

Erscheinungstermin: 30. August 2021
ISBN 978-3-030-72739-0
Kostenfreier Versand für Individualkunden weltweit
Institutionelle Kunden wenden sich bitte an ihren Kundenbetreuer
Using site-specific optimization approaches in international manufacturing networks is increasingly proving insufficient. To solve this problem, several holistic and integrated alternatives have been developed to reflect a global perspective. This book presents advances in the St. Gallen Global Manufacturing Network Model and its application in numerous industry-, benchmarking- and research projects. The contents combine data-driven solutions with qualitative management frameworks for the strategic optimization of international manufacturing networks.

In the first part, the book addresses the foundation of manufacturing network management and further describes the St. Gallen Operational Excellence approaches to manage plant performance. On this basis, the authors show how plant- and network-level performance can be enhanced via key improvement domains (e.g., strategy, configuration, coordination, performance management, digitalization). In turn, the second part demonstrates the application of the constructs in manufacturing companies from various industries. By combining research and practice, the book offers unique perspectives on the management of global production striving toward higher performance on manufacturing site and network level.

Thomas Friedli is Director of the Institute of Technology Management and Professor for production management at the University of St. Gallen (Switzerland). His main research interests are in the field of managing global production, operational excellence, and industrial services.

Gisela Lanza is a member of the management board at the wbk Institute of Production Science, Karlsruhe Institute of Technology (KIT, Germany). She heads the production systems division dealing with the topics of global production strategies, production system planning, and quality assurance in research and industrial practice. She places a special focus on data-driven planning and control of production networks in order to translate corporate strategy into tactical and operative network design.

Dominik Remling heads the global production research group at the Institute of Technology Management of the University of St. Gallen (Switzerland). The focus of his work lies in the field of global production management, in particular, the development of strategic management approaches for the configuration and coordination of production networks.

Dieses Buch kaufen
eBook 71,68 €

Preis für Deutschland (Brutto)

Die eBook-Version des Titels ist in Kürze verfügbar
Erscheinungstermin: 30. August 2021
ISBN 978-3-030-72740-6
Versehen mit digitalem Wasserzeichen, DRM-frei
Erhältliche Formate:
eBooks sind auf allen Endgeräten nutzbar

Hardcover 90,94 €

Preis für Deutschland (Brutto)

Erscheinungstermin: 30. August 2021
ISBN 978-3-030-72739-0
Kostenfreier Versand für Individualkunden weltweit
Institutionelle Kunden wenden sich bitte an ihren Kundenbetreuer
Services zu diesem Buch
Wir empfehlen
Bibliografische Information
Buchtitel

Global Manufacturing Management

Buchuntertitel

From Excellent Plants Toward Network Optimization

Herausgeber

Thomas Friedli
Gisela Lanza
Dominik Remling

Titel der Buchreihe

Copyright

2021

Verlag

Springer International Publishing

Copyright Inhaber

The Editor(s) (if applicable) and The Author(s), under exclusive license to Springer Nature Switzerland AG

eBook ISBN

978-3-030-72740-6

DOI

10.1007/978-3-030-72740-6

Hardcover ISBN

978-3-030-72739-0

Buchreihen ISSN

2192-8096

Auflage

1

Seitenzahl

X, 232

Anzahl der Bilder

105 schwarz-weiß Abbildungen

Themen