Studies in Digital Politics and Governance
Vorschau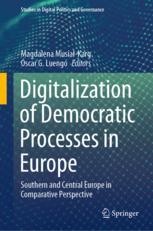 Digitalization of Democratic Processes in Europe
Southern and Central Europe in Comparative Perspective
Herausgeber: Musiał-Karg, Magdalena, Luengo, Óscar (Eds.)
Vorschau
Presents studies related to various aspects of digitalization of democratic and communication processes
Based on up-to-date evidence from different countries
Examines challenges posted by the rapid development of innovation in democracy, new forms of participation, or new ways of communication
Weitere Vorteile
Dieses Buch kaufen
eBook 85,59 €

Preis für Deutschland (Brutto)

ISBN 978-3-030-71815-2
Versehen mit digitalem Wasserzeichen, DRM-frei
Erhältliche Formate: EPUB, PDF
eBooks sind auf allen Endgeräten nutzbar
Sofortiger eBook Download nach Kauf

Hardcover 106,99 €

Preis für Deutschland (Brutto)

ISBN 978-3-030-71814-5
Kostenfreier Versand für Individualkunden weltweit
Institutionelle Kunden wenden sich bitte an ihren Kundenbetreuer
Gewöhnlich versandfertig in 3-5 Werktagen, sofern auf Lager
This book explores the digital transformations of democracy and democratic societies. It examines the various challenges posed by these transformations in the context of political practice and to theoreticians of democracy and political communication.
The authors present studies from different countries, related to various effects of digitalization processes. Topics covered include, but are not limited to: Innovation in civil society research, new forms of civic participation, new dimensions of democratization and local governance processes, political changes and public participation, civic and political activities, political campaigning or other phenomenon driven by the implementation of information and communications technology (ICT) into politics.
Therefore, the book is a must-read for all scholars and researchers of political science, practitioners, and policy-makers, interested in a better understanding of digital politics, digitalization processes, and democracy in general.

Magdalena Musiał-Karg is an associate professor at the Department of Political Systems, Faculty of Political Science and Journalism, Adam Mickiewicz University in Poznań, Poland. Her main research interests focus on direct democracy and the impact of modern technologies (ICT) on democratic systems, mainly on the electoral process (e-voting). She has also conducted research on the role of women in public space. M. Musiał-Karg is the author of numerous publications devoted to electronic participation, alternative voting methods, and direct democracy.She was a holder of a PhD scholarship under the "Europa Fellows II" Programme financed by the German Federal Ministry of Education and Research and under the Osteuropa Programme financed by KAAD. In 2014, she was awarded with a 3-year stipend for young distinguished scientists funded by the Polish Minister of Science and Higher Education.She is the Vice-Dean for Research and Scientific Cooperation at the Faculty of Political Science and Journalism, Adam Mickiewicz University in Poznań, and a former Vice-Dean for Research and Development (2016-2020). She is also the Vice-President of the Polish Political Science Association, member of the Political Sciences Committee of the Polish Academy of Sciences (2020-2023), and the President of the Center for European Research and Education.

Óscar G. Luengo is a professor at the Department of Political Science and Public Administration, at the Faculty of Political Science and Sociology at the University of Granada, Spain. He is the Vice-Chair of the Research Committee on Political Communication (RC22) of the International Political Science Association (IPSA), Director of the Ibero American School of Local Government (Ibero American Municipalists Union - UIM) and former Vice-dean for International Relations (2008-2012) at the Faculty of Political Science and Sociology. He was a distinguished visiting scholar at Florida International University, as well as a research fellow at the University of Machala (Ecuador), Amsterdam School of Communication Research (The Netherlands), University of Mainz (Germany), European University Institute (Italy) and University Tecnológica de Monterrey (México). Prof. Luengo was a visiting professor at many foreign universities: the University of California, Berkeley (US), Ritsumeikan University (Japan), Florida International University (USA), University of Saint Louis (USA), University of Anadolu (Turkey), University of Plzen (Czech Republic), University of Buenos Aires (Argentina), and Adam Mickiewicz University in Poznań (Poland). His main research areas focus on political communication, campaigns, and electoral analysis. Further, he is researching new media impact on civic participation and democracy.


Inhaltsverzeichnis (13 Kapitel)

Dynamics, Risks and Opportunities of Digitalization: An Introduction

Seiten 1-9

E-Voting and Transformation of Participation in Europe: Exploring the Profile of E-Voters in Poland

Seiten 11-29

YouTube and Traditional Media: Polarization in the Catalan Political Conflict

Seiten 31-41

Digital (and Traditional) Media Usage in Spanish Electoral Campaigns

Seiten 43-56

The "Non-Campaign" and the "Non-Elections" on the Internet in the 2020 "Spring" Presidential Election Campaign in Poland

Seiten 57-73
Dieses Buch kaufen
eBook 85,59 €

Preis für Deutschland (Brutto)

ISBN 978-3-030-71815-2
Versehen mit digitalem Wasserzeichen, DRM-frei
Erhältliche Formate: EPUB, PDF
eBooks sind auf allen Endgeräten nutzbar
Sofortiger eBook Download nach Kauf

Hardcover 106,99 €

Preis für Deutschland (Brutto)

ISBN 978-3-030-71814-5
Kostenfreier Versand für Individualkunden weltweit
Institutionelle Kunden wenden sich bitte an ihren Kundenbetreuer
Gewöhnlich versandfertig in 3-5 Werktagen, sofern auf Lager
Services zu diesem Buch
Bibliografische Information
Buchtitel

Digitalization of Democratic Processes in Europe

Buchuntertitel

Southern and Central Europe in Comparative Perspective

Herausgeber

Magdalena Musiał-Karg
Óscar Luengo

Titel der Buchreihe

Copyright

2021

Verlag

Springer International Publishing

Copyright Inhaber

The Editor(s) (if applicable) and The Author(s), under exclusive license to Springer Nature Switzerland AG

eBook ISBN

978-3-030-71815-2

DOI

10.1007/978-3-030-71815-2

Hardcover ISBN

978-3-030-71814-5

Buchreihen ISSN

2524-3926

Auflage

1

Seitenzahl

XIV, 188

Anzahl der Bilder

13 schwarz-weiß Abbildungen, 28 Abbildungen in Farbe

Themen