Undergraduate Lecture Notes in Physics
Vorschau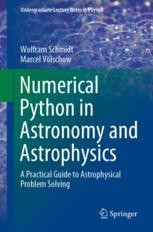 Numerical Python in Astronomy and Astrophysics
A Practical Guide to Astrophysical Problem Solving
Autoren: Schmidt, Wolfram, Völschow, Marcel
Vorschau
Teaches programming in Python with the aid of examples from astronomy and astrophysics
Offers an accessible approach to numerical techniques and methods of data analysis used by astrophysicists
Promotes a research-oriented approach
Weitere Vorteile
Dieses Buch kaufen
eBook 42,79 €

Preis für Deutschland (Brutto)

ISBN 978-3-030-70347-9
Versehen mit digitalem Wasserzeichen, DRM-frei
Erhältliche Formate: EPUB, PDF
eBooks sind auf allen Endgeräten nutzbar
Sofortiger eBook Download nach Kauf

Softcover 53,49 €

Preis für Deutschland (Brutto)

ISBN 978-3-030-70346-2
Kostenfreier Versand für Individualkunden weltweit
Institutionelle Kunden wenden sich bitte an ihren Kundenbetreuer
Gewöhnlich versandfertig in 3-5 Werktagen, sofern auf Lager
This book provides a solid foundation in the Python programming language, numerical methods, and data analysis, all embedded within the context of astronomy and astrophysics. It not only enables students to learn programming with the aid of examples from these fields but also provides ample motivation for engagement in independent research. The book opens by outlining the importance of computational methods and programming algorithms in contemporary astronomical and astrophysical research, showing why programming in Python is a good choice for beginners. The performance of basic calculations with Python is then explained with reference to, for example, Kepler's laws of planetary motion and gravitational and tidal forces. Here, essential background knowledge is provided as necessary. Subsequent chapters are designed to teach the reader to define and use important functions in Python and to utilize numerical methods to solve differential equations and landmark dynamical problems in astrophysics. Finally, the analysis of astronomical data is discussed, with various hands-on examples as well as guidance on astronomical image analysis and applications of artificial neural networks.

Wolfram Schmidt is Head of IT and senior researcher at the Hamburg Observatory. He holds a Dipl.-Ing. in Physics and an M.Phil. in Astrophysics and received his Dr. rer. nat. from the Technical University of Munich and the Max Planck Institute for Astrophysics, Garching. He completed his Habilitation with a thesis on the numerical modeling of astrophysical turbulence. Dr. Schmidt has worked on numerical simulations of a variety of astrophysical systems, ranging from thermonuclear supernovae through star-forming clouds to cosmological structure formation. Currently he is conducting research projects in the areas of computational cosmology and magnetohydrodynamic turbulence with international collaborators. In addition to his research activities, he teaches high-performance computing at Hamburg University and acts as a consultant to the Northern Supercomputing Alliance (HLRN).

Marcel Völschow is a research associate at Hamburg University. He holds BSc and MSc degrees in Physics and the subject of his doctorate is magnetic processes in binary stars. While being rooted in theoretical astrophysics, his research also covers the processing and analysis of large survey data sets. Whether working in public outreach, high school labs, or academic teaching, he has always been motivated by enthusiasm for the beauty of the universe. He is the author of a number of articles in peer-reviewed journals.
Inhaltsverzeichnis (5 Kapitel)

Python Basics

Seiten 1-18

Computing and Displaying Data

Seiten 19-54

Functions and Numerical Methods

Seiten 55-104

Solving Differential Equations

Seiten 105-183

Astronomical Data Analysis

Seiten 185-223
Dieses Buch kaufen
eBook 42,79 €

Preis für Deutschland (Brutto)

ISBN 978-3-030-70347-9
Versehen mit digitalem Wasserzeichen, DRM-frei
Erhältliche Formate: EPUB, PDF
eBooks sind auf allen Endgeräten nutzbar
Sofortiger eBook Download nach Kauf

Softcover 53,49 €

Preis für Deutschland (Brutto)

ISBN 978-3-030-70346-2
Kostenfreier Versand für Individualkunden weltweit
Institutionelle Kunden wenden sich bitte an ihren Kundenbetreuer
Gewöhnlich versandfertig in 3-5 Werktagen, sofern auf Lager
Services zu diesem Buch
Bibliografische Information
Buchtitel

Numerical Python in Astronomy and Astrophysics

Buchuntertitel

A Practical Guide to Astrophysical Problem Solving

Autoren

Wolfram Schmidt
Marcel Völschow

Titel der Buchreihe

Copyright

2021

Verlag

Springer International Publishing

Copyright Inhaber

Springer Nature Switzerland AG

eBook ISBN

978-3-030-70347-9

DOI

10.1007/978-3-030-70347-9

Softcover ISBN

978-3-030-70346-2

Buchreihen ISSN

2192-4791

Auflage

1

Seitenzahl

X, 250

Anzahl der Bilder

5 schwarz-weiß Abbildungen, 50 Abbildungen in Farbe

Themen