Springer Textbooks in Earth Sciences, Geography and Environment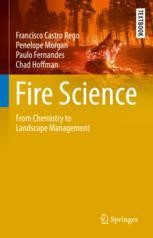 Fire Science
From Chemistry to Landscape Management
Autoren: Manuel Cardoso Castro Rego, F., Morgan, P., Fernandes, P., Hoffman, C.
Presents a straight-forward learning path from fire behavior to fire effects with implications for integrated fire management
Clearly illustrates fire science with many practical applications to the fire challenges facing society in a rapidly changing world
Case studies and interactive spreadsheets illustrate key ideas to enhance learning
Weitere Vorteile
Dieses Buch kaufen
eBook 69,99 €

Preis für Deutschland (Brutto)

Die eBook-Version des Titels ist in Kürze verfügbar
Erscheinungstermin: 11. Oktober 2021
ISBN 978-3-030-69815-7
Versehen mit digitalem Wasserzeichen, DRM-frei
Erhältliche Formate:
eBooks sind auf allen Endgeräten nutzbar

Hardcover 90,94 €

Preis für Deutschland (Brutto)

Erscheinungstermin: 11. Oktober 2021
ISBN 978-3-030-69814-0
Kostenfreier Versand für Individualkunden weltweit
Institutionelle Kunden wenden sich bitte an ihren Kundenbetreuer
This textbook provides students and academics with a conceptual understanding of fire behavior and fire effects on people and ecosystems to support effective integrated fire management. Through case studies, interactive spreadsheets programmed with equations and graphics, and clear explanations, the book provides undergraduate, graduate, and professional readers with a straightforward learning path. The authors draw from years of experience in successfully teaching fundamental concepts and applications, synthesizing cutting-edge science, and applying lessons learned from fire practitioners.

We discuss fire as part of environmental and human health. Our process-based, comprehensive, and quantitative approach encompasses combustion and heat transfer, and fire effects on people, plants, soils, and animals in forest, grassland, and woodland ecosystems from around the Earth. Case studies and examples link fundamental concepts to local, landscape, and global fire implications, including social-ecological systems. Globally, fire science and integrated fire management have made major strides in the last few decades. Society faces numerous fire-related challenges, including the increasing occurrence of large fires that threaten people and property, smoke that poses a health hazard, and lengthening fire seasons worldwide. Fires are useful to suppress fires, conserve wildlife and habitat, enhance livestock grazing, manage fuels, and in ecological restoration. Understanding fire science is critical to forecasting the implication of global change for fires and their effects. Increasing the positive effects of fire (fuels reduction, enhanced habitat for many plants and animals, ecosystem services increased) while reducing the negative impacts of fires (loss of human lives, smoke and carbon emissions that threaten health, etc.) is part of making fires good servants rather than bad masters.

Dr. Francisco Castro Rego is Professor and Researcher at the Centro de Ecologia Aplicada Prof. Baeta Neves, Instituto Superior de Agronomia in Lisbon, Portugal. He was Director of the Portuguese Forest Services and led the Fire Paradox project funded by the European Union, with 36 partners from 16 countries, that advanced fire science and fire policy. Dr. Rego's research covers landscape and fire ecology, fire behavior, and fire management (http://comparatistas.academia.edu/FranciscoRego). Dr. Rego currently leads the Parliament's commission to investigate and recommend policy changes to address recent large fires in Portugal. He is the lead author of Applied Landscape Ecology, published in 2019 by Wiley.

Dr. Penelope Morgan is an Emeritus Professor in the Department of Forest, Rangeland, and Fire Sciences, University of Idaho, Moscow, Idaho, USA (https://www.uidaho.edu/cnr/faculty/morgan). Dr. Morgan's extensive teaching and research are in the ecological effects of wildland fires, with fire management implications. She has taught fire ecology, fire management, prescribed burning, and other topics to students who are now leading fire professionals. She is certified as Senior Fire Ecologist. She was recently recognized for Lifetime Achievement by the international Association for Fire Ecology.


Dr. Paulo Fernandes is Associate Professor in Departamento de Ciências Florestais e Arquitetura Paisagista and Researcher of Centro de Investigação e de Tecnologias Agro-Ambientais e Biológicas at Universidade de Trás-os-Montes e Alto Douro, Vila Real, Portugal. He teaches and studies wildland fire, with a particular interest in the links between fire behavior and fire effects and the corresponding management implications (https://scholar.google.com/citations?user=VEaRO9oAAAAJ&hl=pt-PT). Dr. Fernandes has been actively involved in prescribed fire technological development and outreach. He served on the board of the International Association of Wildland Fire and on the Portuguese Parliament commissions that investigated the 2017 disaster fires in Portugal and currently monitor fire management policies and fire activity in the country.


Dr. Chad Hoffman is an Associate Professor in the Department of Forest and Rangeland Stewardship and Co-director of the Western Forest Fire Research Center at Colorado State University, Fort Collins, Colorado, USA. Dr. Hoffman teaches and conducts research related to wildland fire and fuel dynamics. His research lab works on questions about how interactions among fire, fuels, topography, and the atmosphere influence fire behavior and effects across spatial and temporal scales using a combination of field and laboratory experiments and process-based models (https://scholar.google.com/citations?user=EEOXuBQAAAAJ&hl).

Dieses Buch kaufen
eBook 69,99 €

Preis für Deutschland (Brutto)

Die eBook-Version des Titels ist in Kürze verfügbar
Erscheinungstermin: 11. Oktober 2021
ISBN 978-3-030-69815-7
Versehen mit digitalem Wasserzeichen, DRM-frei
Erhältliche Formate:
eBooks sind auf allen Endgeräten nutzbar

Hardcover 90,94 €

Preis für Deutschland (Brutto)

Erscheinungstermin: 11. Oktober 2021
ISBN 978-3-030-69814-0
Kostenfreier Versand für Individualkunden weltweit
Institutionelle Kunden wenden sich bitte an ihren Kundenbetreuer
Services zu diesem Buch
Bibliografische Information
Buchtitel

Fire Science

Buchuntertitel

From Chemistry to Landscape Management

Autoren

Francisco Manuel Cardoso Castro Rego
Penelope Morgan
Paulo Fernandes
Chad Hoffman

Titel der Buchreihe

Copyright

2021

Verlag

Springer International Publishing

Copyright Inhaber

Springer Nature Switzerland AG

eBook ISBN

978-3-030-69815-7

DOI

10.1007/978-3-030-69815-7

Hardcover ISBN

978-3-030-69814-0

Buchreihen ISSN

2510-1307

Auflage

1

Seitenzahl

XXX, 644

Anzahl der Bilder

326 schwarz-weiß Abbildungen

Themen