Fungal Biology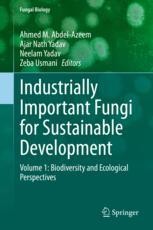 Industrially Important Fungi for Sustainable Development
Volume 1: Biodiversity and Ecological Perspectives
Herausgeber: Abdel-Azeem, A.M., Yadav, A.N., Yadav, N., Usmani, Z. (Eds.)
Enriches understanding of fungal diversity, encompassing current advanced knowledge of fungal communities
Illustrates fungal production of important metabolites for pharmaceutical use
Maximizes reader insights into industrial application of fungi for future sustainability, including their potential biotechnological applications in industry and allied sectors
Weitere Vorteile
Dieses Buch kaufen
eBook 117,69 €

Preis für Deutschland (Brutto)

Die eBook-Version des Titels ist in Kürze verfügbar
Erscheinungstermin: 28. April 2021
ISBN 978-3-030-67561-5
Versehen mit digitalem Wasserzeichen, DRM-frei
Erhältliche Formate:
eBooks sind auf allen Endgeräten nutzbar

Hardcover 149,79 €

Preis für Deutschland (Brutto)

Erscheinungstermin: 28. April 2021
ISBN 978-3-030-67560-8
Kostenfreier Versand für Individualkunden weltweit
Institutionelle Kunden wenden sich bitte an ihren Kundenbetreuer
Fungi are an understudied, biotechnologically valuable group of organisms. Due to their immense range of habitats, and the consequent need to compete against a diverse array of other fungi, bacteria, and animals, fungi have developed numerous survival mechanisms. However, besides their major basic positive role in the cycling of minerals, organic matter and mobilizing insoluble nutrients, fungi have other beneficial impacts: they are considered good sources of food and active agents for a number of industrial processes involving fermentation mechanisms as in the bread, wine and beer industry. A number of fungi also produce biologically important metabolites such as enzymes, vitamins, antibiotics and several products of important pharmaceutical use; still others are involved in the production of single cell proteins. The economic value of these marked positive activities has been estimated as approximating to trillions of US dollars. The unique attributes of fungi thus herald great promise for their application in biotechnology and industry. Since ancient Egyptians mentioned in their medical prescriptions how they can use green molds in curing wounds as the obvious historical uses of penicillin, fungi can be grown with relative ease, making production at scale viable. The search for fungal biodiversity, and the construction of a living fungi collection, both have incredible economic potential in locating organisms with novel industrial uses that will lead to novel products. Fungi have provided the world with penicillin, lovastatin, and other globally significant medicines, and they remain an untapped resource with enormous industrial potential.
Volume 1 of Industrially Important Fungi for Sustainable Development provides an overview to understanding fungal diversity from diverse habitats and their industrial application for future sustainability. It encompasses current advanced knowledge of fungal communities and their potential biotechnological applications in industry and allied sectors. The book will be useful to scientists, researchers, and students of microbiology, biotechnology, agriculture, molecular biology, and environmental biology.


Prof. Ahmed M. Abdel-Azeem is currently working as an academic staff member for the Botany Department, Faculty of Science, Suez Canal University, and as a mycologist with a particular interest in the ecology, taxonomy, biology, and conservation of fungi, especially on the members of the phylum Ascomycota. His research includes isolation, identification, and taxonomic assessments of these fungi with particular emphasis on those which produce bioactive materials from different ecological habitats. He is the editor in chief of Microbial Biosystems Journal (MBJ) and a reviewer of more than seven international journals. He has published more than 70 research paper journals, 27 book chapters in the books published by international publishers, and 5 books.
Prof. Ajar Nath Yadav is a Dean Postgraduate Studies (Officiating) & Assistant Controller of Examinations at Eternal University, Baru Sahib, Himachal Pradesh, India. He has 5 years of teaching experience as an Assistant Professor (Senior Scale) and 11 years of research experiences in the field of Microbial Biotechnology, Microbial Diversity, and Plant-Microbe-Interactions. Dr. Yadav has 201 publications, with ah-index of 50, i10-index of 132, and 6554 citations (Google Scholar- on 11/11/2020). Dr. Yadav is editor of 15 Springer-Nature, 06 CRC Press Taylor & Francis, 02 Elsevier, and 1 Wiley-Blackwell book. He has been serving as an editor and reviewer for different national and international peer-reviewed journals. He has lifetime membership of the Association of Microbiologists in India, and Indian Science Congress Council, India.
Dr. Neelam Yadav is currently working on microbial diversity from diverse sources and their biotechnological applications in agriculture and allied sectors. She obtained her post-graduation degree from Veer Bahadur Singh Purvanchal University, Uttar Pradesh, India. In her credit 65 publications in different reputed international, national journals and publishers with h-index 24, i10-index 46, and 1724 citations (Google Scholar- on 11/11/2020). She is the editors of 02 books in Elsevier, 03 in CRC Press, Taylor & Francis and 09 in Springer Nature. She is editor/associate editor/reviewer of different international and national journals. She has the lifetime membership of the Association of Microbiologists in India, Indian Science Congress Council, India, and National Academy of Sciences, India.
Dr. Zeba Usmani is currently working as a Research Scientist in Department of Chemistry and Biotechnology at Tallinn University of Technology (TalTech). She completed her doctorate at Indian Institute of Technology (IIT-ISM), Dhanbad, India. Her research focuses from doctorate include bio-based remediation of heavy metals from fly-ash for conversion into useful fertilizer, and uptake of heavy metals into terrestrial and aquatic ecosystems. To her credit she has published many papers in peer-reviewed journals with impact factors, good few book chapters for publication houses of Elsevier and Springer, and a monologue for the Ministry of Environment and Forests. She is a reviewer for multiple research paper across multiple journals. Her RG Score is 22.78 with 23 peer-reviewed articles in well-reputed journals and 7 book chapters. She is a member of the Society for Bioinformatics and Biological Sciences (SBBS).

Dieses Buch kaufen
eBook 117,69 €

Preis für Deutschland (Brutto)

Die eBook-Version des Titels ist in Kürze verfügbar
Erscheinungstermin: 28. April 2021
ISBN 978-3-030-67561-5
Versehen mit digitalem Wasserzeichen, DRM-frei
Erhältliche Formate:
eBooks sind auf allen Endgeräten nutzbar

Hardcover 149,79 €

Preis für Deutschland (Brutto)

Erscheinungstermin: 28. April 2021
ISBN 978-3-030-67560-8
Kostenfreier Versand für Individualkunden weltweit
Institutionelle Kunden wenden sich bitte an ihren Kundenbetreuer
Services zu diesem Buch
Wir empfehlen
Bibliografische Information
Buchtitel

Industrially Important Fungi for Sustainable Development

Buchuntertitel

Volume 1: Biodiversity and Ecological Perspectives

Herausgeber

Ahmed M. Abdel-Azeem
Ajar Nath Yadav
Neelam Yadav
Zeba Usmani

Titel der Buchreihe

Copyright

2021

Verlag

Springer International Publishing

Copyright Inhaber

The Editor(s) (if applicable) and The Author(s), under exclusive license to Springer Nature Switzerland AG

eBook ISBN

978-3-030-67561-5

DOI

10.1007/978-3-030-67561-5

Hardcover ISBN

978-3-030-67560-8

Buchreihen ISSN

2198-7777

Auflage

1

Seitenzahl

XV, 651

Anzahl der Bilder

12 schwarz-weiß Abbildungen, 35 Abbildungen in Farbe

Themen