Transnational Theatre Histories
Vorschau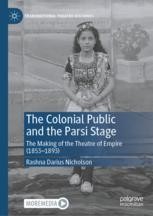 The Colonial Public and the Parsi Stage
The Making of the Theatre of Empire (1853-1893)
Autoren: Nicholson, Rashna Darius
Vorschau
The first comprehensive study of the Parsi theatre
Studies not only Parsi theatre, but also a meta-theatre of imperialism and nationalism
Presents an interdisciplinary approach which will be of interest to scholars of cultural history, gender studies, Victorian studies, colonialism, and theatre.
Weitere Vorteile
Dieses Buch kaufen
eBook 85,59 €

Preis für Deutschland (Brutto)

ISBN 978-3-030-65836-6
Versehen mit digitalem Wasserzeichen, DRM-frei
Erhältliche Formate: EPUB, PDF
eBooks sind auf allen Endgeräten nutzbar
Sofortiger eBook Download nach Kauf

Hardcover 106,99 €

Preis für Deutschland (Brutto)

ISBN 978-3-030-65835-9
Kostenfreier Versand für Individualkunden weltweit
Institutionelle Kunden wenden sich bitte an ihren Kundenbetreuer
Gewöhnlich versandfertig in 3-5 Werktagen, sofern auf Lager
The Colonial Public and the Parsi Stage is the first comprehensive study of the Parsi theatre, colonial South and Southeast Asia's most influential cultural phenomenon and the precursor of the Indian cinema industry. By providing extensive, unpublished information on its first actors, audiences, production methods, and plays, this book traces how the theatre—which was one of the first in the Indian subcontinent to adopt European stagecraft—transformed into a pan-Asian entertainment industry in the second half of the nineteenth century. Nicholson sheds light on the motivations that led to the development of the popular, commercial theatre movement in Asia through three areas of investigation: the vernacular public sphere, the emergence of competing visions of nationhood, and the narratological function that women served within a continually shifting socio-political order. The book will be of interest to scholars across several disciplines, including cultural history, gender studies, Victorian studies, the sociology of religion, colonialism, and theatre.

Rashna Darius Nicholson is Assistant Professor of Theatre Studies at the University of Hong Kong. She has published works on colonial and postcolonial South Asian performance, theatre historiography, and cultural development.

"Working against the grain of the pan-Indian generalities and unproblematized pluralism of the Parsi theatre, Rashna Nicholson focuses on fiery debates in the public sphere around Parsi theatre – debates relating to Aryanism, Darwinism, communal violence, masculinity, and pure and impure blood, pan-Zoroastrianism, and conflicting positions on the critical question, 'Are Parsis Indian?' With historiographical rigor and an unsentimental reading of community, Nicholson has written a book that could be regarded as an eye-opener for both performance and social historians." (– Rustom Bharucha, Jawaharlal Nehru University, New Delhi).

"This window into colonial history combines archival detail with theoretical sophistication. The Parsis emerge from Nicholson's account as entrepreneurs but also myth-makers, helping create a non-Western public sphere packed with enchantment, battling conflicting forms of nationalism, and English hypocrisy." (– David Wiles, University of Exeter).
Inhaltsverzeichnis (10 Kapitel)

Parsi Compradors and the Public Sphere

Seiten 23-41

Social Reform, Lawmaking, and the Origins of the Parsi Theatre

Seiten 43-88

Corporeal Discipline

Seiten 89-123

Science, Secular Mythology, and the Professionalization of the Parsi Theatre

Seiten 129-173
Dieses Buch kaufen
eBook 85,59 €

Preis für Deutschland (Brutto)

ISBN 978-3-030-65836-6
Versehen mit digitalem Wasserzeichen, DRM-frei
Erhältliche Formate: EPUB, PDF
eBooks sind auf allen Endgeräten nutzbar
Sofortiger eBook Download nach Kauf

Hardcover 106,99 €

Preis für Deutschland (Brutto)

ISBN 978-3-030-65835-9
Kostenfreier Versand für Individualkunden weltweit
Institutionelle Kunden wenden sich bitte an ihren Kundenbetreuer
Gewöhnlich versandfertig in 3-5 Werktagen, sofern auf Lager
Services zu diesem Buch
Wir empfehlen
Bibliografische Information
Buchtitel

The Colonial Public and the Parsi Stage

Buchuntertitel

The Making of the Theatre of Empire (1853-1893)

Autoren

Titel der Buchreihe

Copyright

2021

Verlag

Palgrave Macmillan

Copyright Inhaber

The Editor(s) (if applicable) and The Author(s), under exclusive license to Springer Nature Switzerland AG

eBook ISBN

978-3-030-65836-6

DOI

10.1007/978-3-030-65836-6

Hardcover ISBN

978-3-030-65835-9

Auflage

1

Seitenzahl

XVII, 328

Anzahl der Bilder

26 schwarz-weiß Abbildungen, 6 Abbildungen in Farbe

Themen