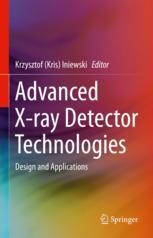 Advanced X-ray Detector Technologies: Design and Applications
Design and Applications
Herausgeber: Iniewski, Krzysztof (Kris) (Ed.)
Provides coverage of a broad range of topics, from international experts in academia and industry
Includes in-depth analysis of how to optimize X-ray detection and electronics for X-ray detection
Covers both technology and applications in a number of different domains
Weitere Vorteile
Dieses Buch kaufen
eBook 67,40 €

Preis für Deutschland (Brutto)

Erscheinungstermin: 17. Januar 2022
ISBN 978-3-030-64279-2
Versehen mit digitalem Wasserzeichen, DRM-frei
Erhältliche Formate:
eBooks sind auf allen Endgeräten nutzbar

Hardcover 85,59 €

Preis für Deutschland (Brutto)

Erscheinungstermin: 17. Januar 2022
ISBN 978-3-030-64278-5
Kostenfreier Versand für Individualkunden weltweit
Institutionelle Kunden wenden sich bitte an ihren Kundenbetreuer
This book offers readers an overview of some of the most recent advances in the field of detectors for X-ray imaging. Coverage includes both technology and applications, with an in-depth review of the research topics from leading specialists in the field. Emphasis is on high-Z materials like CdTe, CZT and perovskites, since they offer the best implementation possibilities for direct conversion X-ray detectors. Authors discuss material challenges, detector operation physics and technology and readout integrated circuits required to detect signals processes by high-Z sensors.

Krzysztof (Kris) Iniewski is managing R&D development activities at Redlen Technologies Inc., a detector company based in British Columbia, Canada. During his 15 years at Redlen he has managed development of highly integrated CZT detector products in medical imaging and security applications. Prior to Redlen Kris hold various management and academic positions at PMC-Sierra, University of Alberta, SFU, UBC and University of Toronto.

Dr. Iniewski has published over 150+ research papers in international journals and conferences. He holds 20+ international patents granted in USA, Canada, France, Germany, and Japan. He wrote and edited several books for Wiley, Cambridge University Press, Mc-Graw Hill, CRC Press and Springer. He is a frequent invited speaker and has consulted for multiple organizations internationally.
Dieses Buch kaufen
eBook 67,40 €

Preis für Deutschland (Brutto)

Erscheinungstermin: 17. Januar 2022
ISBN 978-3-030-64279-2
Versehen mit digitalem Wasserzeichen, DRM-frei
Erhältliche Formate:
eBooks sind auf allen Endgeräten nutzbar

Hardcover 85,59 €

Preis für Deutschland (Brutto)

Erscheinungstermin: 17. Januar 2022
ISBN 978-3-030-64278-5
Kostenfreier Versand für Individualkunden weltweit
Institutionelle Kunden wenden sich bitte an ihren Kundenbetreuer
Services zu diesem Buch
Bibliografische Information
Buchtitel

Advanced X-ray Detector Technologies: Design and Applications

Buchuntertitel

Design and Applications

Herausgeber

Krzysztof (Kris) Iniewski

Copyright

2022

Verlag

Springer International Publishing

Copyright Inhaber

Springer Nature Switzerland AG

eBook ISBN

978-3-030-64279-2

DOI

10.1007/978-3-030-64279-2

Hardcover ISBN

978-3-030-64278-5

Auflage

1

Seitenzahl

V, 145

Themen