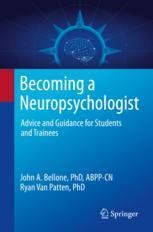 Becoming a Neuropsychologist
Advice and Guidance for Students and Trainees
Autoren: Bellone, John, Van Patten, Ryan
Provides a road map with clear steps delineating how to become a research and/or clinical neuropsychologist
Disseminates practical, concrete advice for how to best navigate the neuropsychology training process and avoid common pitfalls/barriers that arise along the path
Provides a resource for college professors, advisors, counselors, and mentors to assist in advising students regarding career planning
Educates undergraduate and graduate students, as well as advanced high school students, about the field of neuropsychology broadly, as well as what the day-to-day professional lives of trainees and full-fledged professionals look like
Helps students decide whether they want to pursue a career in the field by transparently discussing the benefits and challenges of such a path, as well as providing reasons why professionals have chosen this career option (the authors share their own stories and the stories of their colleagues)
Compares and contrasts neuropsychology with other, related professions.
Weitere Vorteile
Dieses Buch kaufen
eBook 28,88 €

Preis für Deutschland (Brutto)

Die eBook-Version des Titels ist in Kürze verfügbar
Erscheinungstermin: 11. April 2021
ISBN 978-3-030-63174-1
Versehen mit digitalem Wasserzeichen, DRM-frei
Erhältliche Formate:
eBooks sind auf allen Endgeräten nutzbar

Softcover 38,51 €

Preis für Deutschland (Brutto)

Erscheinungstermin: 11. April 2021
ISBN 978-3-030-63173-4
Kostenfreier Versand für Individualkunden weltweit
Institutionelle Kunden wenden sich bitte an ihren Kundenbetreuer
Becoming a Neuropsychologist is the first comprehensive resource for students interested in pursuing a career in neuropsychology. Whether you are a student in high school, college, or graduate school, or a professional interested in a career change, this book will serve as your North Star to help you navigate on your journey. To this end, Part I answers the questions, What is Neuropsychology?, Why Neuropsychology?, and Where Do Neuropsychologists Work?, and ends with a discussion of the Challenges of Working in Neuropsychology.
In Part II, you will find a step-by-step guide on how to move from where you are to the endpoint of working as a full-fledged neuropsychologist. Specifically, the authors provide concrete advice such as how to obtain adequate research and clinical training, how to apply to graduate school or doctoral internship programs, what criteria postdoctoral fellows need to meet to remain eligible for board certification, what questions to ask on interviews or when looking for your first job, and much more. The book is packed with action steps and advice for maximizing your training and avoiding common pitfalls along the way.
"As our field looks to expand diversity and representation in our ranks, my hat is off to John Bellone and Ryan Van Patten for not only extending an invitation to the party but also for providing a map for how to get here. —Kathleen Fuchs, PhD, ABPP
"Drs. Bellone and Van Patten have distilled the complexities of neuropsychology career development into an eminently readable and understandable roadmap. —Glenn Smith, PhD, ABPP
"An easy, accessible introduction into the field of neuropsychology…The authors' open and personal accounts of their own journeys toward becoming clinical neuropsychologists read like a fireside chat with a beloved mentor." —Jenn Davis, PhD, ABPP
"Informative, witty, and inspiring. After reading this, I feel re-inspired and excited to be pursuing a career in this field. —Ilex Beltran-Najera, MA


John Bellone is a clinical neuropsychologist in a group practice in Southern California and is a member of multiple neuropsychological organizations. Although his clinical interests are broad, he is particularly passionate about reducing risk for cognitive decline and improving overall health through lifestyle modification. He frequently lectures on the power that exercise, healthy diet, quality sleep, psychological well-being, and staying cognitively and socially active have on maintaining/improving cognitive functioning both now and as we age.

Ryan Van Patten works in the field of neuropsychology at Massachusetts General Hospital, Spaulding Rehabilitation Hospital, and Harvard Medical School in Boston, MA. His research and clinical interests include cognitive aging, neurodegenerative diseases, traumatic brain injury, stroke, severe mental illness, cognitive interventions, and innovative assessment methods. He is also interested in the education, mentoring, and teaching of neuropsychological trainees.

Drs. Bellone and Van Patten are the co-creators and co-hosts of the podcast, Navigating Neuropsychology, where they provide relevant educational content to students, trainees, and professionals by interviewing experts and discussing a variety of topics within neuropsychology.

Dieses Buch kaufen
eBook 28,88 €

Preis für Deutschland (Brutto)

Die eBook-Version des Titels ist in Kürze verfügbar
Erscheinungstermin: 11. April 2021
ISBN 978-3-030-63174-1
Versehen mit digitalem Wasserzeichen, DRM-frei
Erhältliche Formate:
eBooks sind auf allen Endgeräten nutzbar

Softcover 38,51 €

Preis für Deutschland (Brutto)

Erscheinungstermin: 11. April 2021
ISBN 978-3-030-63173-4
Kostenfreier Versand für Individualkunden weltweit
Institutionelle Kunden wenden sich bitte an ihren Kundenbetreuer
Services zu diesem Buch
Wir empfehlen
Bibliografische Information
Buchtitel

Becoming a Neuropsychologist

Buchuntertitel

Advice and Guidance for Students and Trainees

Autoren

John Bellone
Ryan Van Patten

Copyright

2021

Verlag

Springer International Publishing

Copyright Inhaber

Springer Nature Switzerland AG

eBook ISBN

978-3-030-63174-1

DOI

10.1007/978-3-030-63174-1

Softcover ISBN

978-3-030-63173-4

Auflage

1

Seitenzahl

XXVII, 203

Anzahl der Bilder

8 schwarz-weiß Abbildungen, 2 Abbildungen in Farbe

Themen