SpringerBriefs in Electrical and Computer Engineering
Vorschau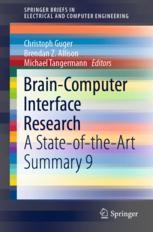 Brain-Computer Interface Research
A State-of-the-Art Summary 9
Herausgeber: Guger, Christoph, Allison, Brendan, Tangermann, Michael (Eds.)
Vorschau
Summarizes the most innovative BCI projects
Elucidates the projects of the 2019 BCI Award nominees
Provides a worldwide overview of key BCI research
Weitere Vorteile
Dieses Buch kaufen
eBook 42,79 €

Preis für Deutschland (Brutto)

ISBN 978-3-030-60460-8
Versehen mit digitalem Wasserzeichen, DRM-frei
Erhältliche Formate: PDF, EPUB
eBooks sind auf allen Endgeräten nutzbar
Sofortiger eBook Download nach Kauf

Softcover 53,49 €

Preis für Deutschland (Brutto)

ISBN 978-3-030-60459-2
Kostenfreier Versand für Individualkunden weltweit
Institutionelle Kunden wenden sich bitte an ihren Kundenbetreuer
Gewöhnlich versandfertig in 3-5 Werktagen, sofern auf Lager
The Annual BCI Research Awards are international prizes that recognize the top new projects in brain–computer interface (BCI) research. This book contains concise descriptions of projects nominated for the 2019 BCI Research Award and interviews with nominees. Each article is authored by the researchers who developed the project, and articles have been updated with new progress achieved since their nomination. These chapters are complemented by an introduction by the editors together with a concluding chapter that reviews the annual Awards Ceremony, announces the winners, and ends with a brief discussion.
One of the prominent trends in recent years has been the development of BCIs for new patient groups. Many chapters in this book present emerging and novel research directions likely to become more prevalent in the near future. This year's book includes chapters based on interviews with BCI experts who were nominated for an award, including this year's first, second, and third place winners. These interview chapters are generally less technical than project descriptions, and provide individual perspectives from people actively working on new methods and systems.

Christoph Guger leads several international research projects in the invasive and non-invasive BCI domains.

Brendan Z. Allison is an expert in non-invasive BCI applications and has worked with BCIs for more than 20 years.

Michael Tangermann is the Head of the Brain State Decoding Lab at the University of Freiburg, Germany. He focuses on machine learning problems that emerge when decoding mental states from neuronal signals.



Inhaltsverzeichnis (15 Kapitel)

Brain-Computer Interface Research: A State-of-the-Art Summary 9

Seiten 1-12

BCI-Based Neurofeedback Training for Quitting Smoking

Seiten 13-23

Neurofeedback of Scalp Bi-Hemispheric EEG Sensorimotor Rhythm Guides Hemispheric Activation of Sensorimotor Cortex in the Targeted Hemisphere

Seiten 25-38

Next Generation Microscale Wireless Implant System for High-Density, Multi-areal, Closed-Loop Brain Computer Interfaces

Seiten 39-51

Interfacing Hearing Implants with the Brain: Closing the Loop with Intracochlear Brain Recordings

Seiten 53-63
Dieses Buch kaufen
eBook 42,79 €

Preis für Deutschland (Brutto)

ISBN 978-3-030-60460-8
Versehen mit digitalem Wasserzeichen, DRM-frei
Erhältliche Formate: PDF, EPUB
eBooks sind auf allen Endgeräten nutzbar
Sofortiger eBook Download nach Kauf

Softcover 53,49 €

Preis für Deutschland (Brutto)

ISBN 978-3-030-60459-2
Kostenfreier Versand für Individualkunden weltweit
Institutionelle Kunden wenden sich bitte an ihren Kundenbetreuer
Gewöhnlich versandfertig in 3-5 Werktagen, sofern auf Lager
Services zu diesem Buch
Wir empfehlen
Bibliografische Information
Buchtitel

Brain-Computer Interface Research

Buchuntertitel

A State-of-the-Art Summary 9

Herausgeber

Christoph Guger
Brendan Allison
Michael Tangermann

Titel der Buchreihe

Copyright

2021

Verlag

Springer International Publishing

Copyright Inhaber

The Editor(s) (if applicable) and The Author(s), under exclusive license to Springer Nature Switzerland AG

eBook ISBN

978-3-030-60460-8

DOI

10.1007/978-3-030-60460-8

Softcover ISBN

978-3-030-60459-2

Buchreihen ISSN

2191-8112

Auflage

1

Seitenzahl

VI, 150

Anzahl der Bilder

3 schwarz-weiß Abbildungen, 54 Abbildungen in Farbe

Themen