Springer Tracts in Mechanical Engineering
Vorschau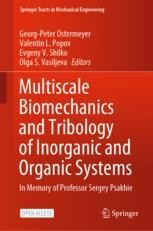 Open Access This content is freely available online to anyone, anywhere at any time.
Multiscale Biomechanics and Tribology of Inorganic and Organic Systems
In memory of Professor Sergey Psakhie
Herausgeber: Ostermeyer, G.-P., Popov, V.L., Shilko, E., Vasiljeva, O. (Eds.)
Vorschau
Is an open access book
Offers a timely overview of the field of contact mechanics and tribology
Emphasizes applications of materials science and tribology, especially in biomedicine
Dedicated to Sergey Psakhie for his pioneering role in fostering biomedical applications of contact mechanics
Weitere Vorteile
Dieses Buch kaufen
eBook

ISBN 978-3-030-60124-9
Dieses Buch ist ein Open Access Buch und ist frei zugänglich auf link.springer.com

Hardcover 53,49 €

Preis für Deutschland (Brutto)

ISBN 978-3-030-60123-2
Kostenfreier Versand für Individualkunden weltweit
Institutionelle Kunden wenden sich bitte an ihren Kundenbetreuer
Gewöhnlich versandfertig in 3-5 Werktagen, sofern auf Lager
This open access book gathers authoritative contributions concerning multiscale problems in biomechanics, geomechanics, materials science and tribology. It is written in memory of Sergey Grigorievich Psakhie to feature various aspects of his multifaceted research interests, ranging from theoretical physics, computer modeling of materials and material characterization at the atomic scale, to applications in space industry, medicine and geotectonics, and including organizational, psychological and philosophical aspects of scientific research and teaching as well. This book covers new advances relating to orthopedic implants, concerning the physiological, tribological and materials aspects of their behavior; medical and geological applications of permeable fluid-saturated materials; earthquake dynamics together with aspects relating to their managed and gentle release; lubrication, wear and material transfer in natural and artificial joints; material research in manufacturing processes; hard-soft matter interaction, including adhesive and capillary effects; using nanostructures for influencing living cells and for cancer treatment; manufacturing of surfaces with desired properties; self-organization of hierarchical structures during plastic deformation and thermal treatment; mechanics of composites and coatings; and many more. Covering established knowledge as well as new models and methods, this book provides readers with a comprehensive overview of the field, yet also with extensive details on each single topic.
Inhaltsverzeichnis (25 Kapitel)

In Memory of Sergey G. Psakhie

Seiten 1-23

Biomechanical and Tribological Aspects of Orthopaedic Implants

Seiten 25-44

A New Method for Seismically Safe Managing of Seismotectonic Deformations in Fault Zones

Seiten 45-66

Particle-Based Approach for Simulation of Nonlinear Material Behavior in Contact Zones

Seiten 67-89

A Tool for Studying the Mechanical Behavior of the Bone–Endoprosthesis System Based on Multi-scale Simulation

Seiten 91-126
Dieses Buch kaufen
eBook

ISBN 978-3-030-60124-9
Dieses Buch ist ein Open Access Buch und ist frei zugänglich auf link.springer.com

Hardcover 53,49 €

Preis für Deutschland (Brutto)

ISBN 978-3-030-60123-2
Kostenfreier Versand für Individualkunden weltweit
Institutionelle Kunden wenden sich bitte an ihren Kundenbetreuer
Gewöhnlich versandfertig in 3-5 Werktagen, sofern auf Lager
Services zu diesem Buch
Wir empfehlen
Bibliografische Information
Buchtitel

Multiscale Biomechanics and Tribology of Inorganic and Organic Systems

Buchuntertitel

In memory of Professor Sergey Psakhie

Herausgeber

Georg-Peter Ostermeyer
Valentin L. Popov
Evgeny Shilko
Olga Vasiljeva

Titel der Buchreihe

Copyright

2021

Verlag

Springer International Publishing

Copyright Inhaber

The Editor(s) (if applicable) and The Author(s)

eBook ISBN

978-3-030-60124-9

DOI

10.1007/978-3-030-60124-9

Hardcover ISBN

978-3-030-60123-2

Buchreihen ISSN

2195-9862

Auflage

1

Seitenzahl

XVIII, 565

Anzahl der Bilder

131 schwarz-weiß Abbildungen, 122 Abbildungen in Farbe

Themen