Springer Texts in Statistics
Vorschau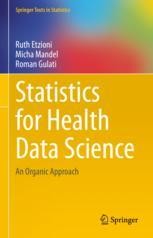 Statistics for Health Data Science
An Organic Approach
Autoren: Etzioni, Ruth, Mandel, Micha, Gulati, Roman
Vorschau
Highly interdisciplinary - drawing from statistics, health services, economics, and informatics
Goes beyond the formulas, explaining why different methods work, how to choose from among them, and how to avoid misinterpreting results - to create confident users of appropriate analytic methods
Addresses topical questions such as data science versus statistics, prediction versus explanation
Provides a wide range of analytic and regression-type models specific to research questions about health care use and costs of care
In-depth discussion on selection bias in observational data methods for inferring causality
Supplementary Material Includes: Code and data for all examples and model analyses, Code for data processing and analysis, Code segments for simulation models
Weitere Vorteile
Dieses Buch kaufen
eBook 76,99 €

Preis für Deutschland (Brutto)

ISBN 978-3-030-59889-1
Versehen mit digitalem Wasserzeichen, DRM-frei
Erhältliche Formate: PDF, EPUB
eBooks sind auf allen Endgeräten nutzbar
Sofortiger eBook Download nach Kauf

Hardcover 96,29 €

Preis für Deutschland (Brutto)

ISBN 978-3-030-59888-4
Kostenfreier Versand für Individualkunden weltweit
Institutionelle Kunden wenden sich bitte an ihren Kundenbetreuer
Gewöhnlich versandfertig in 3-5 Werktagen, sofern auf Lager
Students and researchers in the health sciences are faced with greater opportunity and challenge than ever before. The opportunity stems from the explosion in publicly available data that simultaneously informs and inspires new avenues of investigation. The challenge is that the analytic tools required go far beyond the standard methods and models of basic statistics. This textbook aims to equip health care researchers with the most important elements of a modern health analytics toolkit, drawing from the fields of statistics, health econometrics, and data science.

This textbook is designed to overcome students' anxiety about data and statistics and to help them to become confident users of appropriate analytic methods for health care research studies. Methods are presented organically, with new material building naturally on what has come before. Each technique is motivated by a topical research question, explained in non-technical terms, and accompanied by engaging explanations and examples. In this way, the authors cultivate a deep ("organic") understanding of a range of analytic techniques, their assumptions and data requirements, and their advantages and limitations. They illustrate all lessons via analyses of real data from a variety of publicly available databases, addressing relevant research questions and comparing findings to those of published studies. Ultimately, this textbook is designed to cultivate health services researchers that are thoughtful and well informed about health data science, rather than data analysts.

This textbook differs from the competition in its unique blend of methods and its determination to ensure that readers gain an understanding of how, when, and why to apply them. It provides the public health researcher with a way to think analytically about scientific questions, and it offers well-founded guidance for pairing data with methods for valid analysis. Readers should feel emboldened to tackle analysis of real public datasets using traditional statistical models, health econometrics methods, and even predictive algorithms.

Accompanying code and data sets are provided in an author site: https://roman-gulati.github.io/statistics-for-health-data-science/

Ruth Etzioni, PhD has been on the faculty at the Fred Hutchinson Cancer Research Center since 1991 and is an affiliate professor of biostatistics and health services at the University of Washington. She develops statistical models and methods for health policy and is a member of national cancer policy panels including the American Cancer Society and the National Comprehensive Cancer Network. She has developed and taught a new curriculum in statistical methods for graduate students in the School of Public Health at the University of Washington; the course focuses on health care analytics using contemporary, publicly available data resources. The popularity of this course led her to conceive of and develop the proposed text. Dr. Etzioni received her undergraduate degree in Computer Science and Operations Research from the University of Cape Town and her PhD in Statistics from Carnegie-Mellon University.

Micha Mandel, PhD, is professor of statistics at the Hebrew University of Jerusalem. Micha has vast experience teaching at all levels from undergraduate to PhD students, and has been engaged with a wide range of problems in medicine and health care. His interaction with students and researchers from different fields led him to develop tools to explain sophisticated statistical concepts and methods in ways that are accessible to many audiences. His main areas of research include biased sampling, survival analysis, and forensic statistics, but he continues to expand his reach, most recently to the estimation of COVID-19 natural history. He has published in many high-profile statistical journals including Biometrics, Biometrika, Journal of the American Statistical Association, and Statistics in Medicine. Micha received his PhD in Statistics from the Hebrew University of Jerusalem.

Roman Gulati, MS, has been a senior statistical analyst at the Fred Hutchinson Cancer Research Center since 2005. Mr. Gulati is a designer, developer, and analyst of statistical models to investigate population impacts of national clinical practice patterns and cancer control policies. He has led or contributed to many independent and collaborative modeling studies for the Cancer Intervention and Surveillance Modeling Network of the National Cancer Institute. He is also chief biostatistician for the prostate cancer research program at the Fred Hutch and the University of Washington, supporting many molecular, preclinical, and clinical research studies. Mr. Gulati received graduate training first in mathematics and then in Chinese before earning his MS in Statistics from Oregon State University.
Inhaltsverzeichnis (10 Kapitel)

Statistics and Health Data

Seiten 1-16

Key Statistical Concepts

Seiten 17-36

Regression Analysis

Seiten 37-63

Binary and Categorical Outcomes

Seiten 65-92

Count Outcomes

Seiten 93-112
Dieses Buch kaufen
eBook 76,99 €

Preis für Deutschland (Brutto)

ISBN 978-3-030-59889-1
Versehen mit digitalem Wasserzeichen, DRM-frei
Erhältliche Formate: PDF, EPUB
eBooks sind auf allen Endgeräten nutzbar
Sofortiger eBook Download nach Kauf

Hardcover 96,29 €

Preis für Deutschland (Brutto)

ISBN 978-3-030-59888-4
Kostenfreier Versand für Individualkunden weltweit
Institutionelle Kunden wenden sich bitte an ihren Kundenbetreuer
Gewöhnlich versandfertig in 3-5 Werktagen, sofern auf Lager
Services zu diesem Buch
Bibliografische Information
Buchtitel

Statistics for Health Data Science

Buchuntertitel

An Organic Approach

Autoren

Ruth Etzioni
Micha Mandel
Roman Gulati

Titel der Buchreihe

Copyright

2020

Verlag

Springer International Publishing

Copyright Inhaber

The Author(s), under exclusive licence to Springer Nature Switzerland AG

eBook ISBN

978-3-030-59889-1

DOI

10.1007/978-3-030-59889-1

Hardcover ISBN

978-3-030-59888-4

Buchreihen ISSN

1431-875X

Auflage

1

Seitenzahl

XXII, 222

Anzahl der Bilder

22 schwarz-weiß Abbildungen, 43 Abbildungen in Farbe

Themen