Management for Professionals
Vorschau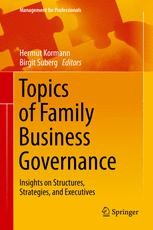 Topics of Family Business Governance
Insights on Structures, Strategies, and Executives
Herausgeber: Kormann, Hermut, Suberg, Birgit (Eds.)
Vorschau
Discusses the role of the board in family businesses
Provides unique arguments and solutions for issues of family businesses
Presents insights into recession management as part of governance
Covers all strategic and leadership matters relevant in a governance context
Weitere Vorteile
Dieses Buch kaufen
eBook 21,39 €

46,00 € (Listenpreis)

Preis für Deutschland (Brutto)

gültig bis 31. Dezember 2021

ISBN 978-3-030-58019-3
Versehen mit digitalem Wasserzeichen, DRM-frei
Erhältliche Formate: EPUB, PDF
eBooks sind auf allen Endgeräten nutzbar
Sofortiger eBook Download nach Kauf

Hardcover 29,95 €

58,84 € (Listenpreis)

Preis für Deutschland (Brutto)

gültig bis 31. Dezember 2021

ISBN 978-3-030-58018-6
Kostenfreier Versand für Individualkunden weltweit
Institutionelle Kunden wenden sich bitte an ihren Kundenbetreuer
Gewöhnlich versandfertig in 3-5 Werktagen, sofern auf Lager
This book focuses on the role of the board in family businesses and specifically on processes and topics of strategic importance. It comprises all the relevant topics which need to be addressed on a regular basis such as strategy development, financial management, and leadership. The pros and cons of each issue are elaborated. This is one of the few books which addresses family businesses from governance systems to the role of executives. The diverse set of examples carefully collected by the authors and an in-depth discussion on the topics provide readers with valuable insights to broaden and enrich the effectiveness of governance.

Hermut Kormann served as CFO (1989-99) and CEO (2000-08) of Voith, a 150-year-old German family enterprise. Prior to Voith, he held positions at Brown, Boveri & Cie. (currently called ABB) and Booz & Co., management consultants. Dr. Kormann has served on various supervisory boards of family enterprises. He advises owning families on issues of owner strategy. Dr. Kormann is a Visiting Professor at Leipzig University (Germany) and Professor at Zeppelin University (Germany) where he lectures on leadership, strategy, and governance in family-owned businesses.
Birgit Suberg is an Associate Professor of Practice at Xi'an Jiaotong-Liverpool University in Suzhou (China). She is also the Managing Director of a Shanghai-based consulting company. After starting out in strategic consulting and project management in Germany, she has worked in China in several leading positions for multinational and Chinese family and founder-controlled firms.

Inhaltsverzeichnis (31 Kapitel)

Exploring the Topics of Governance

Seiten 5-7

Modules and Tasks of Governance

Seiten 9-14

One-Tier and Two-Tier Boards

Seiten 15-17

Design Parameters of a Board for Family Enterprises

Seiten 19-22
Dieses Buch kaufen
eBook 21,39 €

46,00 € (Listenpreis)

Preis für Deutschland (Brutto)

gültig bis 31. Dezember 2021

ISBN 978-3-030-58019-3
Versehen mit digitalem Wasserzeichen, DRM-frei
Erhältliche Formate: EPUB, PDF
eBooks sind auf allen Endgeräten nutzbar
Sofortiger eBook Download nach Kauf

Hardcover 29,95 €

58,84 € (Listenpreis)

Preis für Deutschland (Brutto)

gültig bis 31. Dezember 2021

ISBN 978-3-030-58018-6
Kostenfreier Versand für Individualkunden weltweit
Institutionelle Kunden wenden sich bitte an ihren Kundenbetreuer
Gewöhnlich versandfertig in 3-5 Werktagen, sofern auf Lager
Services zu diesem Buch
Bibliografische Information
Buchtitel

Topics of Family Business Governance

Buchuntertitel

Insights on Structures, Strategies, and Executives

Herausgeber

Hermut Kormann
Birgit Suberg

Titel der Buchreihe

Copyright

2021

Verlag

Springer International Publishing

Copyright Inhaber

The Editor(s) (if applicable) and The Author(s), under exclusive license to Springer Nature Switzerland AG

eBook ISBN

978-3-030-58019-3

DOI

10.1007/978-3-030-58019-3

Hardcover ISBN

978-3-030-58018-6

Buchreihen ISSN

2192-8096

Auflage

1

Seitenzahl

XIII, 157

Anzahl der Bilder

9 schwarz-weiß Abbildungen

Themen