Information Systems and Applications, incl. Internet/Web, and HCI
Vorschau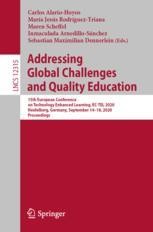 Addressing Global Challenges and Quality Education
15th European Conference on Technology Enhanced Learning, EC-TEL 2020, Heidelberg, Germany, September 14–18, 2020, Proceedings
Herausgeber: Alario-Hoyos, C., Rodríguez-Triana, M.J., Scheffel, M., Arnedillo-Sánchez, I., Dennerlein, S.M. (Eds.)
Vorschau
Dieses Buch kaufen
eBook 58,84 €

Preis für Deutschland (Brutto)

ISBN 978-3-030-57717-9
Versehen mit digitalem Wasserzeichen, DRM-frei
Erhältliche Formate: EPUB, PDF
eBooks sind auf allen Endgeräten nutzbar
Sofortiger eBook Download nach Kauf

Softcover 74,89 €

Preis für Deutschland (Brutto)

ISBN 978-3-030-57716-2
Kostenfreier Versand für Individualkunden weltweit
Institutionelle Kunden wenden sich bitte an ihren Kundenbetreuer
Gewöhnlich versandfertig in 3-5 Werktagen, sofern auf Lager
This book constitutes the proceedings of the 15th European Conference on Technology Enhanced Learning, EC-TEL 2020, held in Heidelberg, Germany, in September 2020.

The 24 research papers and 20 demo and 5 poster papers presented in this volume were carefully reviewed and selected from 91 submissions. The European Conference on Technology-Enhance Learning, which celebrates its 15th anniversary this year, is committed to address global challenges and quality education. The papers deal with the Sustainable Development Goals, particularly SDG 4 and SDG 10, to help to reduce the existing gaps and inequalities between countries and regions from around the world in terms of inclusiveness, equity, access, and quality of education.


The chapters: "Designing an Online Self-Assessment for Informed Study Decisions: The User Perspective"; "Living with Learning Difficulties: Two Case Studies Exploring the Relationship Between Emotion and Performance in Students With Learning Difficulties"; "Applying Instructional Design Principles on Augmented Reality Cards for Computer Science Education"; and "Teaching Simulation Literacy With Evacuations - Concept, Technology, and Material for a Novel Approach" are available open access under a Creative Commons Attribution 4.0 International License via link.springer.com.

Due to the Corona pandemic EC-TEL 2020 was held as an virtual event.
Inhaltsverzeichnis (50 Kapitel)

Exploring Artificial Jabbering for Automatic Text Comprehension Question Generation

Seiten 1-14

Digital Value-Adding Chains in Vocational Education: Automatic Keyword Extraction from Learning Videos to Provide Learning Resource Recommendations

Seiten 15-29

Human-Centered Design of a Dashboard on Students' Revisions During Writing

Seiten 30-44

An Operational Framework for Evaluating the Performance of Learning Record Stores

Seiten 45-59

Does an E-mail Reminder Intervention with Learning Analytics Reduce Procrastination in a Blended University Course?

Seiten 60-73
Dieses Buch kaufen
eBook 58,84 €

Preis für Deutschland (Brutto)

ISBN 978-3-030-57717-9
Versehen mit digitalem Wasserzeichen, DRM-frei
Erhältliche Formate: EPUB, PDF
eBooks sind auf allen Endgeräten nutzbar
Sofortiger eBook Download nach Kauf

Softcover 74,89 €

Preis für Deutschland (Brutto)

ISBN 978-3-030-57716-2
Kostenfreier Versand für Individualkunden weltweit
Institutionelle Kunden wenden sich bitte an ihren Kundenbetreuer
Gewöhnlich versandfertig in 3-5 Werktagen, sofern auf Lager
Services zu diesem Buch
Wir empfehlen
Bibliografische Information
Buchtitel

Addressing Global Challenges and Quality Education

Buchuntertitel

15th European Conference on Technology Enhanced Learning, EC-TEL 2020, Heidelberg, Germany, September 14–18, 2020, Proceedings

Herausgeber

Carlos Alario-Hoyos
María Jesús Rodríguez-Triana
Maren Scheffel
Inmaculada Arnedillo-Sánchez
Sebastian Maximilian Dennerlein

Titel der Buchreihe

Buchreihen Band

12315

Copyright

2020

Verlag

Springer International Publishing

Copyright Inhaber

Springer Nature Switzerland AG

eBook ISBN

978-3-030-57717-9

DOI

10.1007/978-3-030-57717-9

Softcover ISBN

978-3-030-57716-2

Auflage

1

Seitenzahl

XVII, 489

Anzahl der Bilder

32 schwarz-weiß Abbildungen, 77 Abbildungen in Farbe

Themen