Sustainable Finance
Vorschau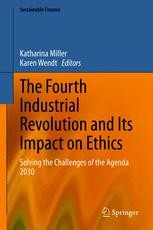 The Fourth Industrial Revolution and Its Impact on Ethics
Solving the Challenges of the Agenda 2030
Herausgeber: Miller, Katharina, Wendt, Karen (Eds.)
Vorschau
Explores the basis for sustainable investment decisions in businesses of the 4th Industrial Revolution
Promotes life-long learning and education on gender equality to eliminate gender stereotypes and unconscious bias
Introduces best practise through business cases
Weitere Vorteile
Dieses Buch kaufen
eBook 85,59 €

Preis für Deutschland (Brutto)

ISBN 978-3-030-57020-0
Versehen mit digitalem Wasserzeichen, DRM-frei
Erhältliche Formate: PDF, EPUB
eBooks sind auf allen Endgeräten nutzbar
Sofortiger eBook Download nach Kauf

Hardcover 106,99 €

Preis für Deutschland (Brutto)

ISBN 978-3-030-57019-4
Kostenfreier Versand für Individualkunden weltweit
Institutionelle Kunden wenden sich bitte an ihren Kundenbetreuer
Gewöhnlich versandfertig in 3-5 Werktagen, sofern auf Lager
This book tackles the ethical problems of the "Fourth Industrial Revolution" (4IR) and offers readers an overview of the ethical challenges connected to Artificial Intelligence (AI), encryption and the finance industry. It specifically focuses on the situation of females in these industries, from women lawyers, judges, attorneys-at-law, investors and bankers, to portfolio managers, solicitors and civil servants. As the 4IR is more than "just" a technology-driven transformation, this book is a call to policymakers and business leaders to harness new technologies in order to create a more inclusive, human-centered future. It offers many practical cases of proactive change agents, and offers solutions to the ethical challenges in connection with implementing revolutionary disruptive products that often eliminate the intermediary. In addition, the book addresses sustainable finance in startups. In this context, education, training, agility and life-long learning in financial literacy are some of the key solutions highlighted here. The respective contributors supply a diverse range of perspectives, so as to promote a multi-stakeholder approach.


Katharina Miller is a committed non-executive member of various corporate boards (Sustainable Panel of Telefónica, Spain, KOKORO World Trends SICAV, Spain, PANDA GmbH, Germany, and Assurance Services GmbH, Germany), with an extensive legal, operational and risk management experience. She is a qualified lawyer in Germany and Spain with over 10 years of international practice across Western Europe, founding partner of the corporate compliance & ethics legal boutique 3C Compliance, an adjunct professor at various compliance & data protection courses, ambassador of the Global Leadership Academy, Germany, president of European Women Lawyers Association (EWLA) and a delegate for Spain at the G20/W20.
Karen Wendt merges 20 years investment banking with social and green economy finance, leadership 4.0, design thinking and ideation. She implements value based decision making, choice architecture and theories of change and advises on Sustainable Development Goals Economics (SDG Economics) in her programme scaling4impact. She is also the president of the SwissFinTechLadies with the mission to close the female funding gap. As an expert at CV Labs' blockchain incubator and F10 accelerator, she helps startups learn about sustainable financial innovation, ecosystem building and scaling their impact.

Inhaltsverzeichnis (26 Kapitel)

Addressing the Ethical and Social Challenges of Emerging Technologies: Creating the Conditions to Play a Leadership Role in the Fourth Industrial Revolution

Seiten 1-13

Essential Change Factors to Enhance Integrity Competitiveness

Seiten 15-31

Corporate Governance and Gender Diversity in Europe: A Strategic Win-Win Opportunity in the Fourth Industrial Revolution

Seiten 33-55

How Businesses Can Impact Agenda 2030

Seiten 57-64

Women and Ethics During the Fourth Industrial Revolution

Seiten 65-69
Dieses Buch kaufen
eBook 85,59 €

Preis für Deutschland (Brutto)

ISBN 978-3-030-57020-0
Versehen mit digitalem Wasserzeichen, DRM-frei
Erhältliche Formate: PDF, EPUB
eBooks sind auf allen Endgeräten nutzbar
Sofortiger eBook Download nach Kauf

Hardcover 106,99 €

Preis für Deutschland (Brutto)

ISBN 978-3-030-57019-4
Kostenfreier Versand für Individualkunden weltweit
Institutionelle Kunden wenden sich bitte an ihren Kundenbetreuer
Gewöhnlich versandfertig in 3-5 Werktagen, sofern auf Lager
Services zu diesem Buch
Wir empfehlen
Bibliografische Information
Buchtitel

The Fourth Industrial Revolution and Its Impact on Ethics

Buchuntertitel

Solving the Challenges of the Agenda 2030

Herausgeber

Katharina Miller
Karen Wendt

Titel der Buchreihe

Copyright

2021

Verlag

Springer International Publishing

Copyright Inhaber

Springer Nature Switzerland AG

eBook ISBN

978-3-030-57020-0

DOI

10.1007/978-3-030-57020-0

Hardcover ISBN

978-3-030-57019-4

Buchreihen ISSN

2522-8285

Auflage

1

Seitenzahl

XXIII, 359

Anzahl der Bilder

12 schwarz-weiß Abbildungen

Themen