Cognitive Technologies
Vorschau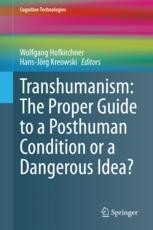 Transhumanism: The Proper Guide to a Posthuman Condition or a Dangerous Idea?
Herausgeber: Hofkirchner, Wolfgang, Kreowski, Hans-Jörg (Eds.)
Vorschau
Transhumanism is an international philosophical and cultural movement that aims to enhance the intellectual and physical capabilities of human beings beyond their current limits. Critics such as Francis Fukuyama consider it one of the "world's most dangerous ideas"
Project supported by the Special Interest Group "Emergent Systems, Information and Society" of the IS4SI (Intl. Society for the Study of Information), which is also a working group of the Leibniz Society of Sciences to Berlin e.V. and The Institute for a Global Sustainable Information Society (GSIS) in Vienna as well as by the Forum of Computer Scientists and IT-Professionals for Peace and Social Responsibility (FIfF e.V.)
Interesting for researchers in domains such as artificial intelligence, robotics, cognitive science, information technology, nanotechnology, biotechnology, science and technology studies, technology assessment, information and society, information ethics, and digital humanism
Weitere Vorteile
Dieses Buch kaufen
eBook 117,69 €

Preis für Deutschland (Brutto)

ISBN 978-3-030-56546-6
Versehen mit digitalem Wasserzeichen, DRM-frei
Erhältliche Formate: EPUB, PDF
eBooks sind auf allen Endgeräten nutzbar
Sofortiger eBook Download nach Kauf

Hardcover 149,79 €

Preis für Deutschland (Brutto)

ISBN 978-3-030-56545-9
Kostenfreier Versand für Individualkunden weltweit
Institutionelle Kunden wenden sich bitte an ihren Kundenbetreuer
Gewöhnlich versandfertig in 3-5 Werktagen, sofern auf Lager
This book examines the contributions of the transhumanism approach to technology, in particular the contributed chapters are wary of the implications of this popular idea.
The volume is organized into four parts concerning philosophical, military, technological and sociological aspects of transhumanism, but the reader is free to choose various reading patterns. Topics discussed include gene editing, the singularity, ethical machines, metaphors in AI, mind uploading, and the philosophy of art, and some perspectives taken or discussed examine transhumanism within the context of the philosophy of technology, transhumanism as a derailed anthropology, and critical sociological aspects that consider transhumanism in the context of topical concerns such as whiteness, maleness, and masculinity.
The book will be of value to researchers engaged with artificial intelligence, and the ethical, societal, and philosophical impacts of science and technology.

Inhaltsverzeichnis (15 Kapitel)

Aspects of Mind Uploading

Seiten 3-20

Transhumanism as a Derailed Anthropology

Seiten 21-47

Transhumanism and Philosophy of Technology

Seiten 49-64

Senseless Transhumanism

Seiten 65-78

Elements of a Posthuman Philosophy of Art

Seiten 79-94
Dieses Buch kaufen
eBook 117,69 €

Preis für Deutschland (Brutto)

ISBN 978-3-030-56546-6
Versehen mit digitalem Wasserzeichen, DRM-frei
Erhältliche Formate: EPUB, PDF
eBooks sind auf allen Endgeräten nutzbar
Sofortiger eBook Download nach Kauf

Hardcover 149,79 €

Preis für Deutschland (Brutto)

ISBN 978-3-030-56545-9
Kostenfreier Versand für Individualkunden weltweit
Institutionelle Kunden wenden sich bitte an ihren Kundenbetreuer
Gewöhnlich versandfertig in 3-5 Werktagen, sofern auf Lager
Services zu diesem Buch
Wir empfehlen
Bibliografische Information
Buchtitel

Transhumanism: The Proper Guide to a Posthuman Condition or a Dangerous Idea?

Herausgeber

Wolfgang Hofkirchner
Hans-Jörg Kreowski

Titel der Buchreihe

Copyright

2021

Verlag

Springer International Publishing

Copyright Inhaber

Springer Nature Switzerland AG

eBook ISBN

978-3-030-56546-6

DOI

10.1007/978-3-030-56546-6

Hardcover ISBN

978-3-030-56545-9

Buchreihen ISSN

1611-2482

Auflage

1

Seitenzahl

X, 244

Anzahl der Bilder

3 schwarz-weiß Abbildungen, 6 Abbildungen in Farbe

Themen