Springer Texts in Education
Vorschau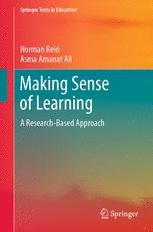 Making Sense of Learning
A Research-Based Approach
Autoren: Reid, Norman, Amanat Ali, Asma
Vorschau
Provides an overview of worldwide research related to education
Makes available what is directly relevant for the actual practice of teaching
Takes a rigorously academic approach but relates it to teaching and learning practicalities
Presents research findings in line with the findings of research
Weitere Vorteile
Dieses Buch kaufen
eBook 71,68 €

Preis für Deutschland (Brutto)

ISBN 978-3-030-53677-0
Versehen mit digitalem Wasserzeichen, DRM-frei
Erhältliche Formate: EPUB, PDF
eBooks sind auf allen Endgeräten nutzbar
Sofortiger eBook Download nach Kauf

Softcover 90,94 €

Preis für Deutschland (Brutto)

ISBN 978-3-030-53676-3
Kostenfreier Versand für Individualkunden weltweit
Institutionelle Kunden wenden sich bitte an ihren Kundenbetreuer
Gewöhnlich versandfertig in 3-5 Werktagen, sofern auf Lager
This textbook brings together findings from global research on teaching and learning, with an emphasis on secondary and higher education. The book is unique in that the content is selected in an original way and its presentation reflects the most recent research evidence related to understanding. The book covers and presents themes that are based tightly on worldwide research evidence, scrupulously avoiding opinion or any dependence on the personal experience of the authors. The book starts by reflecting on educational research itself. The four chapters that follow relate the story of the research that shows how all humans learn and the variations within that framework. These chapters offer a tight framework that underpins much of the rest of the text. The next four chapters look at the way school curricula are organised and how the performance of learners can be assessed. They summarise the research evidence related to thinking skills and consider the importance of practical teaching. This is followed by two chapters that draw from the extensive social psychology research on attitude development as it applies in education, and then by two chapters that summarise the research related to major issues of controversy: the performativity agenda and the issue of quality. One chapter looks at the place of statistics in education. The next two chapters look at the evidence that can support or undermine many typical education beliefs, or myths and mirages. Finally, the last chapter brings it all together and looks into the future, pointing to some areas where future research is likely to be helpful, based on current knowledge.

Norman Reid has taught at both secondary and university levels in his own science discipline, including a number of years as a head-teacher. He became director of a major research centre in education involving the supervision of large numbers of research students. He held chairs in two Scottish universities. A frequent international keynote speaker, he has published extensively. His areas of specialist interest include educational research, science education, attitude development, assessment, learner characteristics, educational statistics and quality assurance.

Following a career in teaching and the completion of a research degree, Asma managed the expansion of the International Baccalaureate (IB) across a range of schools in her native Pakistan, including policy-making and supporting teachers and head-teachers. She has been involved in educational developments across East Asia, is an experienced trainer, marker and examiner, and is currently the head of an IB College. She has numerous publications, especially in the areas of curriculum development, assessment and the nature of learning across the curriculum.
Inhaltsverzeichnis (19 Kapitel)

How Do Students Learn?

Seiten 15-42

A World of Information

Seiten 43-62

Why Are Concepts Difficult?

Seiten 63-87

Learner Characteristics

Seiten 89-113
Dieses Buch kaufen
eBook 71,68 €

Preis für Deutschland (Brutto)

ISBN 978-3-030-53677-0
Versehen mit digitalem Wasserzeichen, DRM-frei
Erhältliche Formate: EPUB, PDF
eBooks sind auf allen Endgeräten nutzbar
Sofortiger eBook Download nach Kauf

Softcover 90,94 €

Preis für Deutschland (Brutto)

ISBN 978-3-030-53676-3
Kostenfreier Versand für Individualkunden weltweit
Institutionelle Kunden wenden sich bitte an ihren Kundenbetreuer
Gewöhnlich versandfertig in 3-5 Werktagen, sofern auf Lager
Services zu diesem Buch
Bibliografische Information
Buchtitel

Making Sense of Learning

Buchuntertitel

A Research-Based Approach

Autoren

Norman Reid
Asma Amanat Ali

Titel der Buchreihe

Copyright

2020

Verlag

Springer International Publishing

Copyright Inhaber

Springer Nature Switzerland AG

eBook ISBN

978-3-030-53677-0

DOI

10.1007/978-3-030-53677-0

Softcover ISBN

978-3-030-53676-3

Buchreihen ISSN

2366-7672

Auflage

1

Seitenzahl

XXI, 496

Anzahl der Bilder

306 schwarz-weiß Abbildungen, 6 Abbildungen in Farbe

Themen