Philosophy and Politics - Critical Explorations
Vorschau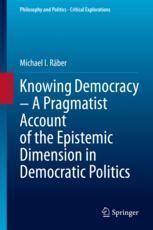 Knowing Democracy – A Pragmatist Account of the Epistemic Dimension in Democratic Politics
Autoren: Räber, Michael Ivo
Vorschau
Explores the scope and limits of the concept of epistemic democracy and shows the relevance of a normative and aesthetic understanding of democratic judgments
Establishes an original pragmatist conception of democratic judgment that blends the epistemic and the aesthetic aspects of the making of political judgments
Brings together for the first time debates on epistemic democracy, aesthetic judgment and pragmatist social epistemology
Focuses on a compelling topic within democratic theory and practice, as it is informed by an understanding of democratic theory in all its relevant aspects
Weitere Vorteile
Dieses Buch kaufen
eBook 74,89 €

Preis für Deutschland (Brutto)

ISBN 978-3-030-53258-1
Versehen mit digitalem Wasserzeichen, DRM-frei
Erhältliche Formate: EPUB, PDF
eBooks sind auf allen Endgeräten nutzbar
Sofortiger eBook Download nach Kauf

Hardcover 96,29 €

Preis für Deutschland (Brutto)

ISBN 978-3-030-53257-4
Kostenfreier Versand für Individualkunden weltweit
Institutionelle Kunden wenden sich bitte an ihren Kundenbetreuer
Gewöhnlich versandfertig in 3-5 Werktagen, sofern auf Lager
How can we justify democracy's trust in the political judgments of ordinary people? In Knowing Democracy, Michael Räber situates this question between two dominant alternative paradigms of thinking about the reflective qualities of democratic life: on the one hand, recent epistemic theories of democracy, which are based on the assumption that political participation promotes truth, and, on the other hand, theories of political judgment that are indebted to Hannah Arendt's aesthetic conception of political judgment. By foregrounding the concept of political judgment in democracies, the book shows that a democratic theory of political judgments based on John Dewey's pragmatism can navigate the shortcomings of both these paradigms. While epistemic theories are overly and narrowly rationalistic and Arendtian theories are overly aesthetic, the neo-Deweyan conception of political judgment proposed in this book suggests a third path that combines the rationalist and the aesthetic elements of political conduct in a way that goes beyond a merely epistemic or a merely aesthetic conception of political judgment in democracy. The justification for democracy's trust in ordinary people's political judgments, Räber argues, resides in an egalitarian conception of democratic inquiry that blends the epistemic and the aesthetic aspects of the making of political judgments.

By offering a rigorous scholarly analysis of the epistemic and aesthetic foundations of democracy from a pragmatist perspective, Knowing Democracy contributes to the current debates in political epistemology and aesthetics and politics, both of which ask about the appropriate reflective and experiential circumstances of democratic politics. The book brings together for the first time debates on epistemic democracy, aesthetic judgment and those on pragmatist social epistemology, and establishes an original pragmatist conception of epistemic democracy.

Michael I. Räber is a post-doctoral visiting researcher at the Department of Political Science, University of California Los Angeles (UCLA). He holds a PhD in Philosophy from the University of Zurich (Switzerland). His research has been mainly focused on theories of democracy (politics and aesthetics, deliberative theory and political epistemology), political pragmatism, philosophy of art, and the history of political thought.
Inhaltsverzeichnis (9 Kapitel)

Introduction: How to Justify Democracy's Trust in the Political Judgments of Ordinary People

Seiten 1-21

Democracy, Epistemology and Deweyan Pragmatism

Seiten 25-54

A Pragmatist Theory of Judgment

Seiten 55-84

Political Judgments and Political Inquiry: Arendt and Dewey

Seiten 85-102

Judgments, Juries and the Political Sphere

Seiten 103-126
Dieses Buch kaufen
eBook 74,89 €

Preis für Deutschland (Brutto)

ISBN 978-3-030-53258-1
Versehen mit digitalem Wasserzeichen, DRM-frei
Erhältliche Formate: EPUB, PDF
eBooks sind auf allen Endgeräten nutzbar
Sofortiger eBook Download nach Kauf

Hardcover 96,29 €

Preis für Deutschland (Brutto)

ISBN 978-3-030-53257-4
Kostenfreier Versand für Individualkunden weltweit
Institutionelle Kunden wenden sich bitte an ihren Kundenbetreuer
Gewöhnlich versandfertig in 3-5 Werktagen, sofern auf Lager
Services zu diesem Buch
Wir empfehlen
Bibliografische Information
Buchtitel

Knowing Democracy – A Pragmatist Account of the Epistemic Dimension in Democratic Politics

Autoren

Titel der Buchreihe

Buchreihen Band

14

Copyright

2020

Verlag

Springer International Publishing

Copyright Inhaber

Springer Nature Switzerland AG

eBook ISBN

978-3-030-53258-1

DOI

10.1007/978-3-030-53258-1

Hardcover ISBN

978-3-030-53257-4

Buchreihen ISSN

2352-8370

Auflage

1

Seitenzahl

XVII, 211

Anzahl der Bilder

2 schwarz-weiß Abbildungen

Themen