Springer Proceedings in Business and Economics
Vorschau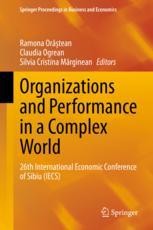 Organizations and Performance in a Complex World
26th International Economic Conference of Sibiu (IECS)
Herausgeber: Orăștean, Ramona, Ogrean, Claudia, Marginean, Silvia Cristina (Eds.)
Vorschau
Discuss some of the challenges and trends dominating the complex world in their continuous search for performance
Brings together management, marketing, corporate and public finance, accounting, taxation, entrepreneurship, economic theory, history of economics, business informatics
Embraces the complex issues facing global, regional, national, industry & local organization
Shares current research and developments on sustainability, CSR, Green marketing and more
Provides fresh insights, effective ideas and new solutions
Weitere Vorteile
Dieses Buch kaufen
eBook 139,09 €

Preis für Deutschland (Brutto)

ISBN 978-3-030-50676-6
Versehen mit digitalem Wasserzeichen, DRM-frei
Erhältliche Formate: EPUB, PDF
eBooks sind auf allen Endgeräten nutzbar
Sofortiger eBook Download nach Kauf

Hardcover 181,89 €

Preis für Deutschland (Brutto)

ISBN 978-3-030-50675-9
Kostenfreier Versand für Individualkunden weltweit
Institutionelle Kunden wenden sich bitte an ihren Kundenbetreuer
Gewöhnlich versandfertig in 3-5 Werktagen, sofern auf Lager
This volume highlights current research and developments on organizations and (their) performance against the background of ubiquitous complexity. It investigates some of the challenges and trends dominating the complex world of nowadays and the ways organizations are dealing with them in their continuous search for performance. The papers in the volume cover a series of hot and/or emerging topics (i.e. sustainable development, corporate social responsibility, green marketing, digital revolution, social media, global trade, intangible assets, economic intelligence and innovation).
Built on an interdisciplinary perspective and a multi-level approach―global (trade, power, sustainable development), regional (EU, BRICS), national (country-based systems, cultures, policies, practices), industry (airlines, pharma, luxury, retailing, banking, tourism), local (communities, destinations), and organization (entrepreneurship, MNEs, public organizations: national and local)―the volume uniquely addresses issues of high interest for researchers, practitioners and policymakers.

Ramona ORĂȘTEAN is Associate Professor PhD at Faculty of Economic Sciences, "Lucian Blaga" University of Sibiu, Romania. She is a member of the editorial board and reviewer for international journals and conferences (e.g. Research of World Economy, Applied Economics and Finance, Journal of Banks and Bank System). Her research interests focus on international finance, monetary economics, financial markets and institutions.

Claudia OGREAN, PhD, is Professor and PhD coordinator in Management at "Lucian Blaga" University of Sibiu, Faculty of Economic Sciences, Department of Management, Marketing and Business Administration. Claudia serves as Co-Editor-in-Chief for the journal Studies in Business and Economics, and has been a reviewer for several journals and international conferences (e.g. Management Decisions, Journal of Global Information Management). Her areas of interest are: Strategic Management, Organizational Behavior, Business Ethics and Corporate Social Responsibility.

Silvia Cristina MĂRGINEAN is Associate Professor PhD at the "Lucian Blaga" University of Sibiu, Romania, Faculty of Economic Sciences. Her research interests include different issues in global economics and European integration, labour market and competitiveness. The most significant achievements are more than 20 articles in peer reviewed international and national journals (Quality and Quantity, Economic Research, Journal of Business, Economics and Management, Studies in Business and Economics, Revista Economica etc.), 5 books, conference papers and research projects.

Inhaltsverzeichnis (33 Kapitel)

The Dynamics of the Stock Exchange Investments After Publishing Financial Reports by the Bucharest Stock Exchange Listed Companies

Seiten 1-9

Identifying the Optimum Social Site that Could Serve eLearning Purposes: A Preliminary Analysis

Seiten 11-25

Dark Spots in Trade Theory: Early Testing Attempts

Seiten 27-37

Specialized Applications Used in the Mobile Application Security Implementation Process

Seiten 39-49

The Impact of Cultural Orientation on the Societal Motivations of Luxury Good Consumption of IT Professionals in Sri Lanka

Seiten 51-66
Dieses Buch kaufen
eBook 139,09 €

Preis für Deutschland (Brutto)

ISBN 978-3-030-50676-6
Versehen mit digitalem Wasserzeichen, DRM-frei
Erhältliche Formate: EPUB, PDF
eBooks sind auf allen Endgeräten nutzbar
Sofortiger eBook Download nach Kauf

Hardcover 181,89 €

Preis für Deutschland (Brutto)

ISBN 978-3-030-50675-9
Kostenfreier Versand für Individualkunden weltweit
Institutionelle Kunden wenden sich bitte an ihren Kundenbetreuer
Gewöhnlich versandfertig in 3-5 Werktagen, sofern auf Lager
Services zu diesem Buch
Wir empfehlen
Bibliografische Information
Buchtitel

Organizations and Performance in a Complex World

Buchuntertitel

26th International Economic Conference of Sibiu (IECS)

Herausgeber

Ramona Orăștean
Claudia Ogrean
Silvia Cristina Marginean

Titel der Buchreihe

Copyright

2021

Verlag

Springer International Publishing

Copyright Inhaber

The Editor(s) (if applicable) and The Author(s), under exclusive license to Springer Nature Switzerland AG

eBook ISBN

978-3-030-50676-6

DOI

10.1007/978-3-030-50676-6

Hardcover ISBN

978-3-030-50675-9

Buchreihen ISSN

2198-7246

Auflage

1

Seitenzahl

VII, 427

Themen