The Mycota
Vorschau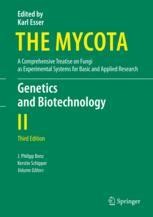 Genetics and Biotechnology
Herausgeber: Benz, J. Philipp, Schipper, Kerstin (Eds.)
Vorschau
Provides new insights into the fungal genetics underlying cellular processes as well as potential biotechnological applications
Considers major fungal reference systems, including both yeasts and filamentous fungi
Also includes novel fungi from as yet underexplored environments, such as the sea or animal guts, as well as mycorrhizal and wood-degrading fungi
Weitere Vorteile
Dieses Buch kaufen
eBook 128,39 €

Preis für Deutschland (Brutto)

ISBN 978-3-030-49924-2
Versehen mit digitalem Wasserzeichen, DRM-frei
Erhältliche Formate: EPUB, PDF
eBooks sind auf allen Endgeräten nutzbar
Sofortiger eBook Download nach Kauf

Hardcover 171,19 €

Preis für Deutschland (Brutto)

ISBN 978-3-030-49923-5
Kostenfreier Versand für Individualkunden weltweit
Institutionelle Kunden wenden sich bitte an ihren Kundenbetreuer
Gewöhnlich versandfertig in 3-5 Werktagen, sofern auf Lager
This fully revised third edition includes up-to-date topics and developments in the field, which has made tremendous strides since the publication of the second edition in 2004. Many novel techniques based on Next Generation Sequencing have sped up the analysis of fungi and major advances have been made in genome editing, leading to a deeper understanding of the genetics underlying cellular processes as well as their applicability. At the same time, the relevance of fungi is unbroken, both due to the serious threats to human health and welfare posed by fungal pests and pathogens, and to the many benefits that fungal biotechnology can offer for diverse emerging markets and processes that form the basis of the modern bioeconomy.

With regard to these advances, the first section of this volume,

Genetics

, illustrates the basic genetic processes underlying inheritance, cell biology, metabolism and "lifestyles" of fungi. The second section,

Biotechnology

, addresses the applied side of fungal genetics, ranging from new tools for synthetic biology to the biotechnological potential of fungi from diverse environments. Gathering chapters written by reputed scientists, the book represents an invaluable reference guide for fungal biologists, geneticists and biotechnologists alike.

J. Philipp Benz (born 1977) studied biology at the TU Braunschweig (2003). The research work for his thesis was done in the laboratory of Nigel Crawford at UC San Diego (CA, USA). He subsequently performed his dissertation at the LMU Munich, working in the research group of Jürgen Soll (Department of Biochemistry and Physiology of Plants) (2009). He then returned to the USA to become a postdoctoral fellow in the laboratory of Chris Somerville at the Energy Biosciences Institute (UC Berkeley, CA, USA) where he started to work on filamentous fungi. In 2014, he was appointed assistant professor for Wood Bioprocesses at the Technical University of Munich (TUM School of Life Sciences Weihenstephan, Holzforschung München). His research group is studying the processes used by filamentous fungi to degrade lignocellulosic biomass. Central questions are how fungi perceive the composition of the plant biomass on a molecular level and how they adapt their metabolism to effectively degrade the substrate.

Kerstin Schipper (born 1980) completed her studies in biology at Osnabrück University in 2005. For the research work of her Master thesis she moved to the laboratory of Heinrich Jung at LMU Munich. She then performed her dissertation and a short post-doctoral time under the supervision of Regine Kahmann at the Max Planck Institute for Terrestrial Microbiology in Marburg in the field of plant-pathogen interactions. Since 2011 she is a group leader at the Institute for Microbiology at Heinrich Heine University Düsseldorf. Her work focusses on fungal biotechnology using the basidiomycete Ustilago maydis. Her major interest is a novel unconventional protein secretion pathway and its exploitation for production of heterologous proteins.
Inhaltsverzeichnis (17 Kapitel)

Chromatin Structure and Function in

Seiten 3-24

Origin, Function, and Transmission of Accessory Chromosomes

Seiten 25-47

Genetics of the Unfolded Protein Response in Fungi

Seiten 49-76

From Genetics to Molecular Oscillations: The Circadian Clock in

Seiten 77-103

Small RNAs in Fungi

Seiten 105-122
Dieses Buch kaufen
eBook 128,39 €

Preis für Deutschland (Brutto)

ISBN 978-3-030-49924-2
Versehen mit digitalem Wasserzeichen, DRM-frei
Erhältliche Formate: EPUB, PDF
eBooks sind auf allen Endgeräten nutzbar
Sofortiger eBook Download nach Kauf

Hardcover 171,19 €

Preis für Deutschland (Brutto)

ISBN 978-3-030-49923-5
Kostenfreier Versand für Individualkunden weltweit
Institutionelle Kunden wenden sich bitte an ihren Kundenbetreuer
Gewöhnlich versandfertig in 3-5 Werktagen, sofern auf Lager
Services zu diesem Buch
Wir empfehlen
Bibliografische Information
Buchtitel

Genetics and Biotechnology

Herausgeber

J. Philipp Benz
Kerstin Schipper

Titel der Buchreihe

Buchreihen Band

2

Copyright

2020

Verlag

Springer International Publishing

Copyright Inhaber

Springer Nature Switzerland AG

eBook ISBN

978-3-030-49924-2

DOI

10.1007/978-3-030-49924-2

Hardcover ISBN

978-3-030-49923-5

Auflage

3

Seitenzahl

XXII, 452

Anzahl der Bilder

17 schwarz-weiß Abbildungen, 42 Abbildungen in Farbe

Themen